Saturday's race: Whitecliff Valentine Trail Run.  My first trail race—I wanted to experience a short trail race before the Castlewood Cup (yes, I suppose I could go run on a trail to train but there's all kinds of warnings about trail running alone, plus I don't want to get lose or attacked by bears.)  The race was a double loop for a total of 3.5 miles.  I knew it would be small, and I was (naturally) most concerned about not being last.
I knew it was going to be very cold, but when I woke up I was surprised to see a dusting of snow!  I left early in case the roads would be bad so naturally I got there pretty early.  I sat in my car, enjoying Weekend Edition (and being thankful this was a 10 am race) until about ten till, when I got out of the car to walk a bit and get my legs moving.  I chatted with a few people and then it was time to race!
The race was completely off road, either on the grass or on dirt trails.  I was mainly concerned about not getting lost, but for the most part I was within sight of people, and then one time I sort of did get lost but only for a few steps and then a volunteer was calling out to me.  I quickly realized there was no need for me to be a hero and I walked up the steepest hills, and then it was easy enough to start running again on the flats or down hills, or the less steep up hills.  I was having a blast!  By the second loop I was pretty tired, but I forged ahead.  A couple was behind me most of the way and they passed me halfway through the second lap.  I was fine with that because then I could just follow then rather than worrying about the course. 
At the same place of the course where I'd gotten a little lost the first lap, the second lap a dog came running towards me, barking.  I stopped, and I saw it had a leash and had simply gotten away from its owner, who was heading towards it.  I started running again, thinking the situation was under control, but then the dog growled so I stopped again.  Finally the owner grabbed the leash and I was on my way. 
At that point a guy who had been close behind for at least two miles decided to sprint past me down this large hill, and then barely stayed ahead of me until the finish line chute…when he started walking before the end.  To where I didn't see how I could pass him without seeming really rude, and since I was hardly in the running for prizes I didn't feel the need.  So I simply jogged to the finish line.  I don't recall the exact time, but I think it was something like 46 minutes?  The first lap was around 22 minutes something, so that sounds about right, since the second lap had the dog incident plus a little more walking…I hadn't paced myself well.
Nonetheless I felt fantastic after my run!  I had a wonderful time and felt like it was a successful run.  As you all know I've been pretty negative towards running and fitness lately so I'll take it as a success.
The finish line "chute"!  You can see it was pretty narrow.
So, that was Saturday's race.   Swag included a t-shirt and a box of conversation hearts.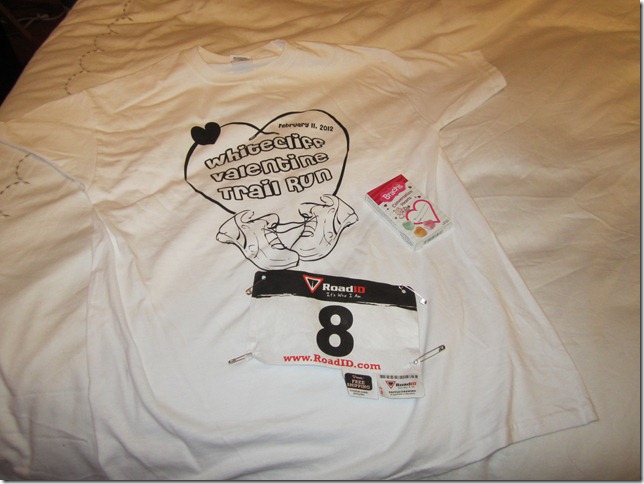 Sunday's race:  Run for Chocolate 5k
I wasn't going to run this one, but Melissa's boyfriend Steve asked me to and I thought it seemed like it would be fun.  I'd thought I might be able to wrangle a couple of my other friends to run it but no such luck. 
We met up in Lafayette Square in the morning to carpool downtown to where the race was.  Steve and a friend of his from work named Shannon were running.  We parked and then sat in the car for awhile because it was freezing outside.  (This seems like a common thread, huh?) 
This was a decent sized race—they said 1200 people or so were running it!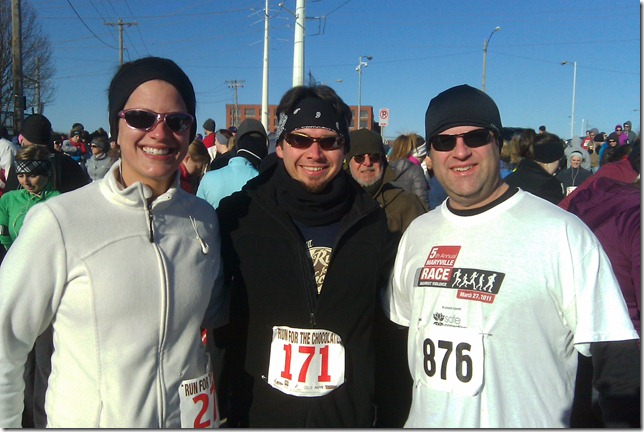 Me, Shannon, and Steve.  I am so used to seeing myself in gigantic sunglasses that I look ridiculous here.
Anyway, the start was super congested—I was weaving in and out of people for the first 1/2 mile—I already knew a pr was impossible at that point, but I just wanted to run a good race.  I had opted not to wear my garmin and just run by my perceived effort (just on the edge of not being able to go any faster for any longer, just run as fast as I could without wanting to die).  My feet were practically numb with cold which definitely gave me a few problems.  It was an out and back race, and the turn around was a huge mental boost. 
The course started near Lumiere Place and ran through the "Old North" neighborhood (I think).  I was somewhat surprised by how awful the roads were—it was an urban trail race in a way, you had to watch your step for most of the course because the pavement was so uneven and torn up.  That's one of the nice things about racing—you end up running in areas you would absolutely never get to run in otherwise! 
I finished in just under 31 minutes clock time, which ended up being 30:22 chip time—not quite under 30, but pretty close!  I know if the beginning of the race had been smoother I would have reached that goal.  Oh well, it was a good race and I pushed myself throughout. 
Afterwards we hit up Benton Park Cafe for brunch and chatted about the state of the world.  Steve had run the Rock and Roll Half in October, and he told me how he was proudly wearing his medal downtown after the race, and passed a homeless man, and felt pretty stupid being proud of that.  The state of the roads and the houses/neighborhoods we had run by in this race made us feel sort of similar…lucky to be able to be wasting our time and money running around in a group of similar people on a weekend morning and complaining about the excess pounds we had managed to put on by eating too much of the plentiful food we have!  Life is pretty good I think!  OH and I managed to get myself up in arms over a tirade against the Komen Foundation and the support that breast cancer receives over other kinds of cancer!
We got a nice t-shirt from the race.  The categories were for single women, attached women, single woman, attached men, and evidently the single women got pink shirts, the single men got blue, and all of us attached people got red.  It is women's fit and I am actually wearing it right now.  The other stuff is a chocolate bar they gave us at packet pickup, and a chocolate "finisher's medal."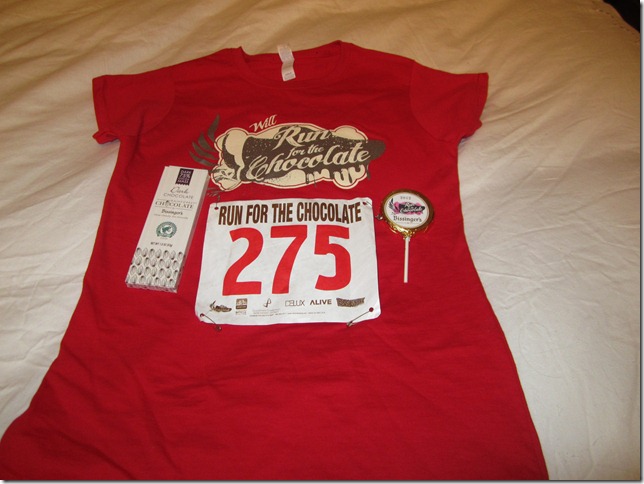 Did you race this weekend, or do anything else awesome?  My sister Leslie ran a 5k and 10k all in one morning in Phoenix.