Thursday morning (yes, that's Thanksgiving) Leslie and I ran the Lifetime Turkey Day 5k in Downtown Phoenix.(there was also a 10k option, which one of our friends ran.)
As regular readers know, this year has not been great for my running and general fitness. I've had a lot of personal issues, and I've gained weight and haven't been running as much. That being said, over the past few weeks I've been pretty consistent at getting in about three runs (run/walks—not back to running all the time yet) per week, so I felt pretty good going into this race—one foot in front of the other and just keep moving.
(This was the BEST pre race photo we took. I kid you not.)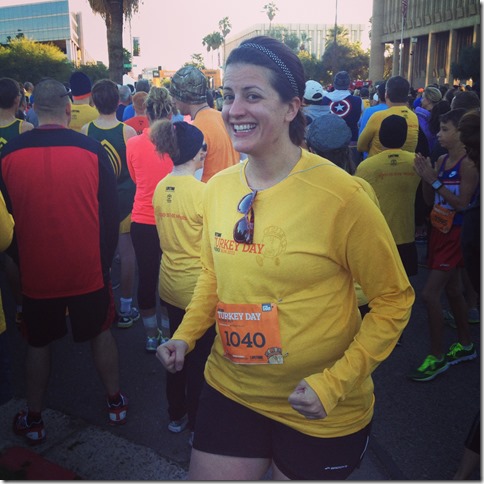 Except…and not to make excuses but this has to be said because it's just so Hannah…I got to Phoenix on Sunday and Monday night Leslie and I decided to go to a Bodypump class at her gym. I'd figured that would give enough time to get sore and get over it by Thursday, but I was incorrect. Tuesday was bad, Wednesday I could barely move, and Thursday my hamstrings were still killing me. But I decided, whatever, sticking with my plan of 2:30 run/1:15 walk intervals and would just soldier through. And that I did, though I suspect my run intervals were slower than my walking intervals. Oh well. One can do almost anything for 5k, right, and besides, I didn't regret doing the Bodypump class because it reminded me how much I used to love feeling strong and lifting heavy stuff. (And how much I didn't really like Bodypump, but I digress.) I was active every single day of vacation, either the class, running, or walking, and I liked how I felt doing it.
Leslie, posing for the pre-race photo.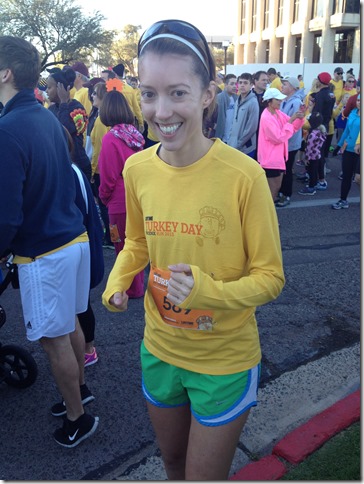 The race: Race morning we all needed to get our packets (Leslie, me, and two of her friends), since for some unknown reason all the packet pick up locations were at least 30 minutes away…so we had to get up extra early to get the stuff the morning of. Packet pickup was being run by people who had trouble reading names in alphabetical order, so it was VERY slow. I hate to complain about volunteers, but I think the system was poor, and some of the lines were incredibly long and slow moving. We finally got our shirts and bibs, and headed back to the car to drop them off, but we all decided to just wear our shirts, since they were soft, it was a short race, and (most importantly) everybody else seemed to be doing it.
Also as you saw, they were bright yellow.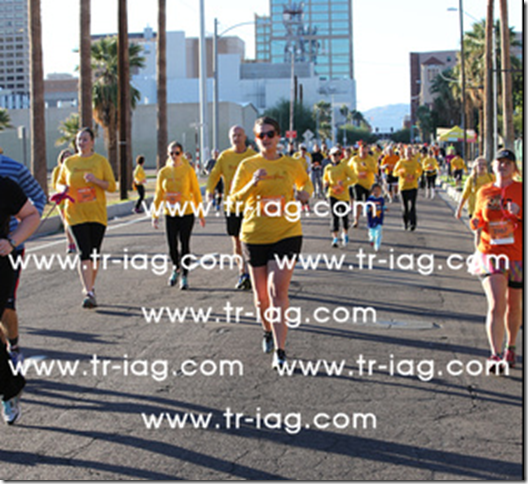 Anyway. The race was good. I finished in a very slow 41:20 but I was happy about it. I stayed with my intervals, and hadn't run that far in quite some time, so I felt pretty great about it. I also hadn't run that far with seriously sore hamstrings, so I felt even better about that! Basically I accomplished my goal of finishing a 5k race on Thanksgiving morning.
(Did you want more information about the race? I don't have much else to say. Running is hard, but the more I do it the easier it gets.)
I included this picture to demonstrate proper running technique. Fists clenched and both feet on the ground.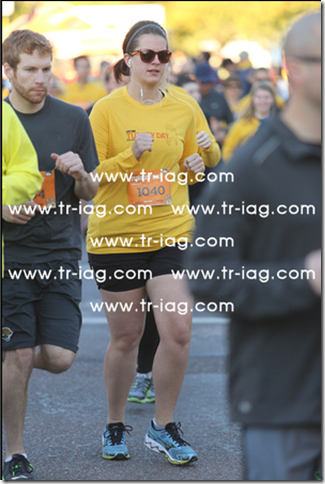 Leslie's is a bit better—both her feet are in the air! She's recovering from an elbow fracture from a fall a few weeks ago, so not falling was her goal, and she accomplished that! I'm jealous of her purple shoes…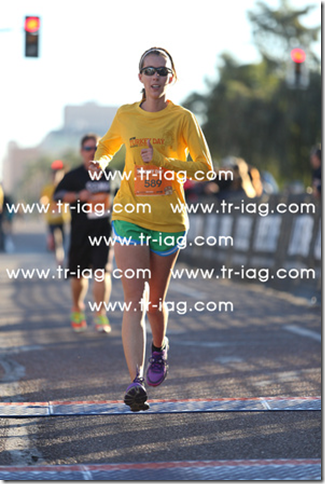 I met Leslie and our friend Aaron at the finish line, and we waited for our friend Chris who was doing the 10k. Post race food included rolls and bagels (my favorite), bananas, and a variety of SoyJoy bars (the one I tried was disgusting) and some other things too. After Chris finished we waited in a shorter line than packet pickup to take this awesome picture with a turkey, which was a free download from the race organizers!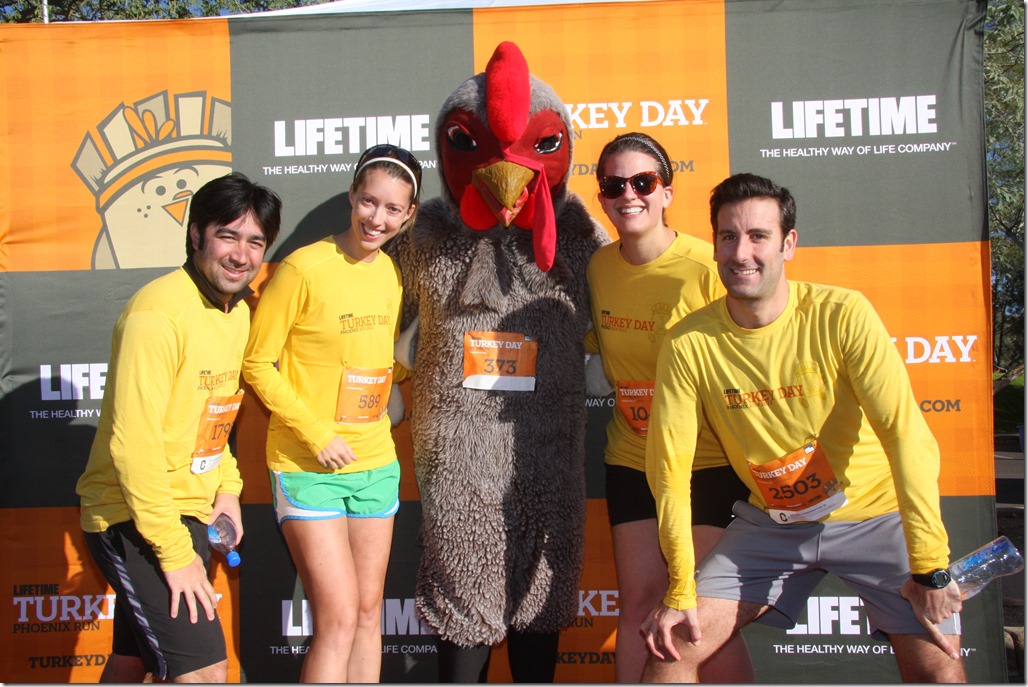 Aaron, Leslie, the Turkey, me, and our friend Chris.
We all headed to Leslie's for celebratory mimosas. Her husband Peter had just put the turkey in the oven and the house smelled amazing.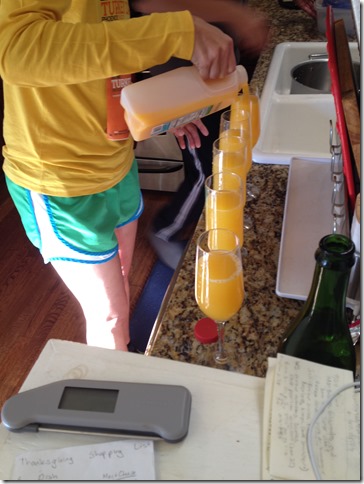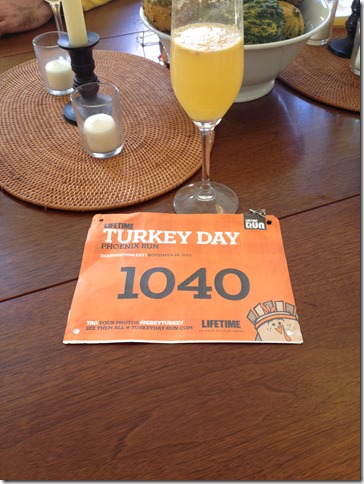 I think the bibs were cute. I'm a fan of turkeys. I would run this race another year if I were in Phoenix for Thanksgiving again.