I love planning vacations. Especially long, drawn out, and elaborate ones. I consider planning to be part of the fun of the vacation…collecting some guidebooks, reading Trip Advisor, doing other online research. I've gotten pretty good at planning trips over the years and I keep trying to learn from my mistakes. Currently I'm working hard on our itinerary for August, and the one thing that I always do is start to realize that I don't have enough time EVER to visit anywhere. There is always more to do and see! There's never enough time!
Meanwhile, I'm doing a bit of teaching (lots of people are missing this week though) and practicing, and trying to get ready for a short trip this weekend and a visit from my youngest sister, Carrie. And getting my schedule in order for fall…I'm thankful I'm getting lots of inquiries about lessons and I'm trying to fit more students in. I haven't made too many egregious errors, but it's only a matter of time

I find myself constantly checking my schedule to make sure I haven't made mistakes. It's the usual "house of cards" that violin scheduling becomes, though each year I THINK it gets easier. There's also the wild card of not knowing what will work for my Wash U students, but that's out of my hands. I can't worry, I can only plan time slots to give them and hope it works out for most. I've got my tentative schedule for Lindenwood already set up…I have to get used to the uncertainty of the part time college teaching, I guess!
I've been having a fun summer though, as you can tell. We had our annual "4th of July party" which was on Saturday. The park near my house does a really nice fireworks display so we had a BBQ before it.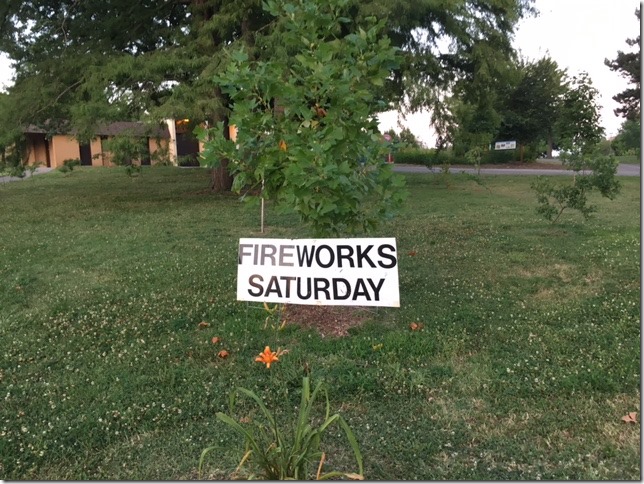 The advertisement at the park.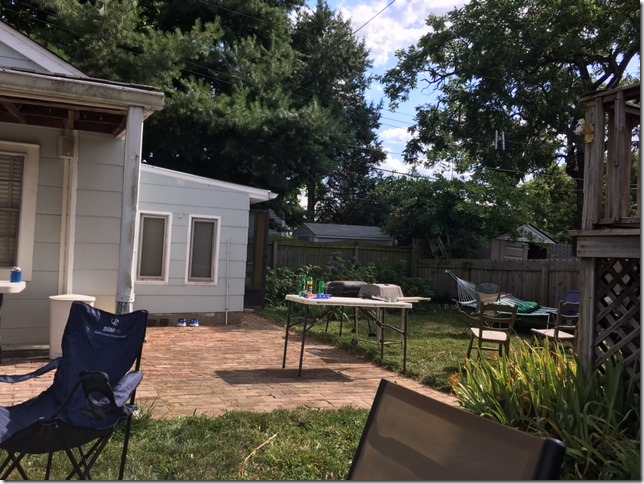 Getting the yard all ready for guests.
I made chocolate éclair dessert for the party. It's pudding/graham crackers/chocolate icing treat. It was delicious, and we had two days of leftovers for dessert, which was just the right amount.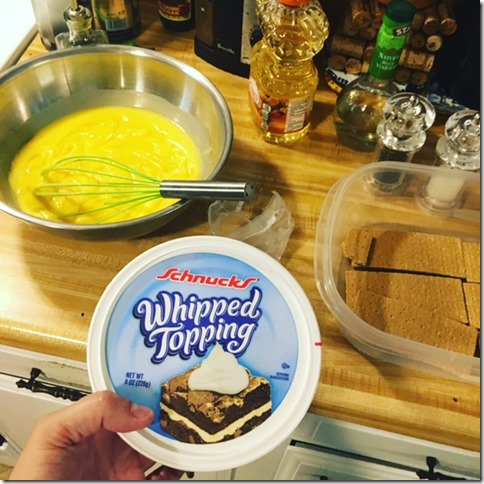 Oh, and today I had a nice lunch with a friend. We wanted to go somewhere else, but that first choice was closed (lunch Tuesdays is a real challenge sometimes!) so we went to another place Yelp listed nearby called Papagayos. It was good! I had a fried fish.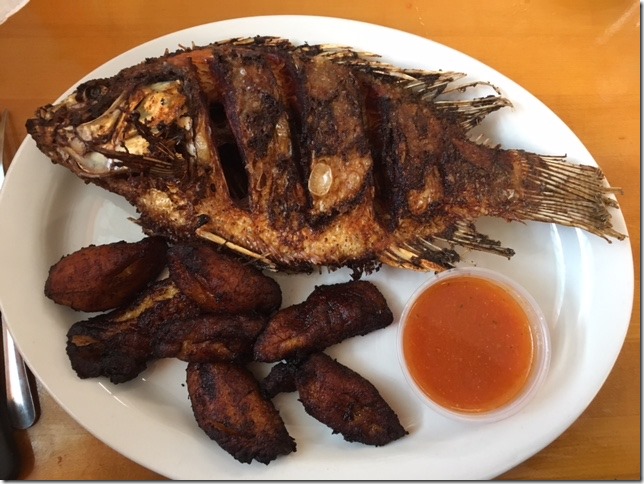 I should tell you guys, summer is pretty great, if it weren't for the lack of income. I finished tonight at 6 pm, can you believe it? Oh, and I got my violin back from being fixed up/cleaned (not cheap, but worth it, I guess?) and so I was inspired to practice today. It's beautiful! (the instrument, not necessarily my practice.)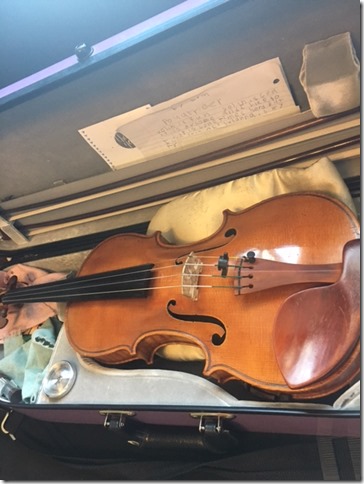 And now I'm going to relax and read a bit before making dinner. Tomorrow I have a few more students, and then I have visitors for the rest of the week. Summer is getting towards the end, sadly…I start opera rehearsals next weekend for Union Avenue Opera, and then that keeps me busier until our vacation. After vacation (the official vacation, seeing the Smokies) then it's back to school for everybody and it'll be fall. But not yet! Still time to make the best of it, to do more hiking, biking, camping, relaxing, reading, and whatever else we want to do