I wanted to share with you a few pictures of Chris and the guys from his Vegas trip.  This was his official Bachelor Party, even though we aren't getting married till January.  I was under the impression that "what happens in Vegas stays in Vegas," but evidently pictures and video were taken, and at this point I think I have heard everything that happened in Vegas, most of it several times.  However, most of the pictures/video are of golf, which happened 3 or 4 days.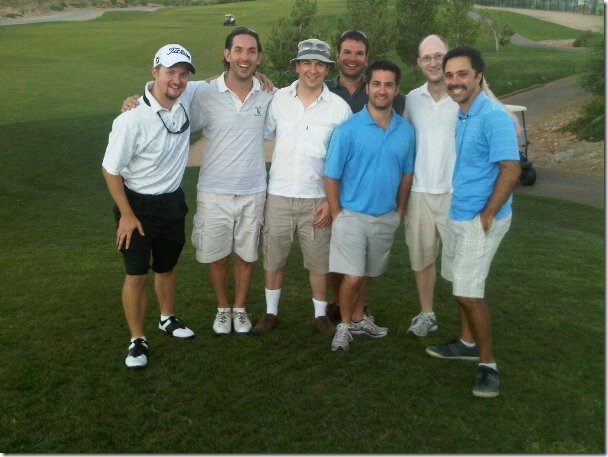 Will, Norbert, John Mac, Jon R, Chris, Jeff, and Dave.  Also pictured:  Dave's Vegas Mustache.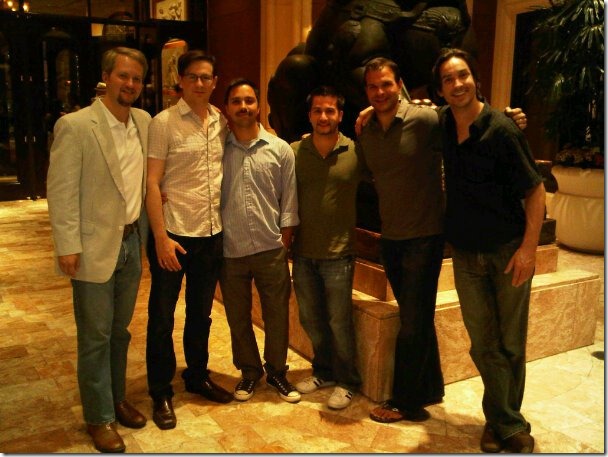 Chris golfing!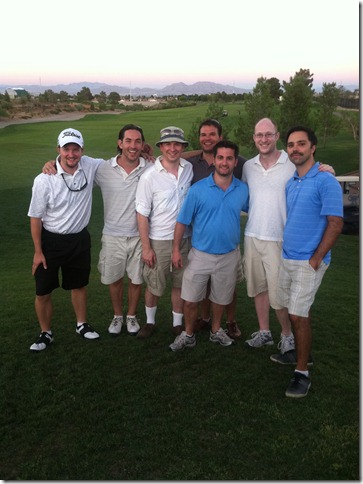 Yes, it's a slow blog day ;)  But I think those are some nice pictures of the guys (and Dave's mustache.)  Dave is Chris's best man, Norbert and John Mac.  Dave's mustache, sadly, has already left us—but perhaps it will return again some day.
My fun is yet to come:  Next weekend both my sisters are coming to St Louis for the first time!  We are going to have so much fun.  In fact, we will not do ANY golfing, and perhaps won't even WATCH any golf, or football, or television.  It'll be CRAZY.  (We may watch Gilmore Girls and Alias…)  There will be lots of eating, baking, cooking, working out, gossiping, and shopping.  Probably lots of coffee as well. 
My father sets out for his bike trip soon.  I don't know exactly when, but he has created a twitter account to keep us all up to date.  If it's okay with him I'll share it, if you are interested in following his progress from South Carolina to St Louis to Phoenix, and (I think) to the Pacific Ocean.  On a bike.  And he doesn't even get a medal or a belt buckle out of it…I don't know if he'll make it to Vegas, but I doubt he'll have his golf clubs with him either way.  I do like the idea of biking over the Hoover Dam though!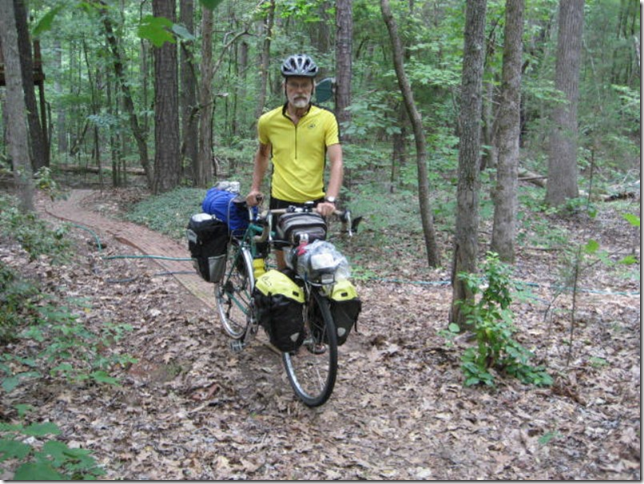 No room for clubs here.  I suppose my title is misleading.  Sorry!