NEW YEAR NEW YOU!  YOLO! LIFE IS SHORT!
Did I miss any cliches?
Okay, we all know the best way to lose weight is to diet and exercise, right? And I'm a huge proponent of eating proper meals, and getting enough fruits/vegetables and protein, and NOT starving yourself, because if you starve yourself your body goes into starvation mode, and honestly, that's not good either.  Plus they always say, don't diet, just change your lifestyle.
You have to fuel your body properly to work out.  You have to treat yourself properly and consider feeding yourself as something that is IMPORTANT and not guilt-ridden.  And interestingly enough, cookies and dessert are not actually needed everyday. (This is something I struggle with during the holidays, not so much during the year, oddly.)
But sometimes you need a little help.  Or you feel a bit desperate, or like you need a little bit of a jump start. Here's where Vitacost comes in! (Click on that link, I save $10 and you save $10.)
ALSO Vitacost is running a huge sale from 12:01 EST today (Jan 3) through 11:59 EST tonight!  24 hours only, so act fast.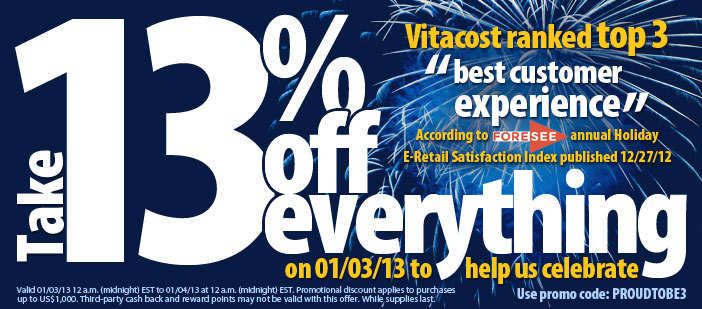 From the company:
Achieve your goals naturally with help from Vitacost.com's wide selection of diet products, diet foods and weight management supplements. Whether you're looking for weight-management supplements, diet supplements to support lean muscle, or appetite and satiety support, you'll find an array of dietary supplements to meet your needs. Forget questionable products or ingredients – you can depend on the high-quality, all-natural supplements offered by Vitacost.com. From filling fiber to caffeine-free formulas, Vitacost.com has everything you need to stay on track, without harsh stimulants and mysterious chemicals. Along with a healthy diet and exercise program, our dietary supplements and other products can help you manage your weight and feel great. At Vitacost.com, we're committed to providing you with quality vitamins, diet supplements, minerals and other health products at the lowest prices available.
In addition to the one day only discount code, I have a giveaway to offer that lasts for a week.
Honestly, I wish the giveaway I had to offer you was for some protein powder, because I love that stuff and eat it every morning either in a fruit smoothie or mixed into oatmeal, but instead it's for a Slim-Fast Starter Kit.  After all I just blathered on about, I'm suggesting you switch your breakfast and lunch for a shake or something.  But hey, free is free, right?  And yeah, it's possible I just suggested you need to lose weight–it's possible you don't!  I won't assume that everybody gained a bunch of weight over the holidays 🙂 (In fact, a recent study suggests being a little overweight could help you live longer…)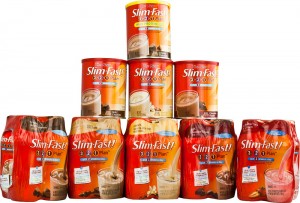 The contest runs until midnight EST on January 10.  Good luck!