The fall weather we're currently having is making me think about cookies, muffins, pies, and other baked goodies.  I haven't baked in awhile, whether because it's been summer (maybe) or because I just haven't been that excited about it.  I was looking back at my blog and saw a couple of great recipes I made in the past.  Since I'm feeling a bit lazy and rushed today, let me just give you a few quick links!
There's my "world famous" pumpkin bread.  Not truly world famous, but this stuff is foolproof, amazing, and I've been making it for years.  Last year I added chocolate chips to it and it was somehow improved!
I also made some delicious vegan pumpkin bars last fall.  I recommend!
I highly recommend the jam filled butter cookies from this post…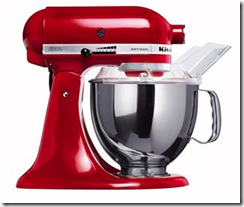 I need to use this baby more in the fall!  Hit me up with some "must bake" recipes, readers! What are your favorite fall recipes??