Wow, I can't believe it's already Thursday night.  When you work practically non stop the time really flies by!
Tomorrow we hit the recording studio for my ocarina rehearsal—it should be fun!  I'm also hoping to have dinner with a friend, or maybe more than one.  Chris has been rehearsing nights all week (and concerts now) so I've been on my own in the evenings.  Tonight and last night I went to the gym (tonight:  hill sprints on the treadmill…rough…but I wore my Phoenix RnR Tshirt so I felt hardcore), but tomorrow will be a fun night instead.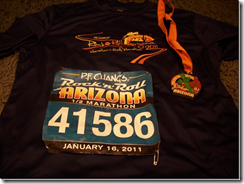 I should take a picture of myself IN the shirt, though this is an impressive picture with the medal and all.  I don't think we get enough opportunities to wear our race medals.  Maybe I'll wear one at my wedding.
The weekend will be pretty hectic—we have a "festival concert" at the St Louis School of Music, I have a student playing Solo and Ensemble on Saturday morning, and there's the Ocarina Concert.  Next week is crazy too in that I have two school concerts.  However, after that…well we are just heading towards summer.
Next week Chris and I have an appointment to check out a venue we are strongly considering for our wedding.  I am psyched!!  We have been hard at work making the guest list and a tentative budget.  Chris has also been hard at work researching things such as flowers, cake, invitations, and whatnot.  I would help out more but this month is just crazy.  It's funny that he is so into the wedding planning right now…and very nice, because one of us needs to be!  (Don't take that the wrong way, I absolutely am into getting married, but planning a wedding just makes me sleepy.  I've been ready to marry Chris for a decade now.  Just tell me when and where to show up.  Wait.  Am I a guy?)
I saw this in the most recent edition of Runner's World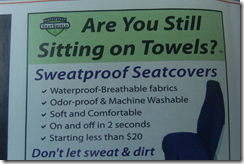 The real question…are the seatcovers poop-proof?  (I'm sorry, I'm sorry for all the poop jokes…I just can't help myself…)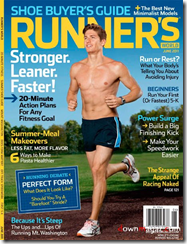 June 2011 of Runner's World, that is how I look without a shirt also…oh, wait, I'm a woman…(also am not convinced of the whole no hair look for men, but that's another story)
Yup, that's how I look!
Okay.  So I never made my May goals—I feel like May will just be me trying to get through and live to see the end and then I'll catch up on my goals in June.  I'm still waiting to get my kindle because I didn't realize the cover I wanted was backordered and was causing the whole order to get behind.  I fixed it though and my kindle should be arriving in a few days.
Well, I'm off to bed—Happy Cinco de Mayo to my Mexican readers!