I think I've mentioned that I wanted to try to work out more in the summer, since I have more time.  Some of you might say, how can you work out more?  Others would say, thank goodness, you ARE getting married in 218 days and you really need to shape up.  It's time to get serious!  (Because if I'm not at my thinnest for my wedding, then there is something wrong with me?)
In any case, this morning I planned a run with Jen, and then in the afternoon I planned to lift weights with Chris and Jon.
Last night I went to Pi in the Central West End with my friends and then we hit up Cafe Eau at the Chase Park Plaza. It was a nice evening, other than a bit of rain, so we enjoyed some outdoors time. 
This morning it was 77 degrees when I got up so I knew it would be a hot day.  I am sure it was over 80 by the time we got to the park, and much more in the direct sun.  However, we dug deep and managed to finish the run with only a couple of VERY necessary walk breaks.  If we're going to run a race in Chicago in September (we are considering this race) we need to be able to run in the heat.
After the run we hit up the crepes restaurant for a much needed lunch (brunch?).
Looking GOOD!  And by good I mean really tired.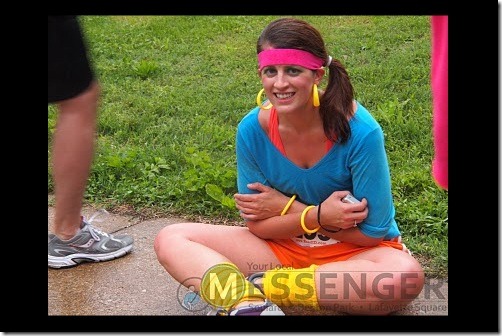 Kind of like that.
So I'm having a great Memorial Day weekend so far.  I am going to a barbecue tomorrow (did you know barbecue was one of my "spelling bee words?" you know, the word that you missed in the spelling bee?  I spelled barbeque.)  and have some things to make.  I can't wait!  Tonight will be movie night with a friend, and tomorrow morning we are meeting with another wedding officiant.  
Local readers:  mark your calendars for Thursday, June 9 at 7:30 pm.  Chamber Project St Louis has their annual Audience Choice Concert at the Chapel and I'm playing on the concert.  It will be a good concert and a good time!  The Chapel is a really nice, relaxed, nontraditional venue, and they always do a great job making chamber music accessible to the audience.