Part 4: There really is no place like Wyoming
Day 11, continued:
We drove into Yellowstone through the Southern entrance. Right after entering the park a coyote went across the road. That was, in retrospect, the first sign that Yellowstone was going to be an amazing time!
Honestly. One of the reasons I've had trouble getting started on this post is because we just did so darned much in Yellowstone, and I took so, SO many pictures. I'd been to Yellowstone as a kid, in 1991, and I remember really enjoying it, but man, oh man, I had no idea. Just no idea.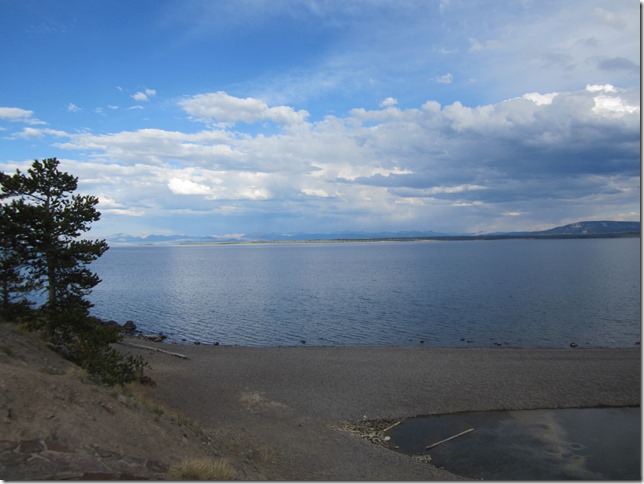 One thing to know is that the park is huge. Nearly 3500 square miles. We had three nights of camping reservations, and then we would have to leave. So we weren't going to be able to see it all, and in fact, we would be lucky to see the highlights!
Anyway, we entered the park and then had about an hour of driving until we'd get to our campground, and since it had already been a very long (and wonderful) day at this point, we decided to mostly drive straight there with perhaps an occasional photo stop. Like the above one at Lake Yellowstone…which made us say, Tetons who?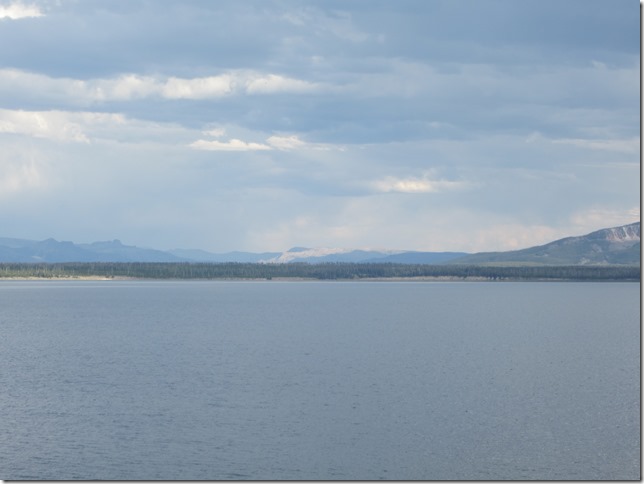 We found Bridge Bay campground within any trouble, and went to check in. Check in was really busy, but well organized. There are nearly 500 sites at the campground, so you can imagine that around evening plenty of folks are checking in! We got a very nice wooded site where our tent was tucked into a corner with nice privacy—the views weren't like Glacier Bay in RMNP but the woods were lovely and the lakeview was a short walk away.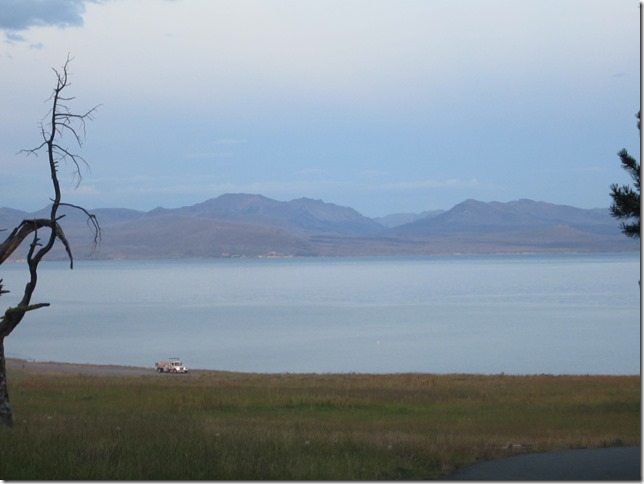 This was a great picture…except the construction truck drove into it. And then started setting up for construction so things only got worse. But really, it was a quick walk from the campground!
I should also mention: when I checked in the ranger was VERY stern about the bear safety rules, and in fact I had to sign that I understood and agreed to properly store all food and toiletries, and in fact we weren't even allowed to have WATER in the tent with us. We could keep things in the car trunk though, which I'm told isn't an option in Yosemite, so there's that. Anyway, our first night at the campsite, basically, we set up the tent, went for a walk, made a fire, and ate dinner. And that was that!
Day 12: Our first full day in Yellowstone! I'm excited just remembering how awesome it was.
We decided to tackle the lower loop of the road through Yellowstone on this day. (It's a figure 8). Basically, today was GEYSER day.
Here you can see Lake Yellowstone and see the West Thumb area (I think) with the geysers and other thermal features. The West Thumb Geyser Basin, as it's called, was our first stop for the day. We were there before 8 am and just barely beat a busload of tourists! Luckily there was enough room for everyone, though we had to duck around folks taking selfies and whatnot, but the boardwalks are pretty roomy. Being around these thermal features was like being in a different world: after spending nearly two weeks in the mountains, we were (mostly) used to them, but hot water and steam coming out of the ground? Totally new and weird!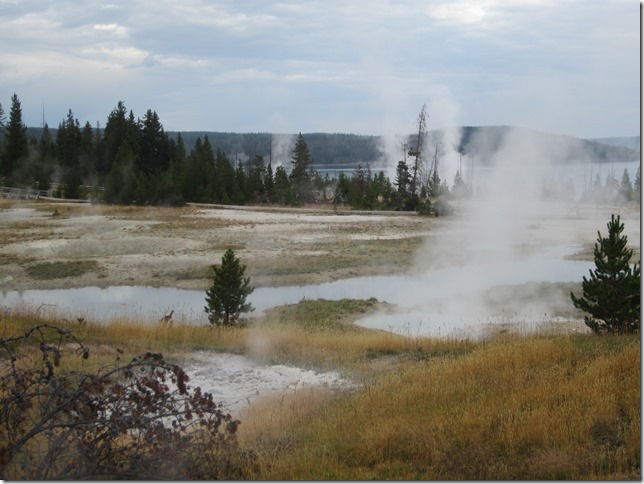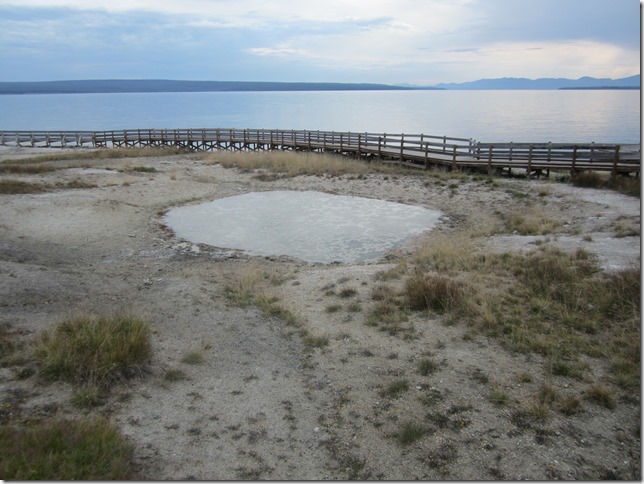 We learned so much about the thermal features over the course of the day. I enjoyed West Thumb because they were set right up against the backdrop of the beauty of Lake Yellowstone and the nearby mountain ranges…the steam from the various thermal features is otherworldly. I could definitely see why nobody believed the first explorers!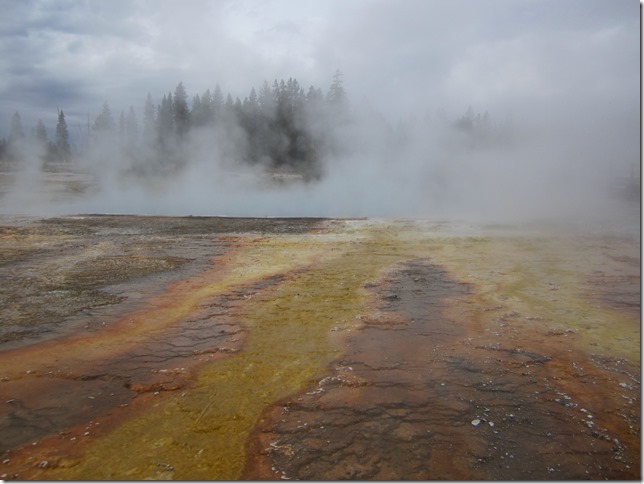 We got back on the road and headed towards Old Faithful. We made a quick stop to look at a waterfall.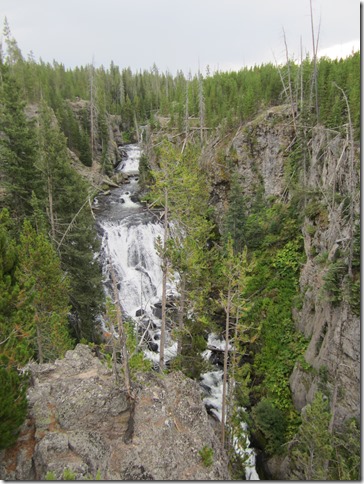 One thing that started hitting us about Yellowstone was that these little side stops that hardly anybody visited, random water falls and such…these little stops would be the HIGHLIGHT of other places! We might have hiked several miles somewhere else to see this waterfall…that we hurried by in our quest to get to Old Faithful before everybody else.
The Old Faithful area is pretty crazy. There were multi-lane exits off the road to get there, and huge amounts of parking. The geyser itself has seating for hundreds in front of it. We naturally arrived right after an eruption, so we took advantage of the indoor plumbing at the nearby lodge (and HOT water to wash my hands in, just crazy) and then headed out to explore the nearby Upper Geyser Basin. We caught a few interesting eruptions there—the Castle Geyser, one of the Lion geysers and the Anemone geyser for sure.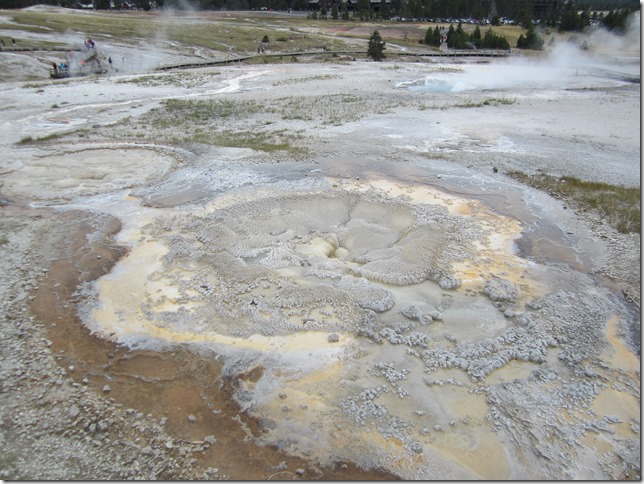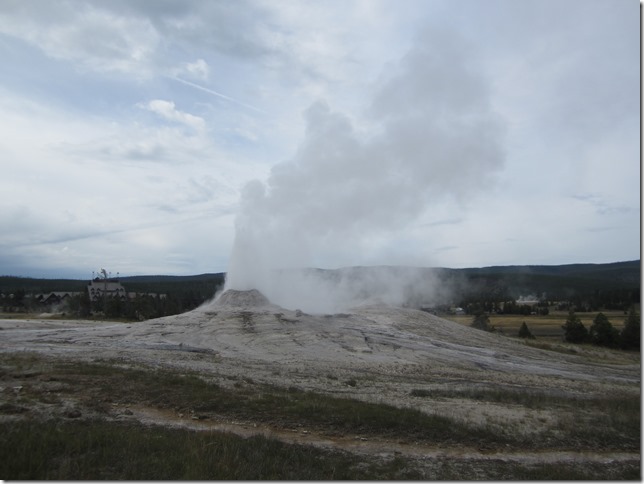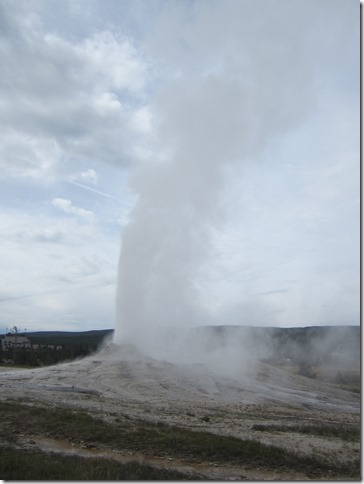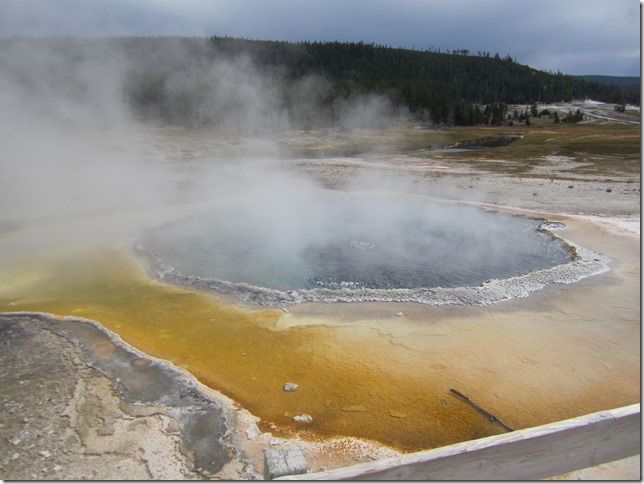 After looking around a bit we headed back to Old Faithful as it was near the predicted eruption time. We didn't have to wait long—there was a giant crowd at this point so we didn't get terribly close. Maybe it was more impressive up close, but I don't know.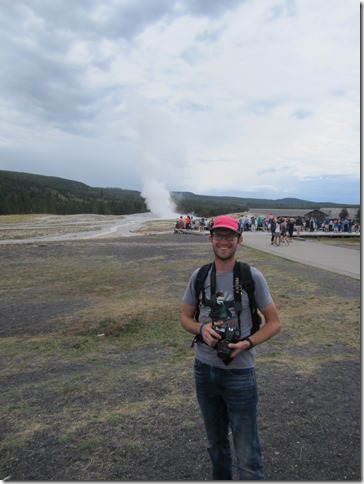 One thing we had to remind ourselves of repeatedly was that we needed to practice patience with the crowds and potential idiots that we would be surrounded by. One thing that made me almost lose it was seeing a couple of parents encouraging their toddler to feed a chipmunk cheerios. Aside from the fact that this is completely illegal…I mean really. First off, if you feed a wild animal then they might grow to depend on humans, who aren't around year-round so said animal might starve in the winter. If you don't care about THAT then maybe you'll care that they might bite your kid's finger (we were told by Brandon, our bike tour guide from earlier that finger bites were the number one reason for ER visits in Estes Park) and if that doesn't mean anything, remember that they might be carrying the plague.
The other thing is just that there is a lot of traffic, both vehicular and pedestrian, and that can be frustrating. So practicing patience is important in order to keep the stress levels low and keep the fun levels high!
After Old Faithful the next stop was Midway Geyser Basin, home of the Grand Prismatic Spring.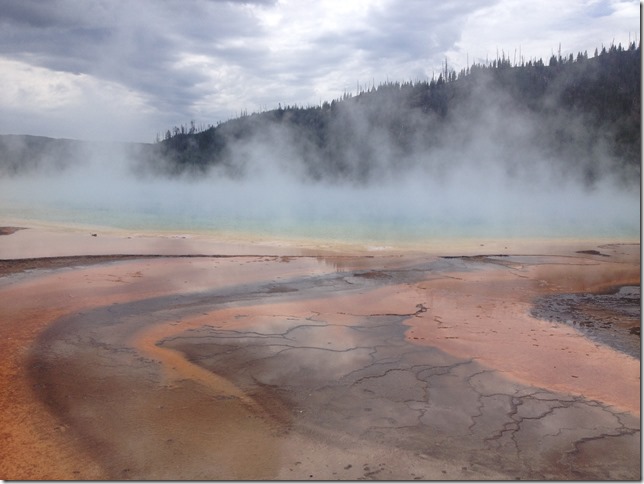 The Grand Prismatic Spring was giant and overwhelming and absolutely beautiful. The colors were unbelievable.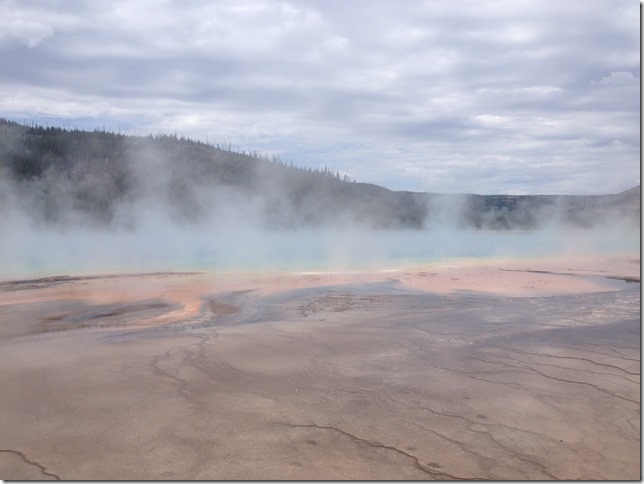 This was a beautiful stop!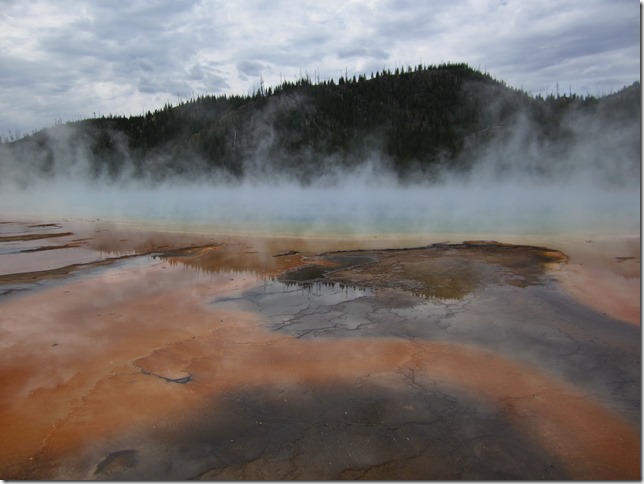 Next we had a little picnic lunch and then drove through Firehole Drive. We saw a few more springs and geysers and enjoyed a slightly less crowded area than we had been seeing. It's funny how quickly Yellowstone can go from busy and overcrowded to empty and quiet!
We skipped quite a few potentially interesting stops next, but we knew we couldn't see it all. We decided to do a "quick" stop at the Artist's Paint Pots because there was a little more walking involved and we wanted to get out of the car for a bit more. The paint pots were awesome and different enough from anything else we'd seen yet, so of course totally worth it.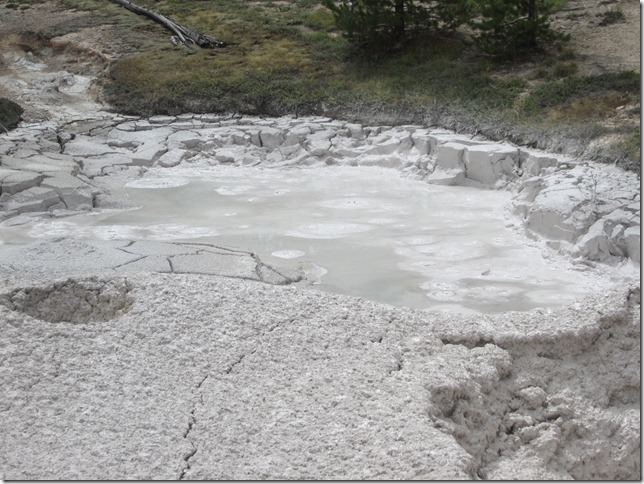 The last big stop I wanted us to do for the day was the Norris Geyser Basin. Wow, was the parking lot crowded. We got lucky and were able to squeeze into a tiny spot at the end that most of the bigger cars couldn't fit into! Norris was amazing. It was truly the best actual representation of a post-apocalyptic world that I could imagine. And in fact, one day the Yellowstone Caldera will likely kill all life as we know it…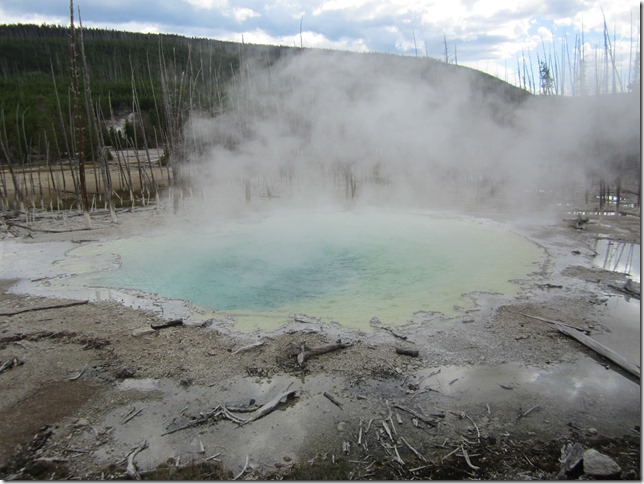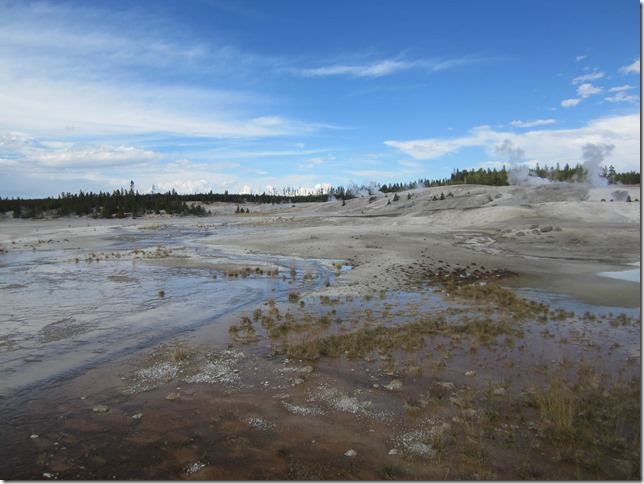 Things that I did not do at Norris: use the toilet. I went in, and I walked back out. It was one of the most disgusting bathrooms I've ever been in and I figured I could wait…forever.
Louie and I were desperate to see wildlife by this point. Where were all the bison?? We soon found out. We were driving away from Norris and heading back on the loop towards Bridge Bay and noticed someone coming towards us flashing their headlights. Naturally we thought they meant a cop, but suddenly we saw a single male bison walking along the road. That's what they meant! We were panicking with excitement, and I managed to take a picture out the window right up close to it! After we went by we were just so thrilled. Such magnificent creatures, but so funny looking really, with huge heads, and somewhat skinny looking legs, and just walking along the road with no cares.
Then we got close to Hayden Valley…and we saw more bison. So many more! At first it was a little group, and then it was perhaps 100's. We realized if we had just turned left out of our campground in the morning rather than right we would have seen so many bison first thing!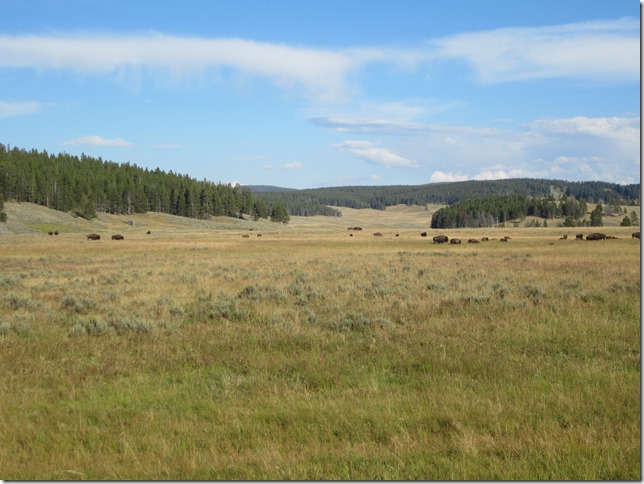 Quickly we got the hang of the "pull off the side of the road" for wildlife move. Louie and I had a lot of fun looking at and photographing bison, and then we found a huge group of cars and it turned out there was a bear, way far away though. We spent quite a lot of time trying to see it though, but didn't have too much luck. Then we ran into an area where people were trying to look for wolves, which seemed scary, but also those people were intense, with high-tech looking scopes and whatnot. Louie made a snap decision then to pull into the Mud Volcano area, and that's where a couple of bison were walking across the parking lot! Just when we'd think that we were over the bison we'd get all tickled by them again—I think they are fantastic! We saw that about 5 of them had headed up into the thermal features area of Mud Volcano, so we parked and went up the boardwalks to check them out.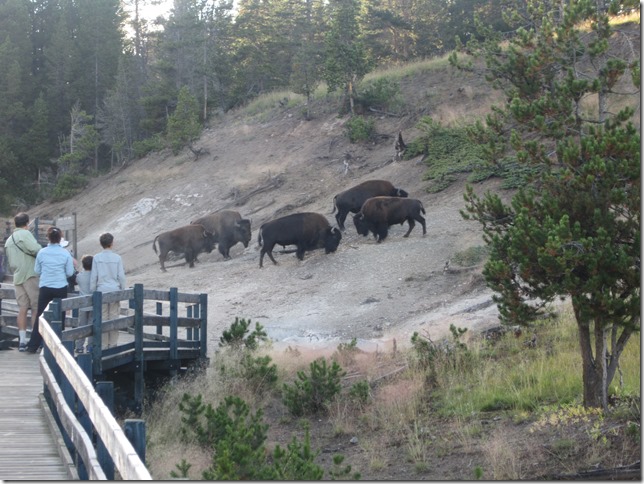 We were careful to keep our distance, but it was neat to see them a little closer and doing something more interesting than simply eating grass! They were snorting, and two of them were butting horns a bit.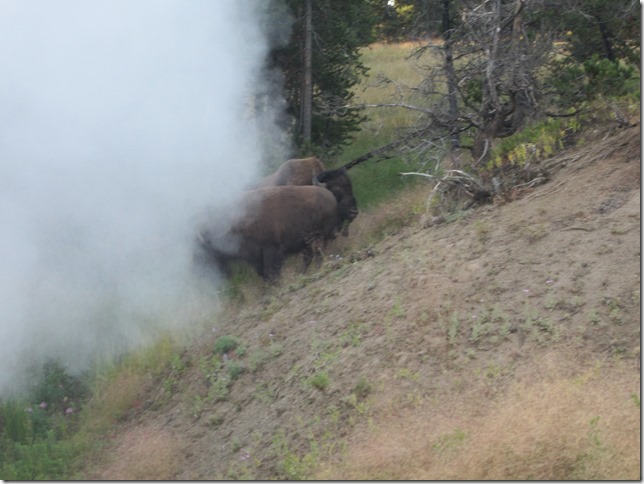 We decided, after awhile, to head around the other side of Mud Volcano to see the springs and stuff, and that's when we saw another group of bison, with a young one too, come galloping across the boardwalk and roll around in the mud, leap around the various hot springs, and then run further away. They were moving so fast, and seemed to be really having a good time! I was pretty frightened while at the same time being really excited. Louie wanted to follow them and get closer and I was a little scared especially since I'd seen how fast they could move! We could hear them, snorting and making all kinds of noise, but they were a bit out of sight.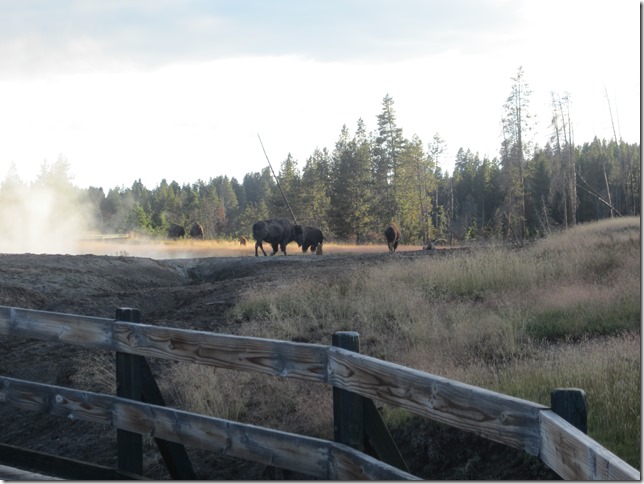 We finally decided to head back around and down towards the car. We saw a park ranger and asked her about the bison, and we learned that it was mating season, which explains the head-butting, and she also said that the bison DO walk on the boardwalk sometimes (Louie was thinking maybe they didn't, kind of like how roads will have those bars in them so the cows don't cross) and that they break them a lot and especially over the winter. Good to know!
We finally headed back to the car after all the excitement. Seriously, it was the best day of the vacation! Louie and I couldn't get over what an amazing day we had had…we made it back to our campsite around dark, and quickly made dinner and a fire to relax by.
(And since I have been having trouble finding the time to finish these posts…I'm going to publish this day alone and then finish up Yellowstone in a later post. Enjoy!!!)