"I won't be able to make it fellas. Veronica and I trying this new fad called uh, jogging. I believe it's jogging or yogging. it might be a soft j. I'm not sure but apparently you just run for an extended period of time. It's supposed to be wild. "
Okay, so it DOES sound a little crazy when you describe it like that

  And I must admit, the first time I saw Anchorman I didn't even LIKE it.  In fact, I thought it was stupid.  Unfortunately (or fortunately) for me, Chris loved the movie and so I was forced to watch it several more times.  Each time I laughed harder!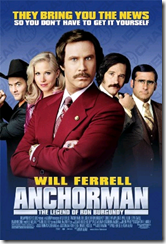 Another great scene is this: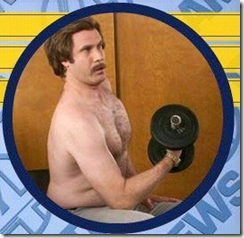 Ron Burgundy: (lifting weights) 1001, 1002, 1003.
Veronica Corningstone: Uh, Mr. Burgundy? Helen said that you needed to see me.
Ron Burgundy: Oh, Miss Corningstone. I wasn't expecting company. Just doing my workout. Tuesday's arms and back.
Veronica Corningstone: Well, you asked me to come by, sir.
Ron Burgundy: Oh, did I?
Veronica Corningstone: Yes.
Ron Burgundy: Oh-h, it's the deep burn! Oh, it's so deep! Oh, I can barely lift my right arm 'cause I did so many. I don't know if you heard me counting, I did over a thousand.
(This is what I do at the gym as well.)
Yes.  If you haven't seen Anchorman, I recommend you watch it.  And if you don't like it right away because, well, frankly, because the plot is AWFUL, watch it over and over until you do like it!
So on a related note:  are too many people running marathons?  From NPR:  Marathons, Once Special, Are Now Crowded.   If something is crowded, does that mean it is no longer special?  Have I jumped onto a bandwagon that is going out of style?  Is joggling the new yogging?
I saw that NPR story on Facebook initially, and a lot of people were angry at people who run marathons, for being rich and spending all their time running.  They thought that you had to run 8 hours every day to train for a marathon.
What do you think?  Do you like "yogging"?   Are you angry at people who like to run?  If too many people run marathons, does that lessen the accomplishment? 
And…in a country where obesity is such a huge problem, what's wrong with a bunch of folks having a good time running for a long way?