I don't normally get reviewed, so this was super exciting for me!
"Concertmaster Hannah Frey played exquisitely in Beppe's lyrical offstage violin solo."
From: Miller, Sarah Bryan. "Opera Review: 'L'amico Fritz' Is an Enjoyable Production of an Operatic Rarity." St Louis Post-Dispatch 27 Jan. 2015.
This might be in fact my first mention in a review! Anyway, I'm thrilled and my friends seem to think I'm famous now. I don't sign autographs though.
Other than the opera I had a wonderful weekend. Louie and I went up on Saturday to visit friends who live in Spanish Lake. We did some hiking around Fort Bellefontaine. It was a really nice day for it.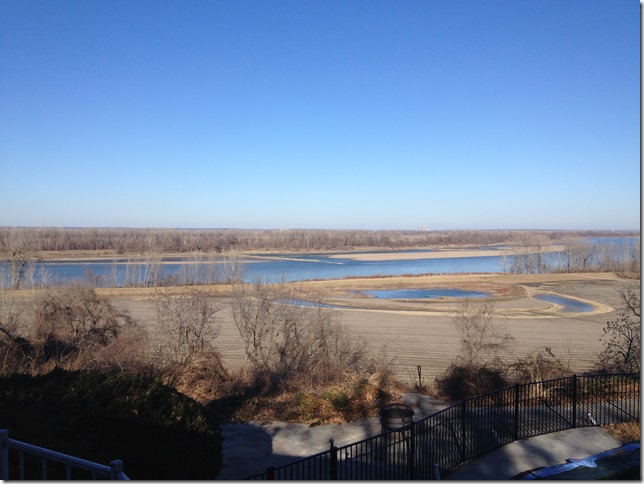 The view from their house.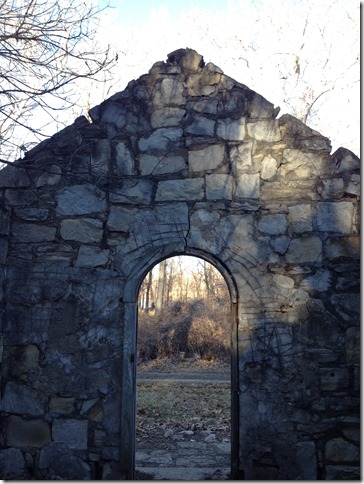 Part of the men's bathhouses?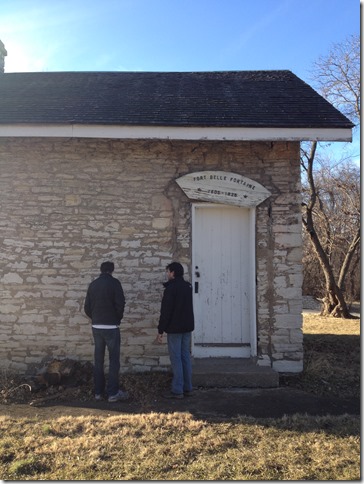 The Fort? We got a little confused in places as to what was actually going on, and the "ranger" guarding the entrance was less than helpful. It was however a beautiful day to wander around outside and nice to have a day off to relax with friends.
In the evening Louie and I went to the Sheldon to see Angel Romero play a guitar recital. It was great! I didn't really care for the soprano he played with, but his guitar playing was fantastic. It was also a treat to see a friend and colleague on piano, Peter Henderson, who is just fantastic all around. I really mean that too. It's hard sometimes when I run into people from my previous life with my ex-husband—some ignore me, some are awkward, and others are just the same. I get that people feel awkward and don't know how to act. Other people can't imagine that I could even survive on my own as a musician, so there's that awkwardness…I mean, what, freelancer? You don't have a full-time job? How does THAT work? Okay, maybe I'm overreacting…perhaps my reaction there is the same when people ask me why I don't have kids of my own. Perhaps it all comes from a position of curiosity and caring and not rudeness and failing to see how other people could be different.
SPEAKING OF KIDS. So I have this wonderful niece in Arizona that I have only seen once. She's growing and I thought I'd share a picture of her since she is simply the cutest.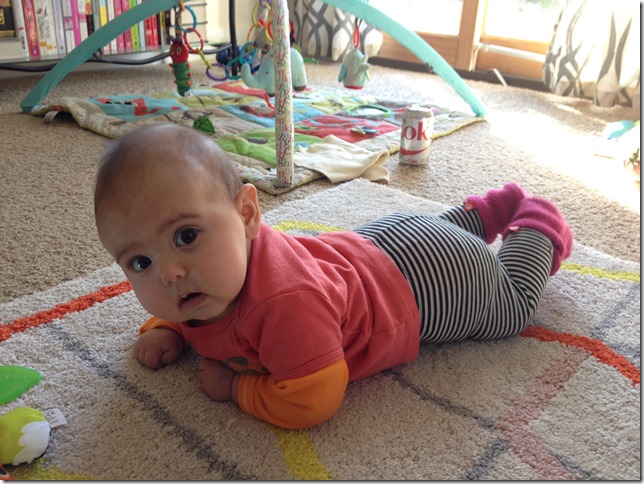 I am going to see her for a week in March. I'd hoped to try to get out earlier but my schedule and affordable plane flights just didn't add up.
Better go dry my hair now! I went for a run immediately pre-lunch, ate lunch, and then showered, and now I had better get in gear to get ready for teaching. Being self-employed SURE is hard!