Well, so far it's just a regular day for me because I don't start teaching until 3:30. How is it out there? I'm safe and warm at home and enjoying a lazy start to the week…as usual.
Valentine's Day Weekend was fun. We went to the Missouri History Museum on Saturday to see the 250 in 250 exhibit (about 250 years of St Louis History) before it closed. I'd gone with my parents but Louie hadn't seen it and I thought it was good enough to see again. It was freezing cold and as we power walked from where we parked to the museum, I tripped over a small bump in the sidewalk and fell. As I landed I bent my pinky and wrist backwards, hit my left shoulder and almost hit my head!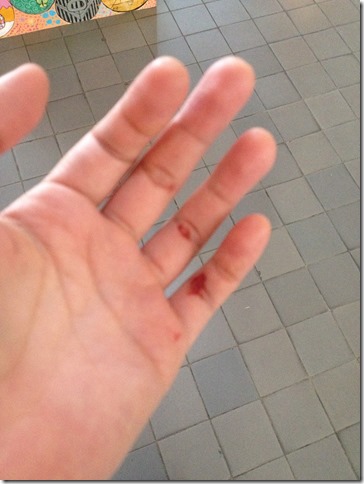 Walking is hard, evidently. More concerning was how much my pinky finger hurt (remember, I play violin, so that's important.) I haven't played since then…my pinky is feeling a bit better today but it's still sore at the joint and it worries me a little. It's definitely improving though, so hopefully by tomorrow I will feel confident practicing again, because SATURDAY is our first quartet concert of the year and I really want it to go well. I'd had high hopes of doing a lot of practicing over the weekend, but what can you do? Playing on a hurt finger doesn't make it better.
We went to Five Bistro for V-day dinner. We'd thought it would be pricey, but we had NO idea! (I suppose we could have called). The prix fix menu was delicious, but the weird thing was that when it was over we were still kinda hungry and wished there had been more food. Every course was delicious but tiny. We were glad we went out though, and despite the meal costing as much as a plane ticket enjoyed ourselves. We also enjoyed being in the restaurant with a ton of other people, all of whom were likely experiencing the same sort of thing..awkward sticker shock by the menu, deciding to stay anyway, enjoying the taste of their meal, noticing how little lamb chop was served, realizing they were paying this much and considering running through Taco Bell afterwards. We did the wine pairings too, and the one thing I will say is that I enjoyed ALL the wines, even the white wines, which I never have in the past.
Front and back of house scenes of a snowy day. The front steps will definitely need to be shoveled. I suppose that would be an excellent workout for today!
And check out this awesome picture Leslie sent me of my niece: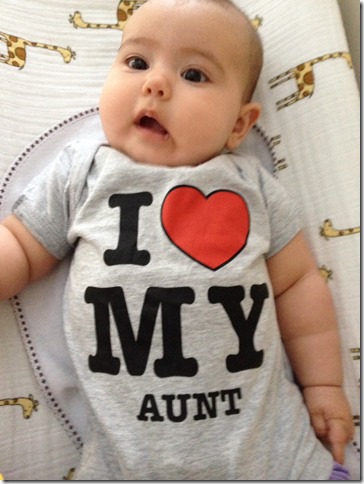 I should get a matching "I love my niece" onesie.
Scenes from the "zoo".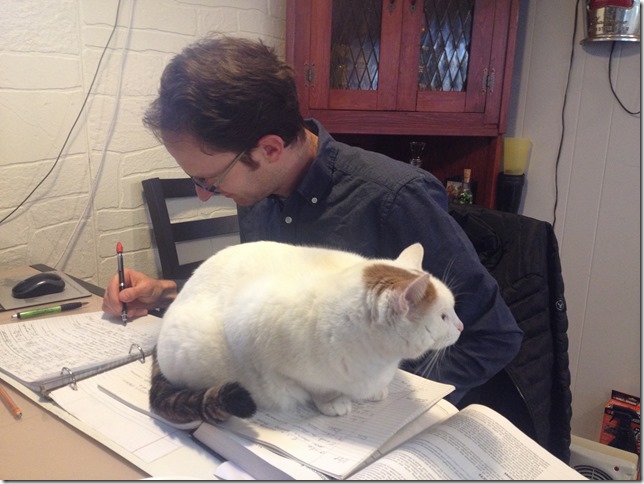 How much snow did you get? I won't complain a bit thinking of all the people who have just been getting hammered this winter! It's pretty to look at, though I'm glad I haven't had to venture out in it yet. Since it's a holiday I suspect the roads are a little worse than they might be normally.