I've just finished the second season of House of Cards. I know, I'm living in the past. And don't hate me when I say I only watched about two episodes of the first season. Louie had already seen it and didn't want to watch again, and finally we decided to just go ahead and he could just fill me in on things that didn't make sense.
I didn't like House of Cards at first because of Kevin Spacey's horrible accent. He's supposedly from Gaffney, South Carolina, which isn't too far from where I grew up (Clinton). His accent doesn't match, and it bothers me that actors think all southern accents are the same. I would rather him just talk in his normal voice honestly. The other thing I hate about the show are when he talks directly into the camera. I cringe every time. But otherwise it's a very enjoyable show and I'm eager to find out what horrible thing the characters will do next.
The weekend was pretty busy. Yesterday I had the first spring recital for my students (everybody played quite well, and they were mostly happy!). I have some ideas on general things we all need to work on, but I was pleased overall. I think it's great for the students to have an opportunity to play for everybody, and that they really grow while preparing for a performance. I also had an orchestra concert last night with the Metropolitan Orchestra of St Louis that was quite fun to play. The day before we'd had rehearsal with the Illumine Ensemble for Friday's "Play with your food" concert, Metropolitan Orchestra rehearsal, and I taught a makeup lesson. I feel like I definitely spent the weekend running around, but what's new, right?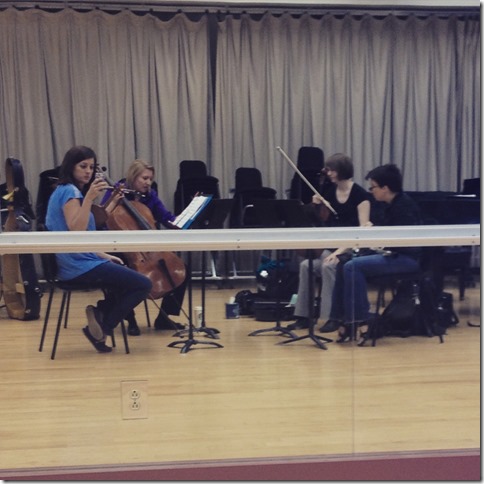 (I am slouching a bit too much, aren't I?)
One of my favorite things is going to Louie's mom's house for brunch on the weekends. We don't go that often, but it's always delicious. His brother makes vegan waffles, and we usually have bagels, cream cheese, and smoked salmon, all in large quantities. I'm salivating just thinking about it again. We went yesterday morning before my work day started, and had a nice time eating and talking about plans for Italy. We are spending 5-6 days in Italy, then going to Orvieto for a day/night. We made a list of tentative plans, which include the Vatican Museum, the Appian Way, and more! We've all been to Rome before (which sounds ridiculous in and of itself) so we are open to trying new and more unusual things. Did I mention I can't wait?
Other random thoughts:
I've been running quite a bit lately. Well, three times last week. The weather has been glorious.
I'm getting used to giving shots to the cat. It was a quick learning curve, but it's still A THING that must be done. Twice a day. Poor kitty.
Ever since our "vegetarian challenge" the other month, we've been eating much less meat. I haven't cooked meat at home since before that, with the exception of salmon. I've definitely been more of a pescatarian, but I have ordered meat a few times out at restaurants, but I've still mostly chosen fish or vegetarian options. I think less meat is a good answer for me, both ethically AND with my diet, as I find I've been better able to control my appetite and feel good.
And that's enough for now! Better get to practicing before I have to teach.