The other day Louie asked if I felt like I just had so much free time now that my recital is over. I thought about it, and realized, well, no. BUT before the recital I was putting off a whole bunch of things and just barely getting by. Now I don't have any extra time but I'm actually accomplishing what I need to get done instead of just kicking it down the road. I've been working on a variety of projects that I'd been letting pile up.
We hear a lot these days about busy-ness and how being "busy" isn't good. I do think that a certain amount of busy-ness makes one feel productive. I am not looking to be busy for the sake of being busy, nor do I think that "busy" is a great answer to "how are you?" but I definitely feel more productive and useful to society when I'm doing things rather than sitting around watching TV. I assume that's true for most people.
I had a dream the other night that Louie became president. Of the United States. Over Hillary Clinton. She was his vice-president and was pretty ticked off that he entered the race at the last minute and beat him. I was pumped because I was the First Lady and we moved into the White House. (Louie was less than excited about being president.) Anyway, in my dream what happened was a lot of folks started asking me to play various things on the violin—concertos with orchestras, and lots of concerts with my quartet. Really, it was quite funny. Suddenly as First Lady (which is also funny since I'm not actually married to Louie) I was in great demand as a violinist. And our quartet was playing so many concerts, using all our repertoire and having a great time!
We are going to a wedding this weekend in Owensville, Missouri. I'm looking forward to getting out of town for a few days (just a short time since it's not terribly far away.) I'll tell you about it in a few months

. The wedding is for some friends of Louie's, though I've met them. It is at a winery and should be quite fun.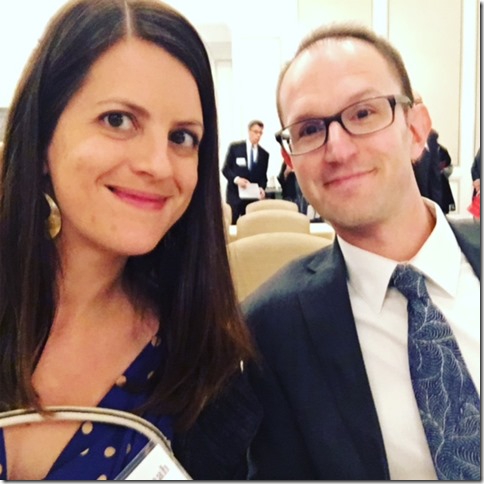 Friday night we went to an event at the Ritz-Carlton for Louie's job. We had decided to go because…free dinner at the Ritz! We sat through some interesting speeches (well, ranging from interesting to not-as-interesting) and then had a very nice dinner with salad, salmon, and dessert. We didn't know anybody there, really, but another couple joined us (and then some more) who were VERY friendly. I'll tell you though: please feel free to talk about your kids but don't assume you know my situation. Not everybody wants to have kids, not everybody plans to have kids, not everybody CAN have kids, and when you've just met somebody, you don't know where they fit in and I think it's rude to assume. Personally I think there are more interesting things to talk about that my relationship and uterine status…then again, it's not like this blog is that interesting either, so maybe I'm wrong!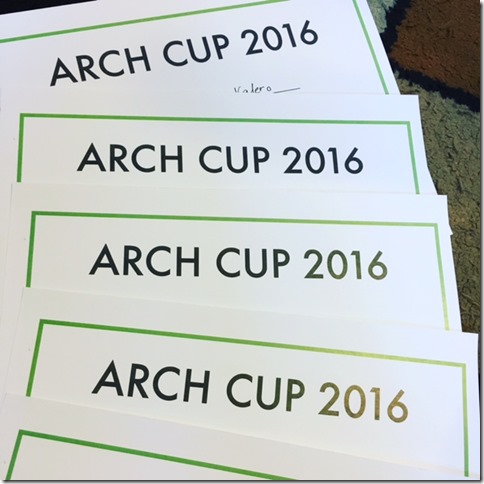 A handful of students participated in the Arch Cup over the weekend. They did a great job! I played piano with them all, and I did okay too. I'm thinking I need to consider getting a real piano soon so I can improve my skills more. I used to play pretty well, and now I can accompany Twinkle Twinkle and such easily, but the harder stuff is beyond me. I also don't use the pedal: that was always kind of a mystery and challenge for me. But I'm proud of my students for pushing themselves outside their comfort zone—many of them were VERY nervous, but they played anyway! It's really all about that: not giving up. People think professionals don't get nervous. We do. We just deal with it. Just like adults in other fields—I imagine plenty of people get nervous for meetings or presentations at work, and you just do it anyway. Don't let fear keep you from following your dreams. (I went there.)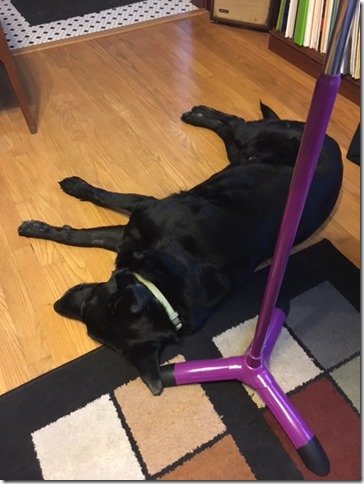 Mackenzie is doing well. She loves violin music, as always. It's great to have such an avid fan!
I'm almost to the point of pulling out my notes and info from our trip and blogging about it. I almost did yesterday but then remembered I had some work to do for something else. And then I needed a little nap and then it was time to teach…but I'm getting there. Chipping away at stuff. Technically this Saturday is a day off work but I'll be out of town at a wedding. And it's only one day off.
The rest of the semester should be a blast though. Four quartet concerts, a piano trio concert, a trip to Washington D.C. (to visit my friend April!), Thanksgiving in Phoenix, Christmas in California…plus loads of teaching and other random concerts. It's all mostly at a manageable level of "busy-ness" so it'll be good. Somehow September and early October (somehow: Bach Fugue) ended up being like a black hole…
On that note…off to run errands, then teach, practice, and teach. Really looking forward to our concert tomorrow night at Washington University: An Evening with the Schumanns. (Check it out, local readers!)