It was great to have my sister Carrie visit last week. It seems that everybody only wants to visit for 15-20 hours lately, but I will take what I can get! Besides, I suppose it's better when people leave before you are sick of them, right? Carrie was here to visit but mostly to play a concert with her modern music trio, Chartreuse.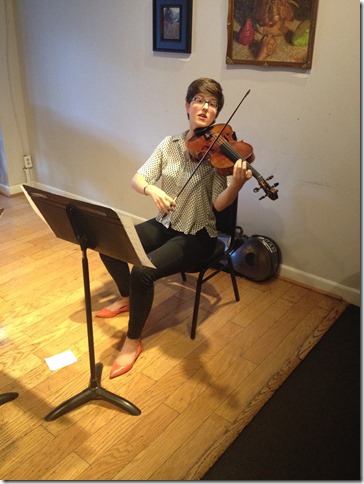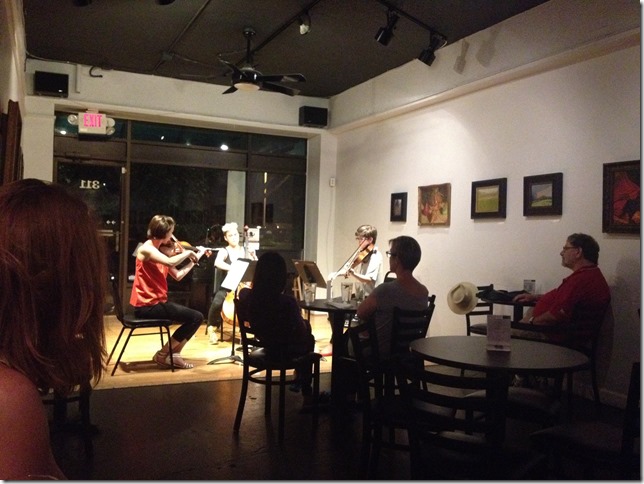 The concert was great! They played with great passion and energy, and it was a really enjoyable performance (at the Tavern of Fine Arts). I ate dinner there, and though the food is always tasty, I really miss their old menu with the sandwiches. I DO appreciate that their wine list has some very affordable options. They stayed overnight and then had to rush off to some other important thing, as one does when one is young (early 20's!)
I was thinking about that just a bit ago—my friend April is currently in Colorado on vacation and is in Breckenridge. I spent two summers playing with the National Repertory Orchestra in Breckenridge, and while I did love it at the time, I don't think I truly appreciated it. Youth, and the youth travel opportunities, especially music festivals, are wasted on the young. Here I am, simply salivating for my upcoming vacation, and when I was younger this was mostly old hat for my summers. I went to all manner of summer festivals (Breckenridge, Interlochen, Sewanee), had various trips to Europe, family road trips to various National Parks, family trips to the beach and the closer-by mountains, to see relatives, and all kinds of great stuff. I think it's obviously important for young people to do great things, but when you read an old trip journal about how your parents were really lame for wanting to go see the sunset over the Grand Canyon while you and your siblings were playing a serious game in the tent instead…well…you know how kids are!
All that to say I am positively chomping at the bit to go on our road trip. Louie and I are going for over two weeks—our itinerary includes Boulder, Rocky Mountain National Park, Grand Teton, Yellowstone, the Black Hills, and the Badlands. We are mostly camping other than in Boulder where we've gotten an AirBNB (my first time!), and plan to do lots of hiking and scenic driving, campsite cooking, see tons of buffalo(my favorite, at least when I was a kid, and I still get excited thinking about them!), take pictures, maybe even keep a journal, write a million blog posts, and have a generally wonderful time. We will also be visiting my sister Leslie and seeing my niece Athena for a few days (in Boulder where they play in a summer festival) to kick off the trip. I really can't wait to get away and relax and sightsee. It might not actually be a terribly relaxing vacation, but it will be very scenic and should be pretty epic! (Are people still saying that?) I've got lists galore going on—packing list, itinerary list (the most fun to make!), what to do before we leave list, list of good meals for camping so that we don't panic in the grocery store on the way, all that kind of stuff.
All this is happening simultaneously with finishing up my last week of summer teaching (it'll be fall schedule when I'm back!) and practicing for my recital on Friday. I've embraced where I am for my preparation and have decided that it is good enough and I don't need to stress out so much. And we closed the show "The Runaway Cupcake" with some lovely reviews and though I'm glad to be slightly less busy, I really loved playing in it, and was so glad to meet some wonderful actors and actresses. Maybe something I'll do again someday!
So I'm glad I stopped by to write. I reread my last two blog posts and I sounded so stressed out and overwhelmed. I'm in a much better place right now! Just ready to be on vacation, I guess