There are a few things happening. One: my youngest sister Carrie is coming to visit. Two: Louie and I are getting ready to embark on a 3 week road trip. Three: Continuing to work, of course, as vacation doesn't start early when you have 3 weeks of it coming up.
So it's busy times, and lots of list making. I use the "to-do" list on my iPhone to keep track of things. When I think of something, I put it on the list, and then when I have a few minutes, or longer, I check the list to see if there's anything on there I can do and get checked off. I get a huge sense of satisfaction each time I check something off, and I get to keep track of everything.
We went to Tower Taco last night for dinner. I got a vegetarian burrito and it was HUGE. It was also pretty good and I have half of it left for lunch, which I shall eat in a few minutes.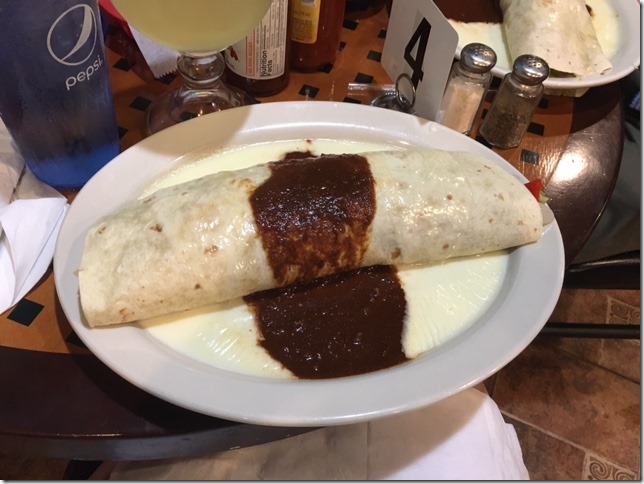 This week teaching has been pretty easy, and I've been taking it easier on practicing. I still have been doing some, but it's hard to put in the time when you know you're going on a vacation. Of course, the fact that I'm going on a trip and won't play for 3 weeks is exactly WHY I should still be practicing…haha. I struggle with many of the same issues my students do!
I had to take my car in for a tire repair yesterday. There's a shop I go to that is less than a mile from my house—convenient because you can run or walk to it. I ran home (took a longer route) and was a sweaty mess by the time I got back. It probably took nearly 30 minutes after my shower before I really felt cooled off. So I didn't want to walk back to the shop later. I took an uber from my house. It felt a little lazy, but it was nearly 110 with the heat index. My uber driver told me that he had been playing Pokemon Go at Tower Grove Park before getting my request. I'm torn on this game. I don't play it, but I guess it's nice that a game is getting people out and about? But then again, I hope they can appreciate getting out and seeing the world on the level of, hey, look at all this world out here to explore! I guess if a game starts that, then it's great. I don't know.
I'm super bummed because my friend April is moving to DC for the fall semester. She's in grad school and it's a sort of internship, and she'll be gone the whole fall. She's one of my go-to friends for fun activities, and she's often up for hiking, running races, and doing various other activities. She's also a wonderful friend to talk to, is so sweet and caring, and has been there for me through some tough times. I'll miss her a ton! We are going to see a movie on Art Hill tonight (another activity! which involves bringing a picnic, which has been a minor theme of the summer) and though it'll be really hot and humid, I'm still looking forward to it.
And then tomorrow I have 3 weddings, one is outside (ah, the heat!), and then Carrie is here. Carrie is my youngest sister and she lives in New York City. She's just finished grad school and is quite a bit younger than me. Louie and I realized that we had a rain check for a canoe trip from the cancelled Memorial Day trip so the 3 of us are doing a float trip on Sunday.
You might not hear from me again for awhile, I'm not sure. Don't worry, I'm just on a road trip. We are going to Aspen, Rocky Mountain National Park, Colorado National Monument, Arches NP, Canyonlands NP, Capitol Reef NP, Kodachrome State Park, Bryce NP, Zion NP, Grand Canyon North Rim, Antelope Canyon, and Las Vegas, NM. If you have any hike or must see suggestions, let me know in the comments or email! I have all of our reservations for camping made and most general plans, but there is still room for things, and choices must be made. It would be nice to not have to have all the reservations made, but it seems like in order to camp in the parks, you really have to plan ahead. Some of my reservations have been made for over 4 months! In any case, I'm super excited to see some new places, to revisit some places I've already been, and to spend 3 weeks traveling and hiking and camping and enjoying the great outdoors, and enjoying the wonderful National Parks!