I snoozed a few too many times this morning so let's see if I can write a post in 5 minutes!  (Can't wait to read it, eh?)
Today:  workout with Mike, ocarina rehearsal (was hoping to squeeze lunch with Melissa in there but her darned job made her stay in Carbondale longer), teaching, and dinner with Maddie.  (See, Melissa, if YOU had a twitter account or a blog, I'd link you too.  Think about it.  FAMOUS.)
Tomorrow:  City in a Jar's Slow Food in the Park (make a dish for $5, check it out!  I'm going to make great use of the More-for-Less Cookbook that I rarely use), wedding, SLSO concert (RITE OF SPRING BABY!) and out with friends after.
Sunday:  Run.  Rest.  Recuperate.  Run.  Seriously, did I mention run?
OH and right now I am feeling weird and naked because my engagement ring is at the jewelry store being resized.  I've lost a little weight since February plus I think it was big to begin with and the darned thing was turning ALL the time and driving me crazy.  I miss it and I swear there is a little tan line on my finger, even though Chris didn't agree.  I don't get that back until Saturday either.
That's it in a nutshell!  And the fun fun fun thing happening Monday is that…I am going to pick up the invitations.  For the wedding.  I am ridiculously excited about the invitations.  They are going to be AWESOME.
Last thought:  Here's a flowchart that helps to explain why musicians are neurotic.  Because we should be practicing.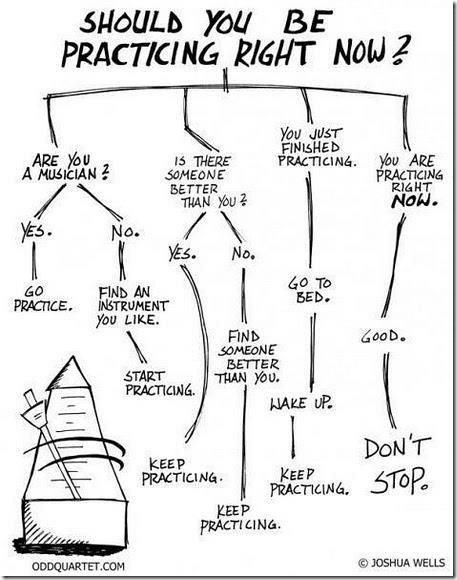 What are you doing this weekend?  (Hahaha, I know I complained about this question.  But answer in the comments as I want more comments, pretty please?!  With a cherry on top?)