Local readers—come out and see Winter Opera St Louis perform La Boheme this Friday night at 8 pm, with a repeat performance Sunday at 2 pm.  It's one of the most beautiful operas ever written.  I'll be in the pit, so come say hello.
It's been a busy week with rehearsals going until 11 pm almost every night! 
I managed to get a great run in this morning with Jen.  My trainer told me to do 40 minutes of 4 minutes running (easy), 30 seconds of sprinting.  I programmed my Garmin (205) to beep at each change, and off we went.  I guess I ended up programming it for 45 minutes, but it was a great workout.  Really tough though, and we had to take a few walk breaks, but managed to do all the sprints.  At the end we were still about 2 miles from the car so we "yogged" the rest of the way.  It was my first run this week, and I felt great afterwards.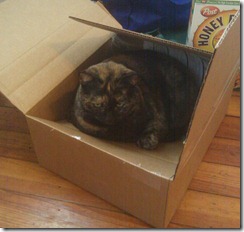 Chris sent me this picture the other day.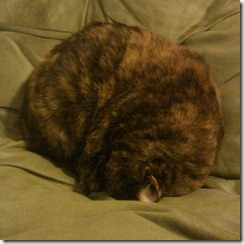 Today I countered with an upside side down kitty.
Yeah…we lead pretty exciting lives!  That's how we roll.