I'm trying this from my phone. Ran a 5k this morning. I wanted to share a picture of my costume since that's more important than my time. (35:33).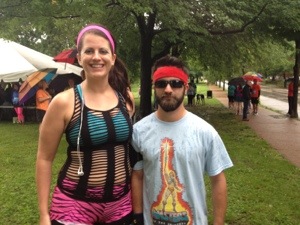 Faster than any of my training runs lately so it was actually a decent race. Gaining ten or more pounds really slows you down! *ponders*
But it was fun and I'm glad I forced, er, convinced Chris to run too. We had other people in our group but no one else in costume so I'm not posting pictures. I'll probably share a bit more later about the race, and the rain, and the tornados last night, but I'm tired and have a concert tonight to mentally prepare for. Hope to see some local readers there!