I was recently given a chance to read and review "Wings of the Divided" by C.J. Sullivan.  In return for my review I was given a free copy of the book for my Kindle.  I don't have a giveaway to offer you BUT the author currently has one going on her facebook page that you can enter (through 12/9/12).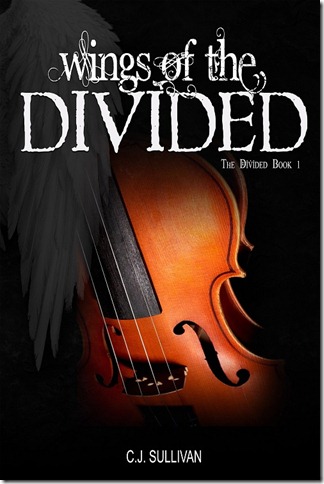 Wings of the Divided: The Divided Book 1
I feel like I'm writing a book report here *looks around nervously*.  Did you ever make dioramas when you were in school?  I loved making little scenes in shoeboxes to share with the class.  I'm not going to do that here.  Neither will I be dressing up as one of the characters.  I'm just going to tell you a little bit about the book and then you can decide if you might want to read it, or at least enter that contest for a free copy. (It's only $2.99 otherwise!)
The book starts out with a man, Max, praying in a church for his lost son, followed by an action scene with Angels fighting (Gidyon and Noam, the "good" angels versus the "bad" angels Laphelle, Malynko, and Kiazmo).  The good angels end up being taken down to earth to escape the battle, where they first meet Max, to the city of Edenton (which, incidentally, has a wonderful symphony orchestra!) But the other angels, the Angels of darkness, follow them there.
At first I thought, oh great, I see where this is going, some sort of feel-good Angel book, but luckily it wasn't so predictable.  The "good" angels, or Angels of Light and  the Angels of Darkness, or the Fallen Angels, obviously had many of the qualities you would imagine, but their personalities were more fleshed and interesting than they could have been.  The author does a wonderful job describing their wings and seems particularly interested in that aspect of their appearances.
For the first part of the book the two groups of angels  interact with the people of earth—helping or hurting them– and trying to find or avoid each other, depending.  We quickly learn that Malynko enjoys hurting people, and that Laphelle is upset that he hasn't been promoted as high on the angel hierarchy as he'd like.  Noam and Gidyon move in with Max, and the others take over another house through force. They run into each other occasionally, having fights when this happens, and both parties want to leave Earth and get back into the heavens (or hell, like I said before, depending.)
So where does the violin from the cover art come in?  Laphelle (remember, one of the "bad guys") hears the sound of a violin one night and follows the music to meet a guy named Jack.  He is surprised to learn that Jack is not afraid of him (we learn why later) he is astounded when he borrows Jack's violin and can play it very well.  He and Jack strike up an odd friendship—odd because an Angel of Darkness can't actually be friends with a human, since they are supposed to hate humans and want to destroy them.  Through his love of music Laphelle begins to question everything about his existence and the choices he has made.
I don't want to spoil the ending, or any more of the book.  In my communication with the author, she wrote "You can tell me if I wrote the violin authentically or not."  It's funny—there is a scene where Jack and Laphelle go to a sort of American Idol style Amateur Night with the Edenton Symphony.  I've never heard of anything like it, but it sounded like a lot of fun.  We musicians get so snooty sometimes, but forget that to the average person, our music can be truly "angelic"  (see what I did there?  HA!)  Did she write it authentically—I honestly can't say.  Sometimes descriptions of violin and music making seem very strange to me, but I have a very biased opinion.  I think the love of the violin and the love of music came through, and I'd say that many people will be able to relate.
I enjoyed reading this book.  It's a fun read, it's different from many of the books I'd been reading lately, and I'm glad I had the chance to read and review it.  Like I said at the beginning, you should consider entering the contest for a free digital copy, or even buying it! (You can get a free sample if nothing else and see how you like it.)
(I was not compensated for this post other than the free copy of the book.  All opinions are my own.)