Don't forget to enter my giveaway for tickets to a Chamber Project St Louis concert at the Schlafly Tap Room! Ends Monday, free to enter of course, and I hope more of you will enter. Don't delay!
My friend Melissa is always finding out about new restaurants. I tend to think of myself as a fairly "in-the-know" person, but especially for someone who doesn't live here full time OR tweet (and for a bassoonist, honestly), she leaves me in the dust! Anyway, she told me about a new BBQ place that opened in Soulard at the Mad Art Gallery, and we made lunch plans.
The joint is called "Capitalist Pig" and is a small, unassuming place. It says "take out only" but there were a couple picnic tables set up so we managed to "eat in."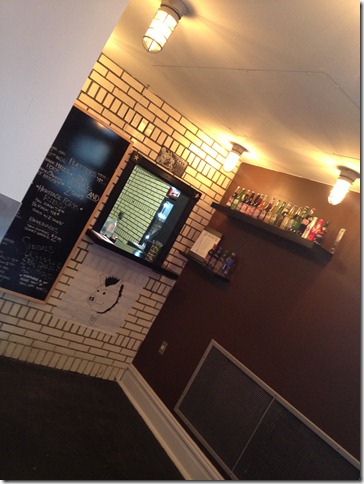 This was me trying to take an artistic photo. That's the counter where you order. I ordered the ribs with sides of potato salad and baked beans. Melissa had the pulled pork platter with coleslaw and mac & cheese. We both had corn muffins and Fitz's Diet Root Beer.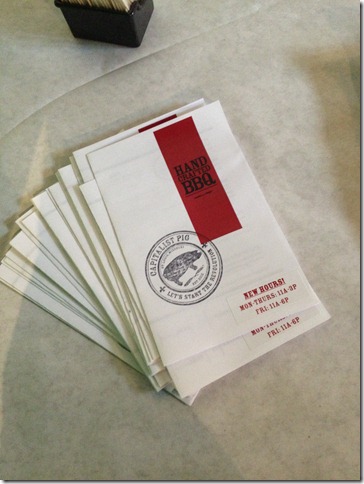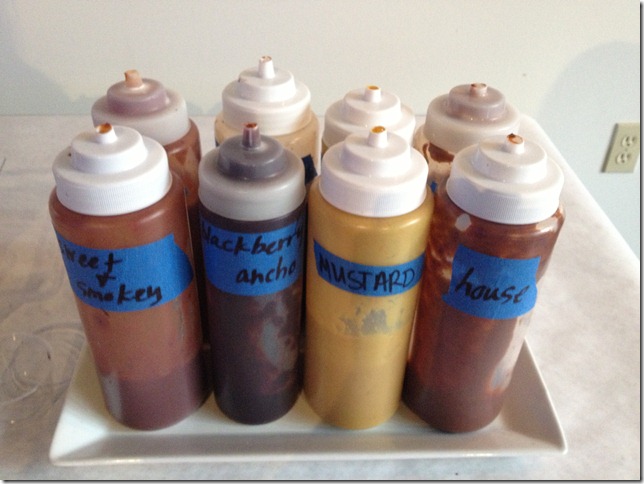 They had a nice assortment of sauces to choose from. My ribs didn't need any, but I tasted the House and Sweet & Smokey and they were tasty. Melissa loved the Blackberry sauce.
My ribs did need a stronger than plastic knife, but I managed by using my hands and teeth. (Arguably I could have asked the cashier for something, but I was feeling shy and also felt like this was a moral failure on my part. Plus the poor lady had already accidentally undercharged me and I didn't want to make things worse.)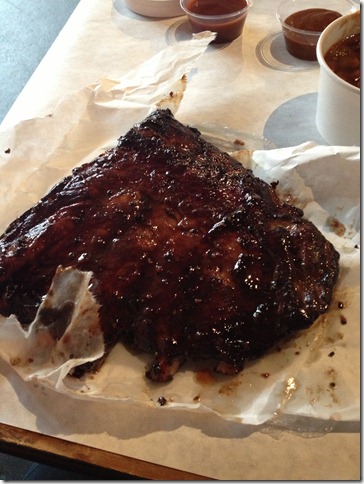 That's a half slab of ribs. These were TASTY and MESSY. It's weird—usually I don't order ribs, but for some reason I did. I'm glad I did, they were delicious. I was so proud of not spilling on myself too!
The corn muffins were delicious. The potato salad was really unique and had capers in it, and I LOVED it. The baked beans were good, though I think I like Bogart's better, and Melissa said the cole slaw was delicious and the mac & cheese was pretty tasty too. They had extra corn muffins so they gave us a big bag of them.
Oh, and remember how I just said I didn't spill? Later in the day I realized I had indeed spilled sauce on myself, somehow.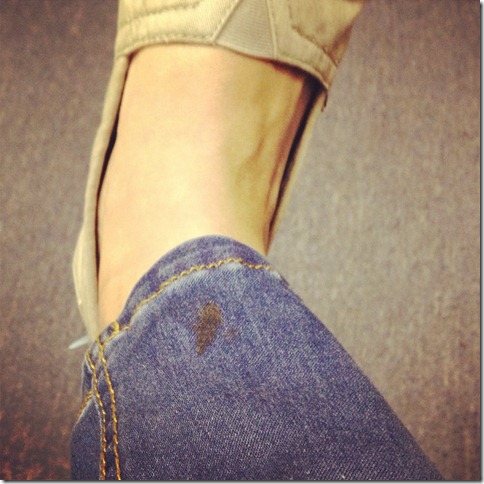 Seriously, not sure how that even happens. Then I realized I had a matching spot on the back of my other pant leg,.
All that being said, I recommend you check out Capitalist Pig. I think it's possible that St. Louis BBQ is starting to grow on me.