The Beggin Pet Parade was this morning in Soulard, and since the good folks at Purina sent me two VIP tickets in addition to some great goodies (leash, blanket, treats, frisbee) we HAD to go. Nearly 70 degree weather was the icing on the cake and I knew it would be a great day.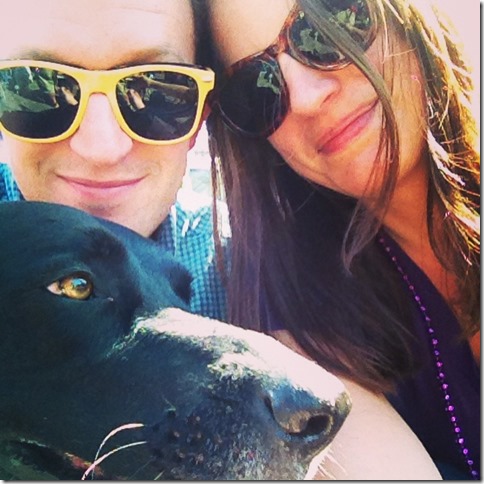 I honestly wasn't sure what to expect or what would be happening. I'm not a huge "group activity" or "festival" person because I get impatient and overwhelmed easily. But I figured we could manage a parade and besides, we had tickets to the VIP tent—which meant food and drink. Now, before you get too excited, remember I'm not eating meat right now and I had practicing to do later, so no drinking for me. We had hoped to run into my friend April but there were just too many people and the phone service was slow so we couldn't communicate where we were well enough to find each other.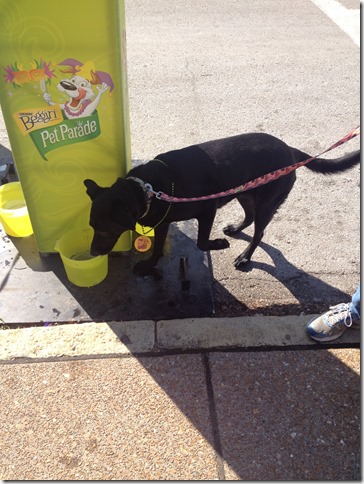 Only water for MacKenzie too.
I won't bore you with unnecessary details (I know, who AM I?) but we had a great time just walking around. MacKenzie loved sniffing all the other dogs and enjoyed being out in the seriously unseasonably lovely weather.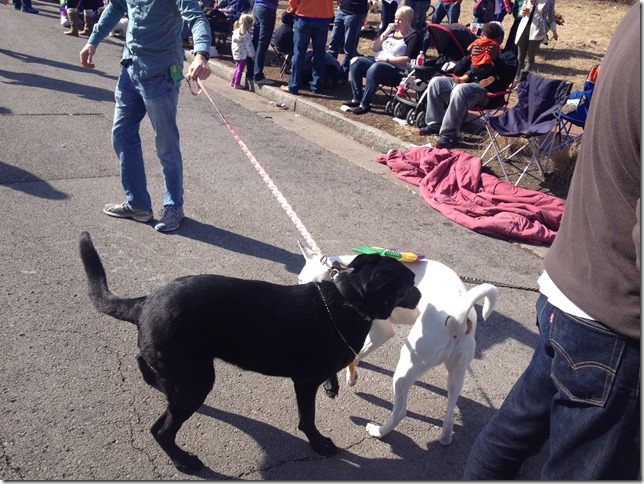 Louie and I had fun people and dog watching and checking out the neighborhood. We walked the entire parade route before the parade and then decided to go back and get some food at the tent. There wasn't much offered without meat but we got a little pasta and salad. There was a long line for the bar and since we weren't day-drinking (like most do at these events, I do get jealous of people who don't need to practice or do homework or other work later on weekend days!) we didn't feel it was worth it.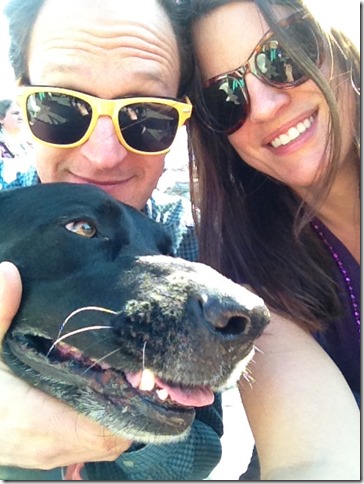 And the perhaps lame part was that we decided to skip the parade. We'd seen a ton of dogs already and the weather was almost too nice to just sit around. Maybe we are weird, but we decided to walk around more and went all around Lafayette Square as well.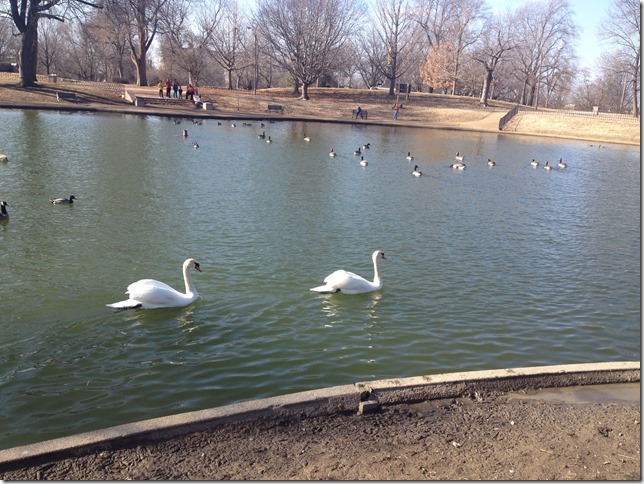 Swans! And geese and ducks!
The rest of my weekend was nice as well. Yesterday was beautiful and while I did have to work in the afternoon I managed to get a nice run in in the morning.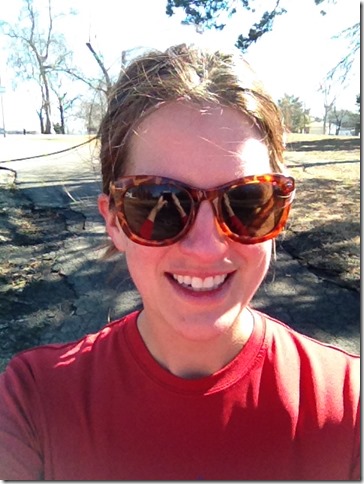 See I took a picture!
Here's the two cats hanging out—this is pretty close for them but they seemed content enough for awhile! Fatness (dark cat) is pretty aggressive and territorial but Chloe (white cat) has learned that she's MOSTLY all talk and just ignores her.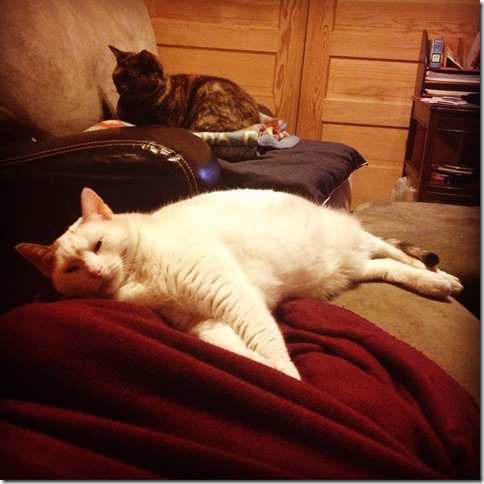 Last night we decided to go out for dinner to a local Chinese restaurant. We wanted to get green beans with a black bean sauce and this egg tofu with mushrooms dish. When our server informed us that they were out of the egg tofu, we were disappointed, but asked her which of the regular tofu dishes she recommended. We picked one of her favorite choices to order. The food came out a few minutes later and I tried a bit of the dish. I looked at Louie after my first bite and said, "I think this has chicken in it." (Remember, we have been not eating meat for a few weeks now!). We asked the server if the dish had chicken, and she said, oh no, no chicken. Only mushrooms and pork.
(We decided to eat it anyway, since sending it back would also be wasteful, and we aren't even REAL vegetarians. We learned a valuable lesson which is to ask if a meal has meat even if you think if won't because, for instance, it is listed under the vegetarian portion of the menu, because you just NEVER KNOW. Also the dish was really quite tasty and a good recommendation, just not a good recommendation for a couple who is awkwardly trying to avoid eating meat.)
Did you go to the pet parade? Do you find it uncomfortable asking for special treatment if you have dietary restrictions or food allergies?