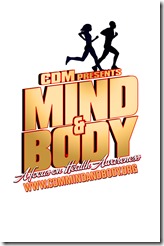 Here's a great looking event that was brought to my attention recently! It is a 5k and more on May 25 (in St Louis.)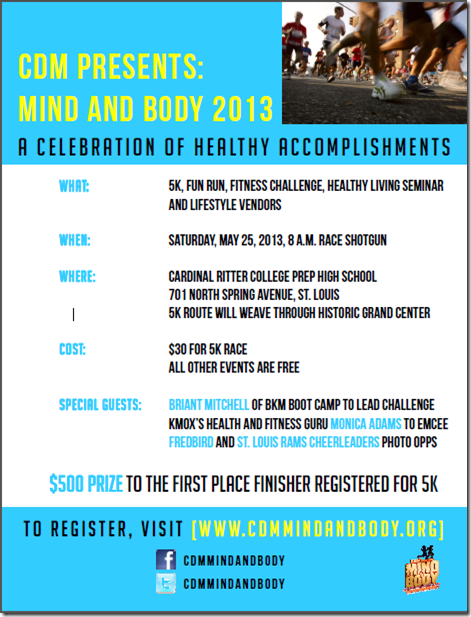 This is the second year of the event. They are calling this event as a "celebration of healthy accomplishments," but it is also a call to St. Louisans to get healthy and fit. Mind and Body is a family friendly event and will include a 5K, fitness challenge, healthy living seminar and local vendors. The event is sponsored by Whole Foods, Qdoba and Bommarito. Fredbird and the St. Louis Rams Cheerleaders will appear, and there will be a $500 prize awarded to the first place finisher of the race.
Here's a link to an article about the motivation for the event. From the article, "Fast forward to today: Since deciding to take control of her health, Pastor Ringo has dropped 35 lbs., going from a size 12/14 to a size 6 and gaining lean muscle. As a whole, the weight loss group has lost more than 600 lbs. They continue to meet bi-weekly and strive to incorporate new exercises such as spinning into their workout routines."
Register for the 5K at www.cdmmindandbody.org. I hope to see some of you there! $500 prize for the winner! (though I'm sad because that'll probably just be some guy…let's bring it, women!)
Disclaimer: I was provided a free entry in return for blogging about this race, but nonetheless you know I love races and think that everybody should be inspired to live a healthy lifestyle!