Stop making those of us who are spending Thanksgiving with our friends rather than our family (for whatever reason, primarily because we moved out of our parent's house some time ago and perhaps EVEN to a different city or state, and maybe we have work that doesn't let us off for days and days on end) feel like ungrateful losers.  It's going to be a fantastic day and I'm sorry you have to come up with ways to "survive the holidays" while some of us are looking forward to one of the best days of the year!
Friends are the family you choose for yourself. 
And no disrespect to my family (love you all and hope to see you in January!), but the best part of friends is that there is no unconditional love so you have to be good people to each other to keep the relationship alive.  Seems healthier to me!
I love celebrating holidays with the people I spend the most time with.  I am so thankful to not have to brave the crowds to travel anywhere.  I'm thankful this ecard isn't applicable to me.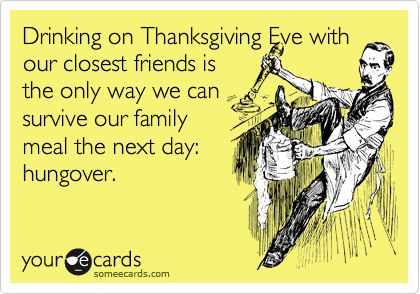 Do I seem weird and bitter in this post? 
I'm just tired of people making me feel bad that I am not spending Thanksgiving with my family.  Guess what!  I am not spending Christmas with them either.  And please try not to make me feel bad about that either.  I've invited them all to my wedding, no worries! 
I'm sure you will though.  And then you'll tell me when I have my own kids I'll understand. 
Love,
Hannahviolin