Dear Readers. Dear dear readers.
I am so behind on wishing you a Happy Thanksgiving! So Happy Thanksgiving and all that. I hope you had a wonderful day. I had a great trip to Philadelphia to visit my boyfriend's family. My mom grew up within a few hours of Philadelphia so I'd been there a few times before but not in a long time.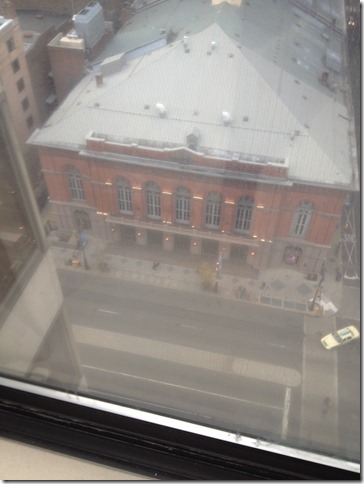 The view from the hotel room. The old home of the Philadelphia Orchestra.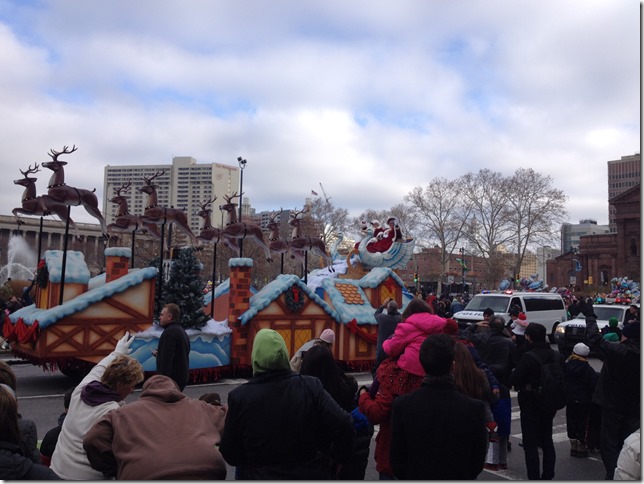 The end of the Thanksgiving day parade. We popped over to see it and caught a few floats, a band, and Santa.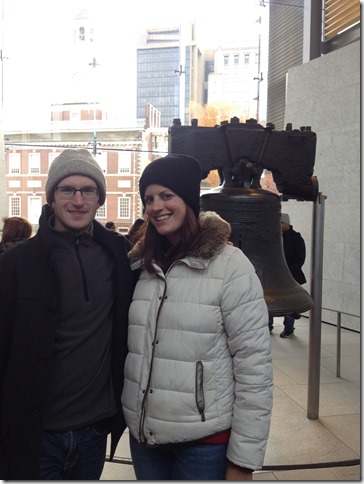 Saw the liberty bell. Mostly this seemed like a photo op 🙂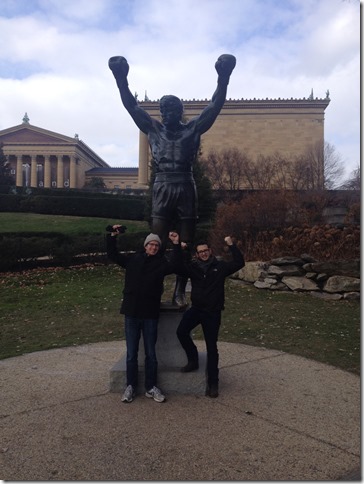 Louie and his brother at the Rocky statue outside of the Art Museum. Evidently the steps in front were used in the movie. I haven't seen it, nor did I run up the steps.
Awkward city selfie.
It was a fun trip and I'm glad we went. We saw a play (QED at the Lantern Theater), had Chinese food in Chinatown for Thanksgiving, saw a movie (Rosewater), and tons of sightseeing—the liberty bell, various neighborhoods, Reading Terminal Market, the Macy's with the giant organ. The Art Museum was really neat even though we only had about 1 1/2 hours there. Hopefully I'll be back!
Then it was home and off to St Joseph, Missouri for a band show. This was our farthest show and I'm glad of that.
I stole a few of those photos from my friend and band mate Anna's facebook page. How beautiful is that theater on the outside?
I'm spending today being a bit lazy even though I have quite a bit to catch up on. I am feeling like drinking a ton of coffee and just being generally lazy…reading…even though the house is a huge mess and I probably ought to practice. I feel like I started the semester so behind and now I'm just trying to tread water and waiting for the Christmas break in order to catch and make actual progress in my life. That's the story you've been hearing for months at least, right? I really do think after Christmas things will be better. I'm working on saying no more and learning what projects I want to take on.
One "little" thing I haven't mentioned. I'm in St Louis right now. I have a lot of thoughts about all that is happening, here in St Louis, and in the nation. I think we can all benefit by trying to put ourselves in other people's shoes. There isn't enough empathy in the world, and not enough people try to imagine the world that people other than themselves live in. I think we all need to do better, going forward. I know I will try. I hope you all do too.