Today is my youngest sister Carrie's birthday.  She's 19, and I can't believe it.  I remember the day she was born…I remember the day my mother told me she was expecting.  I remember how little she was when she was born, how soft her little feet were, and how firm her grip was around my fingers.  And now she's 19, and plays the viola, and is a great success in so many things, ranging from yoghurt making to viola playing.  How fast time goes by!  Happy Birthday, Carrie!  May you have 19 more years.
It's been a great trip to Phoenix so far—
What I've done:  run the P.F. Chang's Rock and Roll Half Marathon, visited Taliesin West (Frank Lloyd Wright School), went shopping at the Scottsdale Fashion Mall, went to many different restaurants including Postino, Wild Thaiger, Cibo, and The Main Ingredient.  We had a fondue party with a few friends, made Pasta Puttenesca, did an upper body workout at Leslie's gym, rode the light rail, and I attended the Phoenix Symphony's Concert over the weekend.  Possibilities for today include hanging out with some friends, going to a Mexican restaurant, and attending a Bikram yoga class.
Bikram yoga, you ask?  Well, talking with Leslie it seems that the St. Louis Bikram studio might be more strict than hers and I'm very curious to compare.  It seems that some of the aspects that turned me away from Bikram might be location – specific.  In any case, I'd love to have a more informed opinion, plus the sweaty stretching might be fantastic.  But we are also feeling quite lazy and want to relax as well.  If we don't do Bikram, we'll do a different fitness activity, perhaps a video workout. Today is my last vacation day before travel, and then it'll be back to work.  The rest of January is busy, and February looks to bring some great activities as well—opera, Mark O'Connor workshop, St. Louis School of Music teaching, plus delving into the Parents as Partners Online which officially started the other day.
What I haven't done in Phoenix:  followed my diet very well or kept up on my reading, as in I still haven't finished War in Peace, much less started on my other books.  I'll have to catch up on both upon my return.  My travel day will likely do wonders for my reading as well, though I certainly hope things aren't delayed due to weather…ugh, it's always a crap shoot, traveling in January.  I also haven't seen as much of a few friends as I had hoped to, but I guess people are busy.  Maybe I'll get to catch up with them today…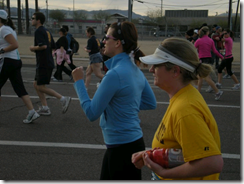 You can see my fists clenched…not very good form!  PIctured in yellow is my friend Sarah.  Working hard, we were!