Today's post is a book review/giveaway!  Thanks to everybody who commented on my post yesterday—if you haven't read it, I'd love it if you did.  One of the things I love most about my blog is that I'm not limited in my topics.  Tomorrow I'll write about something completely different, so check back often!
Harry Leslie Smith wrote three books which are all part of his memoirs.  I was hooked on his story from the beginning, and I read one book after another, eager to learn more about his life.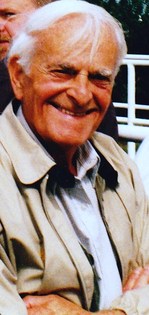 1923: A Memoir Lies and Testaments
Hamburg 1947: A Place for the Heart to Kip
The Empress of Australia: A Post-War Memoir
The books weave together Harry's personal experience with history as we know it today.  He was born in 1923 in England and lived in complete poverty growing up.  His family situation was incredibly difficult his whole childhood. He joined the Royal Air Force during World War II and was stationed in Hamburg, Germany after the war.  It was fascinating to see how people lived in Germany after the war—this was something I had absolutely never thought of.  He also did a wonderful job of bringing the difficulties of the lower classes in England to light, and bringing us into the mindset of these people and to really understand their struggles and challenges.  He tells his story frankly and calmly yet with humor throughout.
Harry had so many hardships in his life, but managed to keep hopeful that life would get better.  Harry is just a likable guy.  I found myself rooting for him at every turn. He met and fell in love with a German woman in Hamburg and had many ups and downs in their relationship, from courtship, to marriage, to moving back to Halifax, England, and finally emigrating to Canada (that's where the story ends…for now.  The author is working on the next volume!)
I couldn't put my kindle down while I was reading these three memoirs.  It's funny, because I'm a huge fan of Downton Abbey, and I kept thinking about the fact that Downton Abbey is set during the same time period that Harry was born and was growing up.  Now yes, I know Downton Abbey is fictional, but it is based on real people–Here some people are living in such incredible luxury, and others are barely surviving.  I guess the world today is much the same though.  It's just amazing to think about sometimes.
I emailed with the author several times as well, and he was always cheerful, pleasant, and erudite.  It's amazing to me to think of what he has lived through.
Here's Harry Leslie Smith's bio,and here's a link to his blog:
Harry Leslie Smith: Harry was born in 1923, in Barnsley Yorkshire. He is a Second World War veteran who served with the RAF. Following the war, Smith remained in the Royal Air Force and was stationed in Hamburg Germany as part of the allied occupation force. During his military tour in Germany, Harry Leslie Smith developed a strong attachment to the German people and their culture. Following his service in Germany, Smith was demobbed and returned to Yorkshire. In the 1950′s Harry Leslie Smith became disillusioned with life in Britain and emigrated with his wife to Canada. Following a successful career in the Oriental carpet trade which lasted close to fifty years, Smith finally retired to follow his true calling: exploring the social history of his generation through memoirs, essays and public speaking events. Harry Leslie Smith's essays have been featured in Canada's National Newspaper The Globe and Mail Facts and Argument Section, numerous journals and through on line platforms. He is an accomplished speaker that has told the history of his life and his generation during the Great Depression and the Second World War to schools, colleges and professional associations. He is the author of 1923: A Memoir, Hamburg 1947, The Barley Hole Chronicles, 1953: The Empress of Australia. Currently, Harry Leslie Smith is working on a memoir of Toronto in the 1950′s as well as a book about Ex Pats in Portugal. Nearly 90, he still has miles to go before he sleeps.
I always feel like I could write a better or at least, longer, book review, but I hate to give too much away. I personally don't like reading a review that tells everything about the book, so that's why I'm trying to be fairly brief.
Giveaway time!
I'm testing out the rafflecopter widget here so bear with me if there are any problems.  One lucky reader will win all three books, ebooks only 🙂  I think you'll enjoy them, and you'll be glad you got to know Harry Leslie Smith.  If you don't win, I highly recommend you read them anyway–the kindle editions are really affordable (you can get the set for under $4….I guess this is a pretty cheap giveaway too, ha!)  Those are affiliate links above so if you do buy something I get a tiny amount.