I missed blogging this week!  I was at home (that is to say, where I grew up) without regular wi-fi, and it just seemed easier to not worry about blogging at all, with the exception of a couple of posts from my phone.  At least we do have reliable cell coverage in Clinton—I recall many visits back in the earlier cell phone days where the sprint network did not seem to cover Clinton.
Clinton, South Carolina.  My hometown.  I moved there when I was a little girl with my family, and we lived in a lovely home near Presbyterian College.  After a couple of years my dad (who is evidently prone to long-term, grand idea type projects) decided to purchase some land on the outskirts of town on which he was going to build a dome house for us to live in.  This took awhile, as he also worked full time, but on his weekends and vacations he worked on the house.  About 10 years later we moved in. 
This is all just a naturally accepted part of life for me, and I sometimes forget that people aren't used to living in dome houses.  So I figured I'd take a few pictures. 
Oh, one other note:  Either I looked pretty wretched all week (possible, due to the humidity) or my family just doesn't take good pictures.  I also felt less comfortable making them take pictures of me than I do with Chris—with him, I just hand him the camera and he doesn't argue, but my parents and sister seemed to think my insistence on a nice picture was a bit selfish and ridiculous of me.  I don't know.  I just like to document things, and love looking back on pictures of…well…myself.  But there aren't any pictures of me (or of oatmeal) in this post.  I apologize.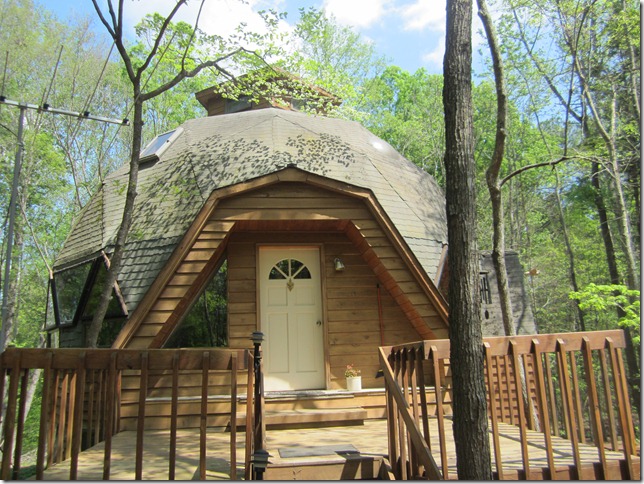 The front door.  The "round" factor comes from a bunch of triangles that are made into hexagons and pentagons.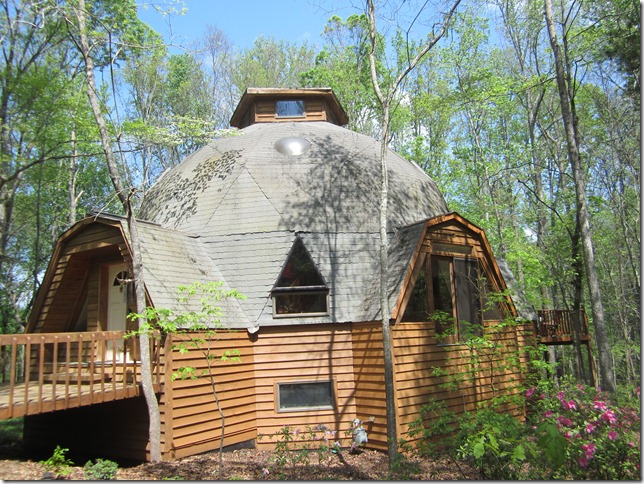 From the side.  I would have walked around the back, but it was pretty muddy from rain.  You can see the back porch, and the side door that was originally planned to lead to a wrap around porch.  You can also see the nice triangle window.  Basically there are three floors—a somewhat unfinished basement that includes an office and a bathroom, the main floor: with kitchen, living room, dining room (all connected), breakfast nook, and then also laundry room and master bedroom/bathroom, and the second floor: three small bedrooms and a bathroom.  We kids lived upstairs.  I forgot to take a picture, but the walls bend in on you—you have three walls, two flat and one rounded…oh, and no real ceiling.  One of the things that bothered me most growing up was the absolute utter lack of privacy.  The bathroom did have a ceiling though.
At the very top of the dome you see a little lookout room.  It's called a cupola and it's where bugs go to die.  It's a small room that you can get to by a little ladder of sorts.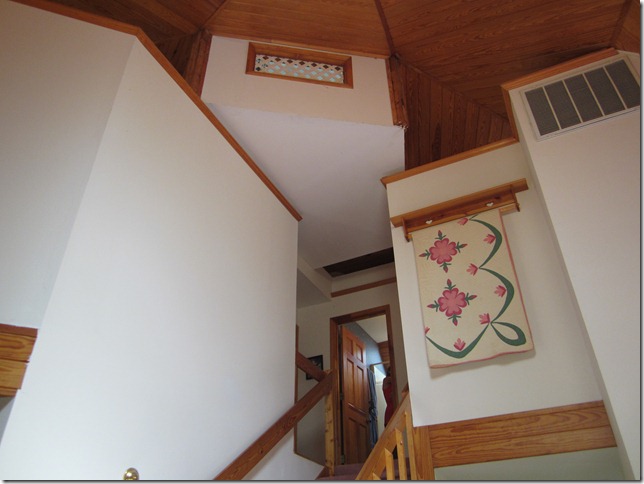 Looking up to the second floor—see the space between the walls and the ceiling?  That's what I'm talking about.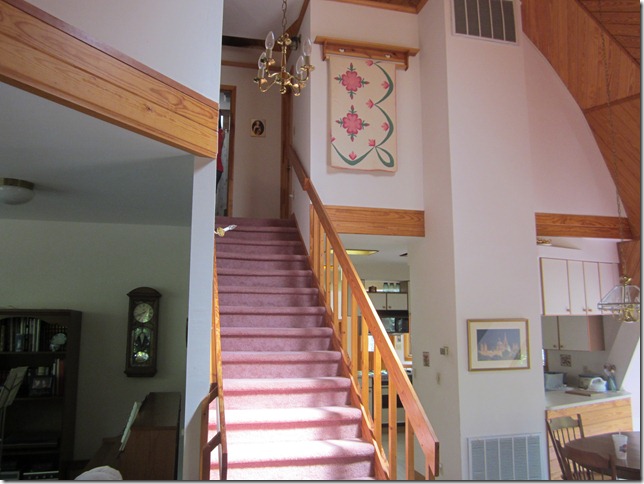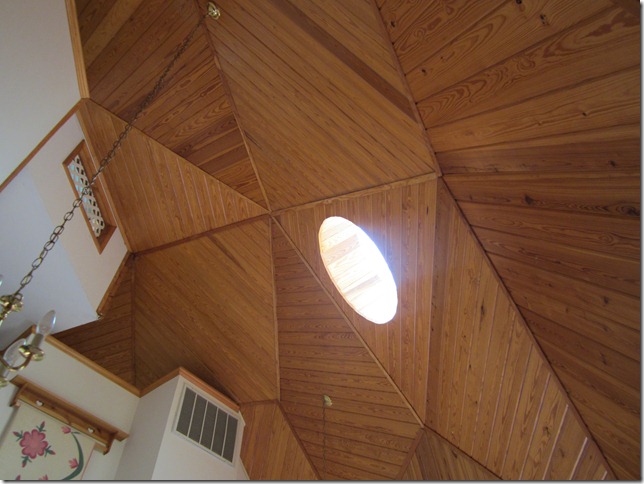 Inside of the dome.  All of the inside is that wood and you can see the triangles.  That's a skylight to allow in light. 
And that's all the pictures I took of the house this visit.  I hope you enjoyed your virtual tour of the house that my dad built ;)  Like I said, Dome sweet home.  Home sweet dome.