I suppose it was inevitable, that I would injure myself in some way.  I may have overcommitted to performances this month, but I feel like ordinarily I play so RARELY that I really wanted to take advantage of every opportunity.  While lifting pretty heavy weights…and then there you have it.  Boom.  Concert over, and I just barely made it through the week.  I'm taking a week off violin, and depressingly I have made the decision NOT to run the half tomorrow, because running and walking seem to exacerbate my shoulder pain.  No, I haven't been to the doctor.  The last few times I've gone to the doctor for an injury from playing, they tell me to rest and ice.  Then I go back and they tell me it's getting better and I need to keep resting, or stretch it, or do something exercises to strengthen it.  I haven't really rested yet, so that started last night after the show.  I'll consider it if things don't improve in a week.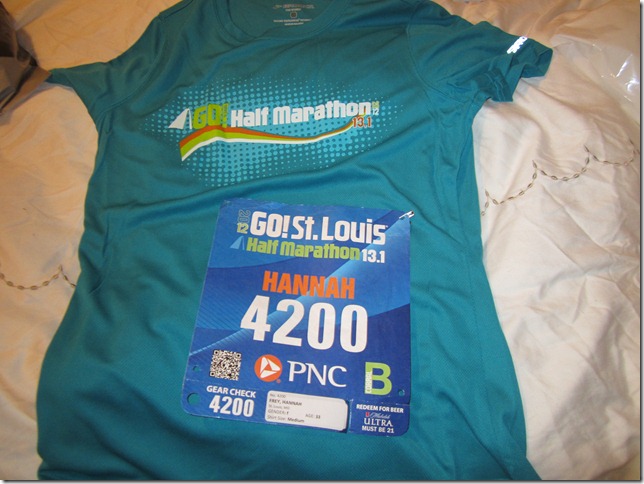 Got the shirt, got my bib.  I got a little upset (yes, I may have cried) that I have such an awesome number and my name is on the bib…and I'm not running.  I'll be there cheering Jen and Steve on—Melissa and I are going down super early to cheer the beginning and the end, and I'm sure that will be just as exciting as running.  I'm sure the food at the end tastes just as good, right?
I have to remind myself that I need my shoulder for my career.  If I didn't need it as much, I'd run/walk and then deal with it afterwards, but by tomorrow my shoulder could already be healing a bit and then I'd reinjure it like I did this week.  Based on various thoughts, it seems I might have a tear in my rotator cuff.  Sounds pretty hard core, right, like something Greg Maddux would do?  Doesn't feel it.  I kind of feel like a loser.  Hurts to play at the frog.  Last night it hurt every time.  I have an amazing ability to play through pain.  That's not necessarily a good thing.  (Oh, and it's not just my shoulder than hurt…just that my shoulder hurt most.)
I need to learn to run through discomfort…
We had a big crowd at the Chamber Project St Louis concert last night.  I was too stressed out to get any pictures.  One of my students, Adam, came (shout out, I know he reads my blog) and my trainer Mike came as well.  Mike was surprised by how physical violin playing was—I'm glad now he knows what it is that I do.
The Brahms was stressful.  We could have used more rehearsals.  It went okay.  I was in so much pain and so relieved when it was over.  I think we're playing it again in two weeks.  (Don't ask me how that fits into my rest plan, it does.  It'll be fine, it always is.)
After the expo today, Jen and I decided some shopping was in order.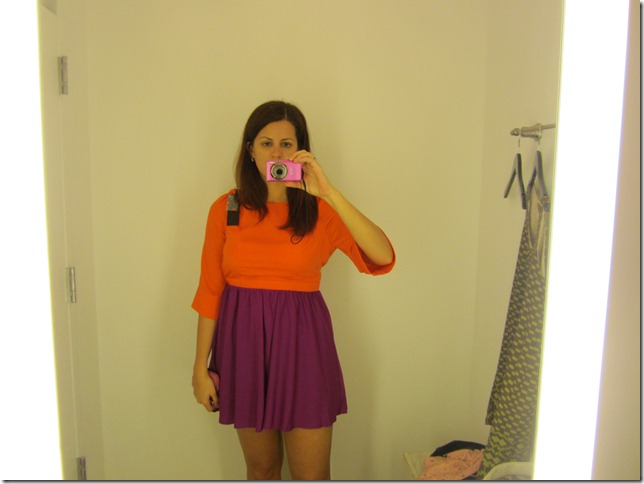 I thought this would be nice for Leslie's wedding—it's orange and pink! (Maybe a little short?)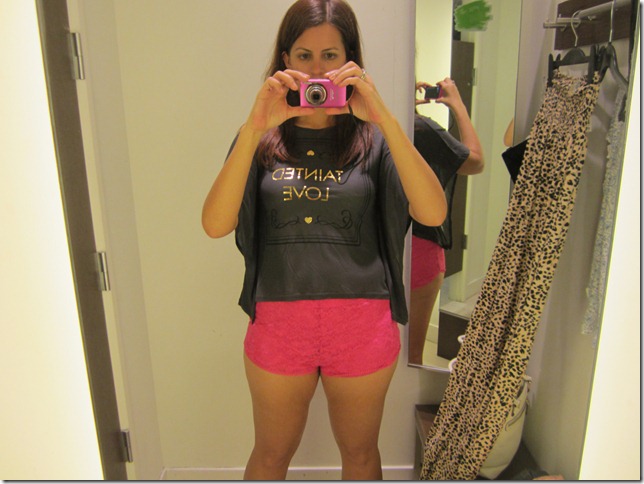 Potential 80's race outfit?  I thought the shorts might be a little short to run in (and pretty unflattering)  I also thought they might be a little short for the blog, but I'm too delighted by them to really care, and it's important to OWN one's thighs, right?  Most of that is muscle anyway. Plus, the shorts are pink lace!  With an elastic waist band.  You're welcome.  I also got that dress to the right, which is actually pretty amazing.  (Also, as in I couldn't pass up the Tainted Love shirt.  H&M is awesome.)
So I'll be cheering tomorrow, like I said.  Today I'm trying to get more stuff done.  I'm still feeling overwhelmed, but I think once I get started next week at City Academy (taking over some teaching for about 6 weeks) and once (hopefully) my shoulder starts to feel like it's healing I'll be better. 
I'm doing the right thing, aren't I?  I just feel like such a loser.  I wanted to redeem myself for this race, and it's just not happening.  But it wouldn't have been happening, with my training being a mess as well.  It makes me sad.  Must be April.