I was thinking yesterday how lucky I am that I am able to go on a fun vacation every year.  Not everybody is able to get away for a week or two and do something different, and I am really appreciative that I can.  Sometimes I get a bit jealous of other people's travels, but I am glad to be able to experience what I can.   It's always good to put things in perspective in your mind, and be sure to appreciate what you have!
When I was a child, we traveled quite a bit in the summer as well–I have been to many of the 50 states and visited many National Parks, along with lots of SC and FL beaches.  I have many journals and scrapbooks from my childhood travels.  These days I blog instead of journaling 😉 and take pictures.
Additionally, I have friends and family who travel and bring me back nice souvenirs.  I was given a beautiful (yet a bit overwhelming!) blouse from China for my birthday.  I took a picture of it yesterday as I wanted to share this picture with the person who gave it to me.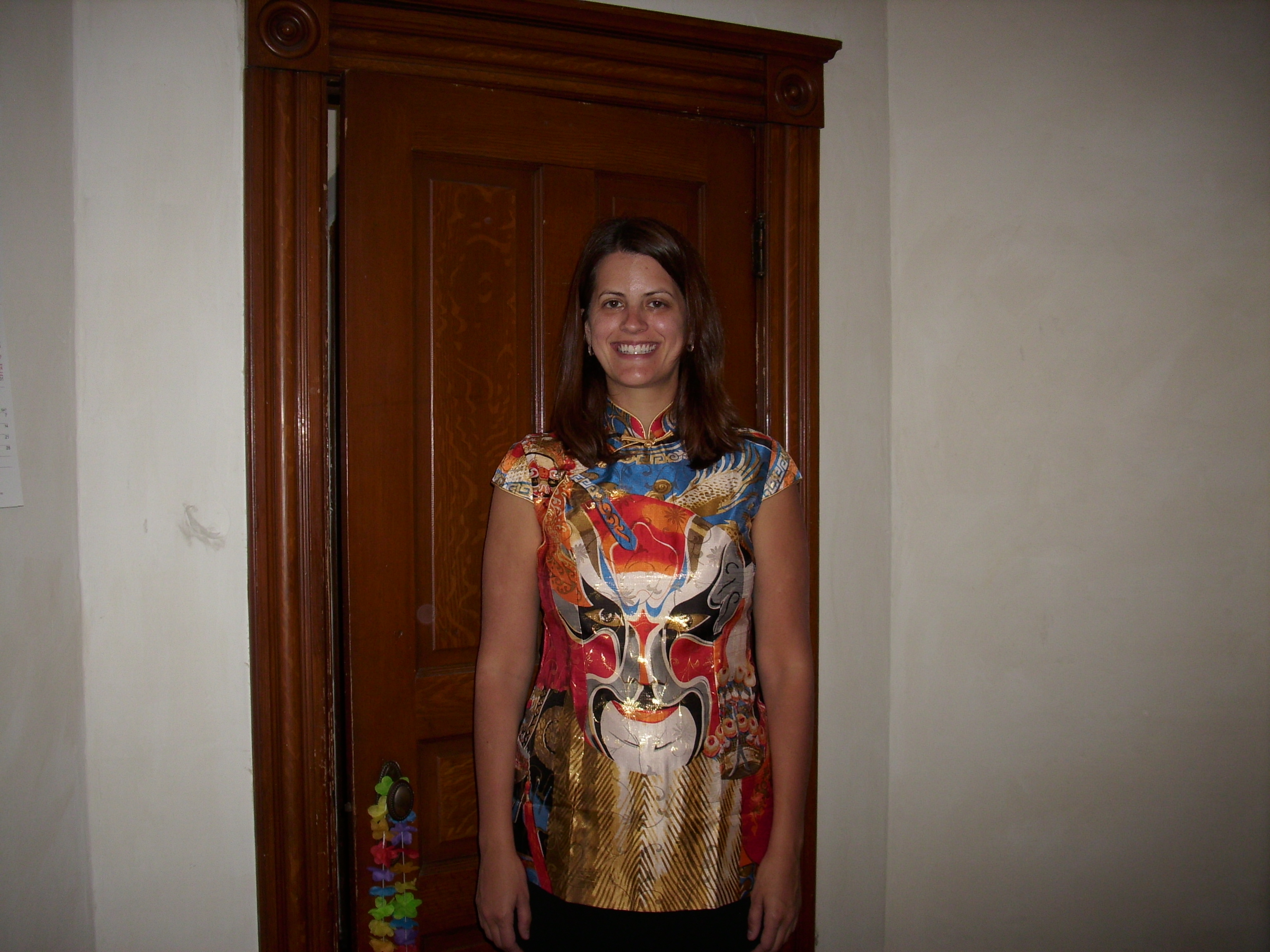 I have been working hard the last week, both preparing for my upcoming cruise, and getting ready for the beginning of school.  I am gone until after school starts, which is fine as it's nice for the kids to get accustomed to their new school schedule and then start violin lessons or classes.  It just means I will need to basically hit the ground running, or at least at a brisk jog.
I have mentioned my upcoming cruise several times in my blog.  Let me tell you more about the plans!  We are going out of Tampa on an "Exotic Western Caribbean" itinerary.  We will be visiting Georgetown, Grand Cayman; Cozumel, Mexico; Belize City, Belize; and Isla Roatan, Honduras.  In the Caymans (where I have been before!) we are planning to do a jet ski excursion where we will jet ski around the island, visit "Stingray City" where we will be able to pick up stingrays and "pet" them, and probably hit up a beach as well.  We should also have time to get lunch where I really want to get some conch fritters.  In Cozumel we are going to a beautiful beach resort for the day and might also do parasailing!  Belize we are going to Xunantunich Mayan Ruins, and in Roatan we have a private island tour booked.  Roatan seems to be the least built up of all the ports (though Carnival just built a gigantic complex on the beach there) so I am particularly looking forward to it!  We have several "excursions" that I booked through private companies versus paying a premium for the ship tours.  I haven't done this before, but I read many many reviews online of various activities and feel pretty secure in my choices.
While in Tampa we will be visiting a good friend from when I lived in Cleveland, and spending a few days there as well.  Several years ago Chris and I spent a week in St. Petersburg, Florida, and one of our favorite places was the Salvador Dali Museum.  I think we might go back there!  On that previous visit we also went to several Tampa Bay Devil Rays (now just the Rays) games and the Holocaust Museum.  The Rays are out of town, and while I remember the Holocaust Museum being very good, it was of course very sad and depressing.  We'll also see what our friend recommends to do, as she now lives there year round.
We got a great deal on the cruise since we are going after school starts up (it seemed the rates dropped then).  I used priceline to get a hotel and a rental car, and felt good about those rates as well.  Can you tell how excited I am?
I hope to be able to continue my half marathon training while on vacation.  I will get a little behind on the long runs, I think, but should hopefully be able to run 4 or 5 miles every day or two.  I plan to eat as much as possible though 🙂