Winner has been notified—congrats to Carol Sue!
I never wore much makeup when I was younger.  I still don't really, but I do wear more than I used to.  Chris always says he prefers me without makeup, but the older I've gotten I like to wear more because it makes me feel better and I feel like I look more professional as well.  Generally I wear a bit of foundation, powder, eyeliner, and mascara.  If I'm really getting fancy I'll add eyeshadow, blush, and something on my lips.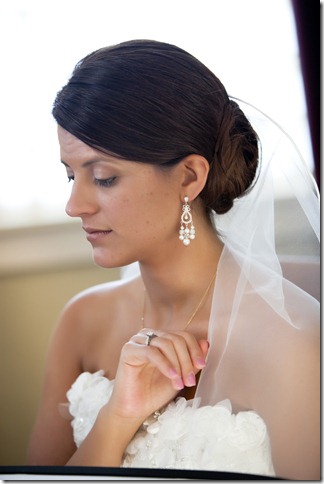 (Me, fancy.  Hey, I'm still a newlywed, I can post wedding pictures for at least the rest of this year, right?)
When Mia Mariu asked if I would review a couple of their products, I said sure.  They sent a few things, including an anti-aging serum and a lip gloss.  Now, I can't properly review the anti-aging serum after using it for just a week or so, because I don't know how well (or poorly) it is keeping me from aging, but I'll say that it is a very nice texture, feels great going on, and has a nice neutral smell.  It seems to moisturize well, and I don't feel that I've gotten too much more visibly older yet.  So far I like it, and I'll keep using it (at least until the bottle runs out!)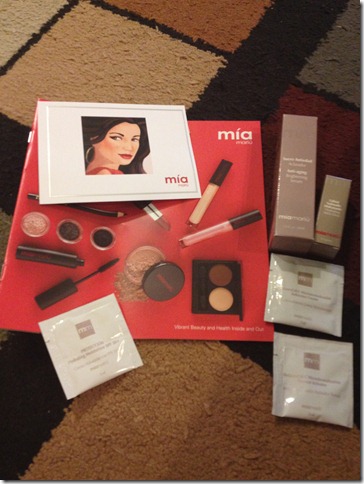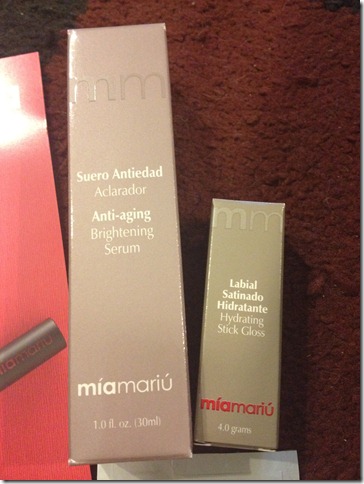 The lip gloss is in lipstick form, which I am absolutely terrible at applying.  I know as a "27 year old" woman (that was something we decided on at my party last night, I am not actually 27) I should be able to apply lipstick, but I can't.  The color looks bright red, but is actually really subtle.
Anyway, I should tell you, yes, I got these products for free to review, but I do like them, especially the "Anti-Aging Brightening Serum."  I also liked the little sample packs.
CONTEST NOW CLOSED!  WINNER ANNOUNCED TOMORROW.
Now it's your chance!  You can win one Anti-Aging Brightening Serum and one Hydrating Stick Gloss (your choice of color).  Retail Value of $52.  US Residents only please.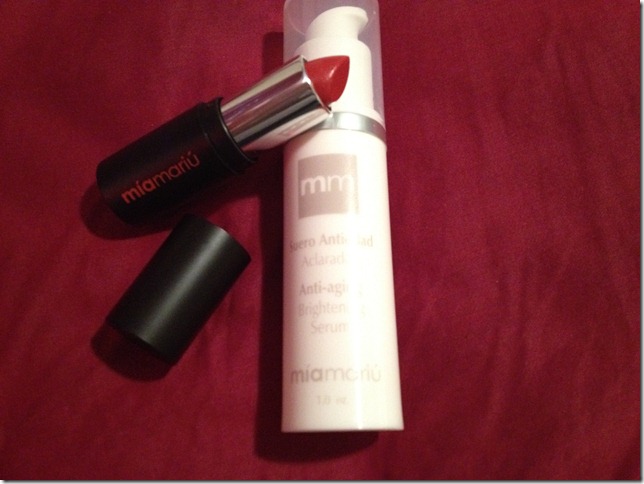 Three ways to enter (please leave a comment for each way you enter)
1.  Leave a comment on this post—it can be about anything, but I'd love to hear what your usual morning beauty routine is.
Bonus entries:
2. "Like" Mia Mariu on facebook.  (You can also "like" Hannahviolin, but it's not required.)
3.  Follow Mia Mariu on twitter, follow me on twitter, and tweet the following:
"I just entered to win a free @mia_mariu anti-aging serum and gloss from http://hannahviolin.me/2012/08/27/mia-mariu-product-review-and-giveaway/ @hannahviolin"
Contest will run until Monday, September 3rd at 11 pm CST.  Good luck! NOW CLOSED, THANKS TO ALL WHO ENTERED!