I'm starting a new thing (ha, we'll see how long this lasts) where on Mondays I try to catch up on random stuff I want to tell you plus remind you of any awesome things that happened over the weekend, if you are just a weekday reader.  Today I am giving you some discounts (Simply Snackin' and Pretty Muddy Race Series), giving you a short book review, and telling you about what I was up to.  You can always bookmark this post and come back later if you are too busy today to deal with all of this information.
I was recently sent some chicken and beef meat snacks to try out and tell you guys about.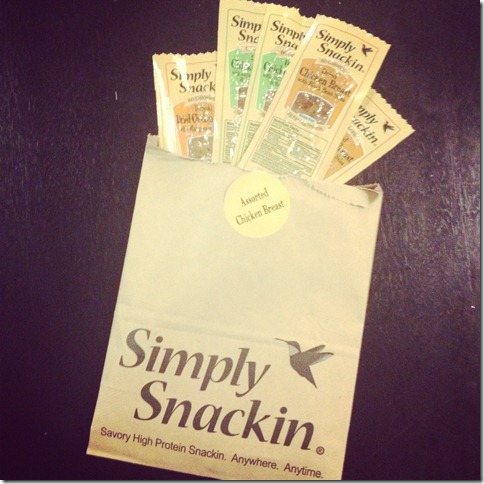 Each serving is 60 calories and obviously very high in protein.  The company is family owned (if that appeals to you!), and honestly, these snacks are delicious.  I've tried a few of them and I really like them.  They aren't too dry like some jerky is—they are juicy and tasty, and a nice afternoon snack.
Through January, you can go to simplysnackin.com and enter SSjan2013 for 10% off the purchase price.  Again, even though I was given this product for free, I would buy it again for 10% off because it is tasty and I love high protein, portable snacks.
2. Book Review:
Champagne: The Farewell by Janet Hubbard
The main character in Champagne is a female detective named Max.  Max is in France attending a friend's wedding when her friend's aunt is murdered.  Though the French police are on the case as well, Max feels compelled to help, even while being involved romantically with one of the French detectives.  She tries to use her position as a friend of the family to get the other family members to confide in her, while trying not to get too romantically involved with the detective, Oliver.
I loved the detail in Ms. Hubbard's writing and I enjoyed being transported to the French countryside. Sometimes the book felt a bit tedious and the author really wanted to emphasize how French things were, but I generally enjoyed the read and felt that the mystery unraveled in a natural way, without any ridiculous plot twists.  The ending surprised me but it all made sense, so that was a plus in my book!
Anyway, go to that link above to check out the book (it's an Amazon affiliate link, so if you buy it I get a tiny percentage of the sales and that can help support this blog and keep me taking cat pictures and pictures of myself.)
I was provided a review copy free of charge but my opinions are my own.
3. Pretty Muddy Discount code.
Are you familiar with the Pretty Muddy races?  I haven't done a mud run before, but maybe I will someday.  This is a mud run that is all women.  My friend Rose has a great blog post with mud run tricks and tips, and my friend Adam (The Boring Runner) recently wrote a post querying whether "all women's races" were fair.  Both are worth the read.
They are offering a ONE TIME $20 discount. The code is GIRLTIME.
This special expires at the end of January…after that the price will never be this low again—no groupon or living social deals like you might have seen in the past.  Supposedly there is going to be one in St Louis in September but it's not on the website yet…
4.  My life
I took a bunch of food pictures today, so I thought I'd share with you what I ate today in case you were curious. (Humor me because I realized I photographed basically everything I ate today, so this is possible.  Why, I don't know.  Maybe I was bored, or I was playing around online with my friend Sarah and we realized if you instagram something and tag it with #crossfit you automatically get a ton of likes, or I'm obsessed with photographing my food because I'm becoming a caricature of a real human, or I get amused taking food pictures ever since a friend made a joke about turning food into poo…not like that joke has only happened once as some days I feel like my life is one big poop joke…but I digress.)
Breakfast:  I started with this banana…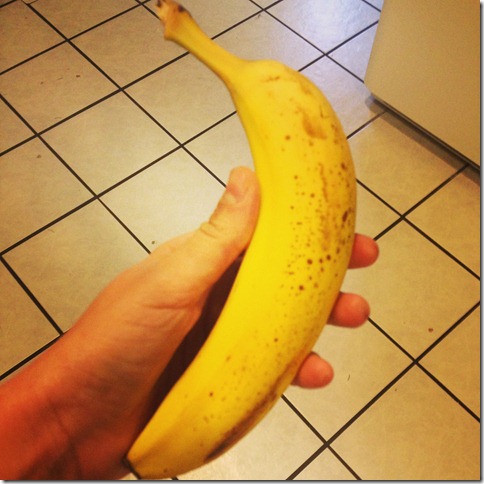 I had a lot of trouble cutting it, but I managed.  (There is a banana slicer on amazon, please read the reviews if you haven't.)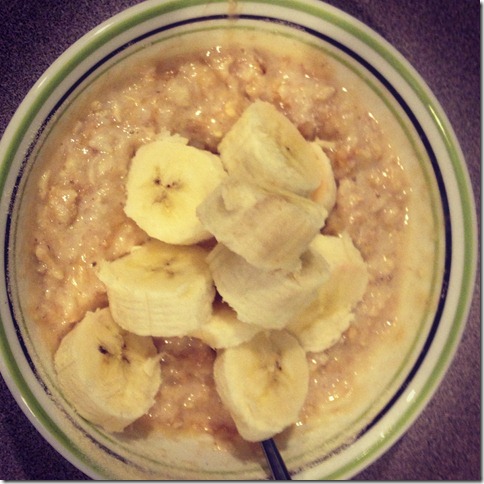 Oatmeal with banana, protein powder, and a little peanut butter for flavor.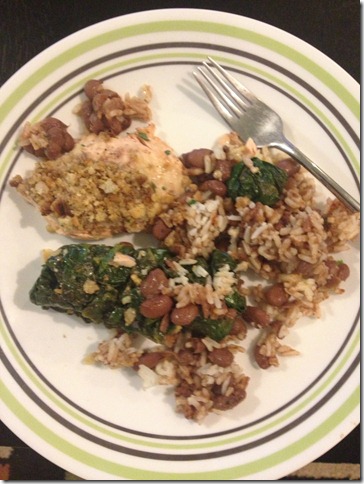 Lunch was leftover Salmon Frazer from Friday night, with rice and beans and spinach on the side.  Yummy!
Oh, then we went to see the Hobbit in 3D with some friends and I had some popcorn.  I didn't photograph that, but I ate several handfuls and it was tasty.  The Hobbit was AWESOME in 3D.  On the list of things I have said in the past that are incorrect:  "I don't see why anybody needs a camera on their phone" and "I don't see why movies need to be in 3D."  I was wrong on both counts.
After the movie we decided to grab dinner nearby and went to Granite City Brewery.  None of us had been there before so we were eager to check it out.
Chris started with the beer sampler.  I actually just had one beer (the IPA) but the sampler was much more fun to photograph.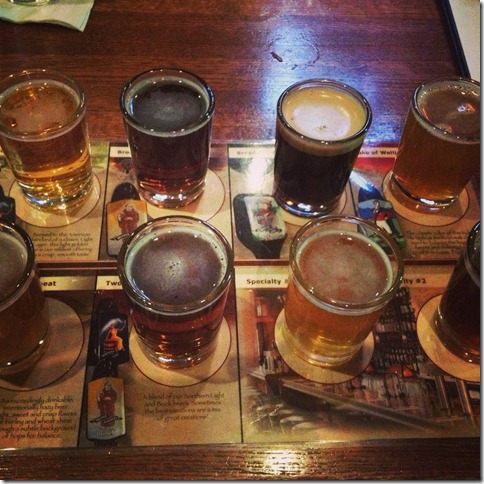 He and I are both huge IPA fans, and he ordered the IPA after sampling a bunch.
I had the Korean Tacos for dinner.  They had pork and a "korean" sauce on them.  Very tasty.  Not pictured: side salad.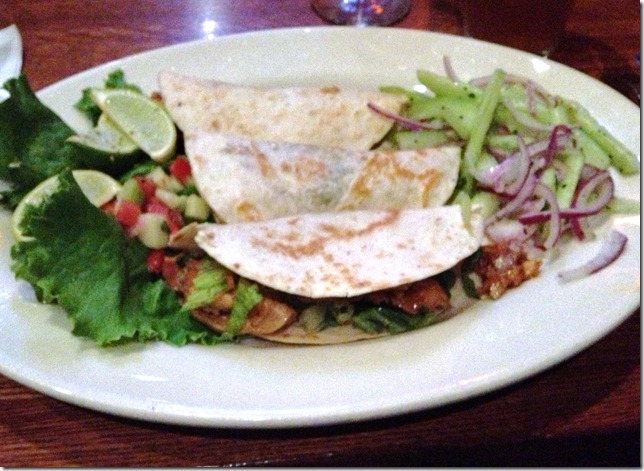 I didn't eat the cucumber salad because I don't care for cucumbers.
Our friends had brought us a small "anniversary"gift and we had the bag on the table.  The waitress asked if I was my birthday, and I said no, but our anniversary was last week.  She got excited and we were like, oh no, no, that's not why we are out.  But then I remembered Chris JUST had a birthday and I mentioned that (yes, I'm an excellent wife) so she offered us a free dessert.  My rule is: never turn down free dessert.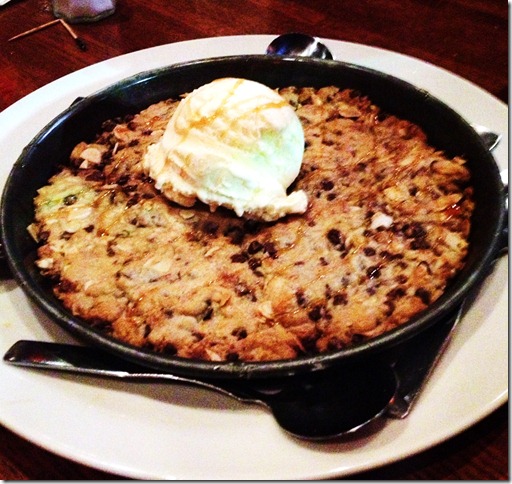 It was a really big cookie that had just been baked.  It had chocolate chips, almonds, and heath bar bits in it.  The four of us managed to polish this off pretty quickly.
How was your weekend?  Share in the comments!