This was a funny race.  An 8k!  How long IS that even (around 5 miles)?  It was a small race, and I signed up for a couple reasons.  One, I hadn't done a race alone in awhile, and I like to push myself to do things alone.  Second, my folks were visiting, and there was no way I was going to get up early to run unless I had put money down.  Third, it's an 8k.  Automatic PR.  Fourth, free shorts!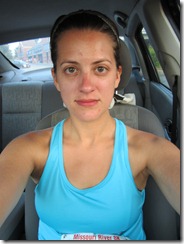 Before the race, looking GOOD.  And by good, of course I mean tired.  Did I mention the race started at 7 am?  In Chesterfield?  I had to get up around 5 am.  Yet another example of my extreme hard-core-ness.
The weather was nice.  It was hot and humid, of course, but nothing worse than I expected.  I got to the store to pick up my number, and then hung out in my car listening to NPR and waiting until I wanted to use the toilet again.  (Porta-potties, unfortunately.)
The race was pretty small, around 200 people, and it wasn't chip timed, which was not a problem, in my opinion.  We all lined up and off we went.
The roads weren't closed for the course, but the traffic was pretty non-existent at that hour on a Sunday.  The only thing that concerned me was I had heard talk of a hill.  The course was an out and back, which means that we ran one way, and then at some point would simply turn around and head back.
Everybody seemed really fast and it seemed that absolutely everybody was passing me at first.  Finally things started to settle down a bit, and I was able to "settle" into a pace that left me JUST short of breath but able to carry on. 
So…that hill.  I realized I knew the route.  And it was coming up.  An incredibly steep downhill.  The sort of hill that would terrify me to drive on in inclement weather.  Basically straight down.  And you know what that means.  We'd have to run back UP the hill in a couple of miles.
I ran SLOWLY down the hill.  I was afraid I would lose my footing and break my legs.  Or my head.  I got to the bottom and there was a water stop.  The volunteers promised it was flat for awhile, and they were correct.  In fact it was flat until we got BACK to the hill and had to go up it.  I decided in advance I was going to walk the hill because I figured I would just die otherwise.  It was hard enough walking it!  I was huffing and puffing, but I did actually pass a few people.  Pretty much everybody was walking the hill.
Finally I got to the top and was ready to push forward for the home stretch.  Whoo!
I kicked it to the end and passed a couple of people.  I felt pretty good as I'd only taken the one walk break.
I finished in 52:33.  Not bad, and especially not bad for the pretty extreme humidity and heat (though I'd been training in it, it was over 85 by the finish) and with that ridiculous hill.  Literally I felt like I was hiking.
I was 10th out of 14th in my age group (30 to 34).  Not bad!  (Remember, I'm still new to running, so beating anybody at all is still a victory for me 😉 )
A bit sweatier afterwards…
They had water and gatorade, bananas and bread afterwards.  A nice spread really.  As usual I had to sit down after the race, but I guess I didn't push it as much as sometimes because it didn't take long until I was ready to get going.  I sat in my car a bit and let the a/c cool me off before heading off.
Schwag!  Shorts and a "finishers award" of an insulated water bottle filled with gatorade.
I'd run it again.  I like the smaller races sometimes…parking is easy, packet pickup is easy, and you really feel like part of a tiny community.  I love that feeling of superiority over people who are sleeping… 😉