I like having two pairs of running shoes to trade out and my original Mizuno Nirvanas are totally worn down.  I did a little online research and discovered that the shoe has been upgraded plus is now a lovely shade of blue which has a hint of purple in it.  So I ordered them, and they arrived this afternoon.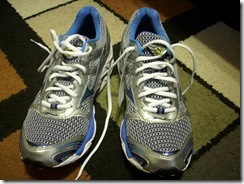 I did NOT wear them out for my run this afternoon as I want to wear them a few times inside before getting them dirty.  I DID realize that the insoles I had had in my second pair of Mizunos were different than the original insoles the store recommended (I evidently lack reading comprehension).  I moved the insoles over, and voila!  they are a bit more comfortable.  I ordered another pair of that brand of insole for my new babies, and I should be good to go.
What's the upgrade? At first glance the bottom looks just a bit different and the heel is slightly more rounded.  I never land on my heel anyway so that should make no difference—I really just run on my tiptoes and attempt to hit mid-foot.  I'll probably wear them for my next indoor run to see how they really feel.  I'd love to wear them for my next half.
This morning (wee hours) there was a bit of freezing rain, which caused a 26 car pile-up on I-64, which caused me to almost be late for teaching.  Ice on the roadways is a major problem.  I can't wait for spring.
Here's one other fun thing I did recently.  I read some other blogs, and one of them recommended a company, YouBar, where you can create your own energy bars.  I'm (too) addicted to bars, so I couldn't resist.  Look what finally showed up yesterday…
Yes, a whole box of "HANNAHVIOLIN".  How awesome is that?  And they taste really good…there's one ingredient I would do differently next time, but otherwise I'm very pleased.  I'll have to try not to eat them all this week.