My quartet, the Perseid Quartet, played to a full house last night at the Tavern of Fine Arts. It was so much fun and we were totally thrilled so many people braved the icy weather to come see us.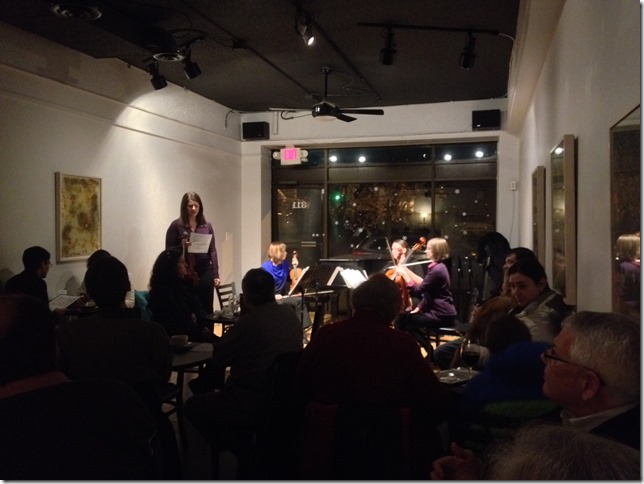 Today my brain is exploding with so many thoughts. I feel like we had this huge accomplishment last night and then today is just an ordinary day, and it doesn't really matter at all, in the greater scheme of things, but I feel so great about how we all played and how hard we worked to put on a good show and I feel like we are really contributing to the local music scene by playing together. I'm also listening to a bunch of quartets brainstorming for our next program.
It all seems fairly inconsequential though: so many musicians perform chamber music, and having a concert is really not a big deal, but to me, it feels really special and I'm glad we did it, and I can't wait for the next one. I'm tickled by how many students and friends and family came out to support out and seemed to genuinely enjoy themselves. As much as we love playing for ourselves, playing for other people and sharing our love of music with them is particularly wonderful. I also think the experience of seeing a chamber music concert in a small setting like we had last night is unique and something that not everybody has experienced, but that people SHOULD experience.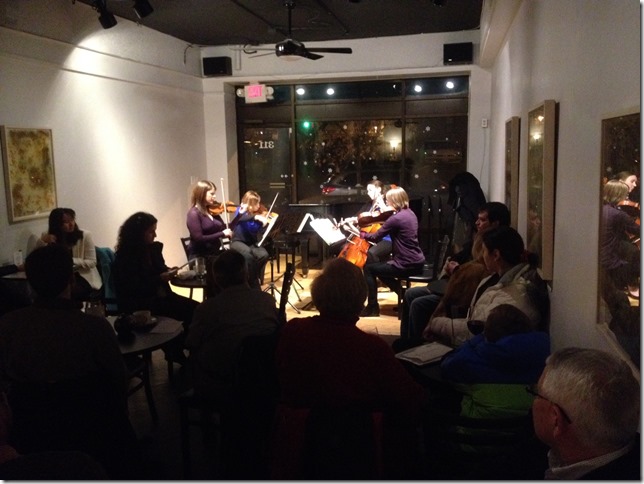 So often people say, oh, I don't like classical music. But so many of those people really haven't experienced classical music in a true way. So many musicians these days are playing concerts in restaurants and bars to reach more people, and honestly, it's a lot of fun to attend. Isn't it great being able to order drinks and food while you enjoy a live performance? Here in St Louis there are tons of people playing concerts at the Tavern every week, and other groups doing great things all other town (my former group, Chamber Project St Louis, plays at the Schlafly Tap Room a fair amount, for instance.)
As the saying goes, this isn't your grandmother's classical music…but yet it kind of is. Throughout history, chamber music has been performed in small areas where the audience is up close and personal with the performers. It's a wonderful way to experience music, and the sound you will hear at a live performance is so much richer and fuller and more unique than anything on the radio…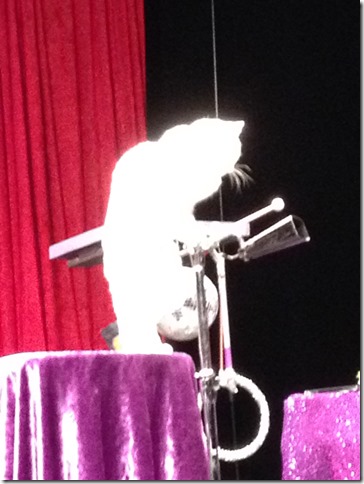 (wait, where did that come from? a cat playing cowbell?)
I guess this is my plea and suggestion to you: step out of your comfort zone and attend a concert in your area that you wouldn't ordinarily go to. You might be surprised by how much you enjoy it! Don't be intimidated by feeling like you aren't knowledgeable about the music. Trust me, even we professionals don't know everything, and we are constantly learning more.
And I've been doing the same lately—trying to expose myself to more than just classical music. So it's never too late and you're never too young or old!