When Chris and I first began to think about where we wanted to get wedding party pictures taken, we knew we needed indoor venues.  It didn't take us long to decide on Powell Hall (home of the St Louis Symphony).  Since Chris plays with the Symphony, it wasn't hard for us to get permission for photos in the lobby.
So…the recap continues! 
After the first look photos at the Omni, we all loaded into the white limo and rode to Powell Hall. 
Our limo!  But first, we ran over to look at a building nearby (attention:  photo shoot)  Note the faux fur jacket AND the smitten mitten:  you can hold hands while keeping your hands warm!  It was a surprise for Chris. 
And…my veil blew away!  It was COLD and windy.  Don't worry, we caught it!
Then it was time to get in the limo and head to Powell.  It was tough getting in the limo—I wasn't yet used to moving in my dress, and I was very afraid of messing it up.  I was also afraid of messing up my flowers!
We had approximately two hours of photographs scheduled so it was looking to be a long afternoon!  It was a bit tiring, but Sarah Crowder did a great job keeping us going and not letting it get TOO boring 😉
Here are some of my favorite shots from the afternoon.  I love that the Christmas decor was still up!  Some of these could be awesome Christmas card photos for next year.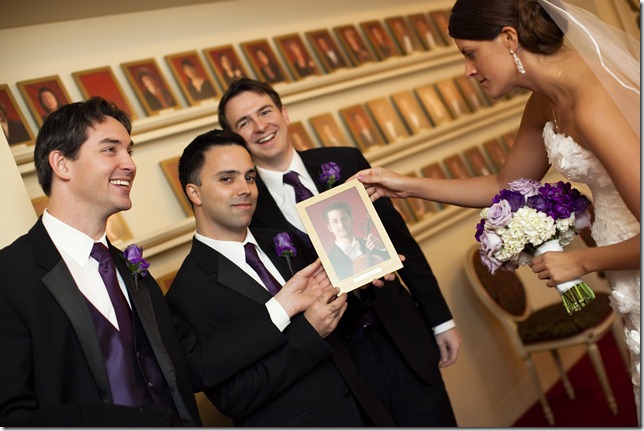 Admiring Chris's picture in the lobby.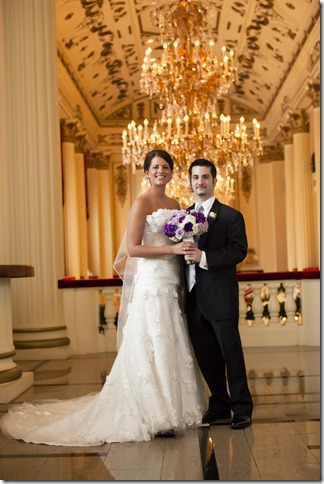 One of my absolute favorites from the day!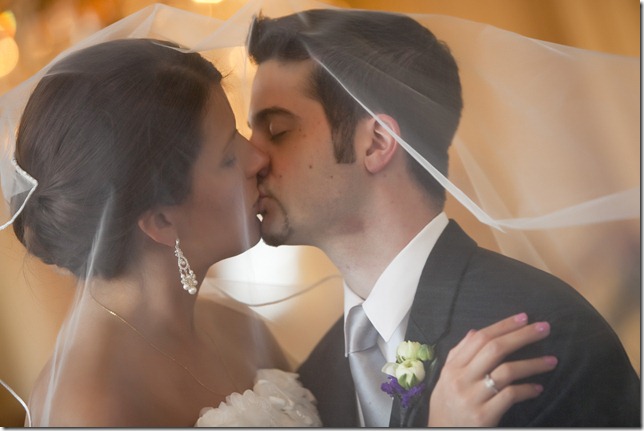 Aren't we romantic??  I also love my earrings!  I had thought they might be too "white" or something, but I was really pleased with how they looked in pictures!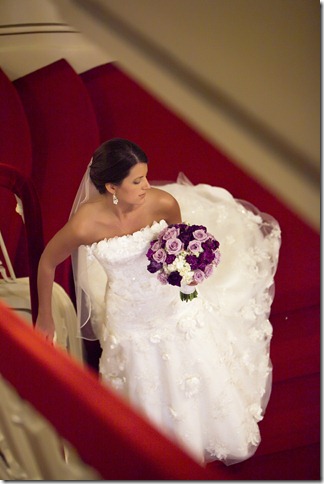 This picture is amazing, but even better in black and white—I have to get this one from Sarah in black and white to frame!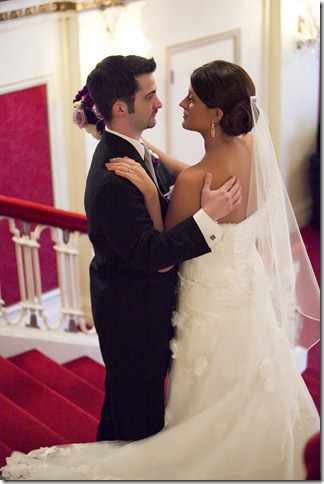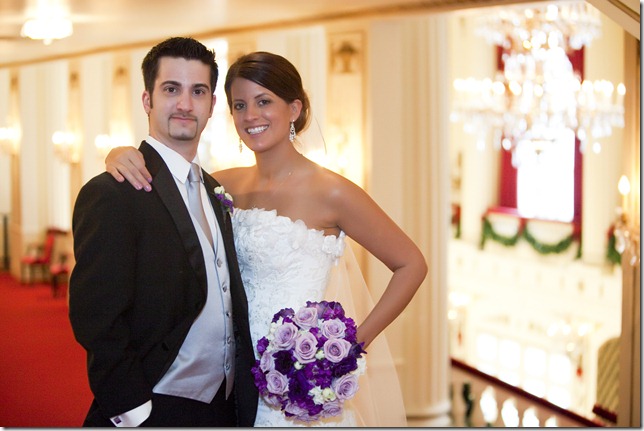 This is another favorite, probably one of my top three or four of just the two of us.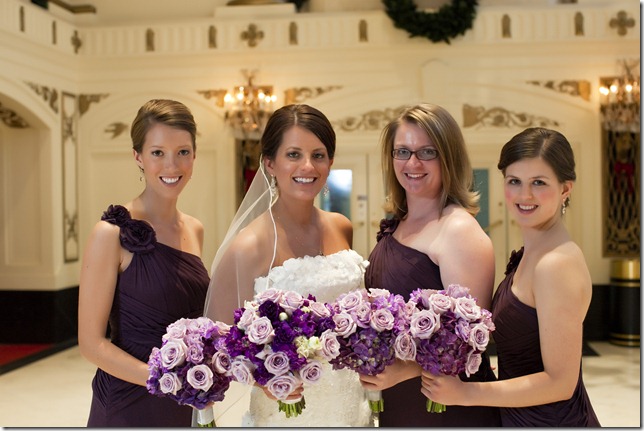 My bridesmaids!  Leslie, me, Sarah, and Carrie.  There were a ton of great photos of them!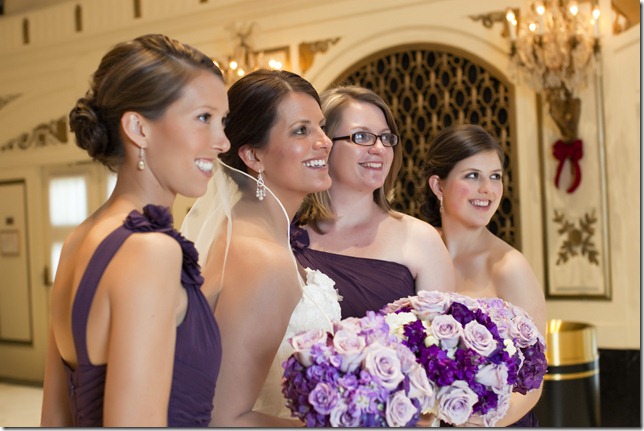 Leslie's hair is very fancy!  They all have matching earrings and I think you can see them pretty nicely in this picture.
The groomsmen.  In the formal picture, John, Norbert, Chris (groom!), and Dave.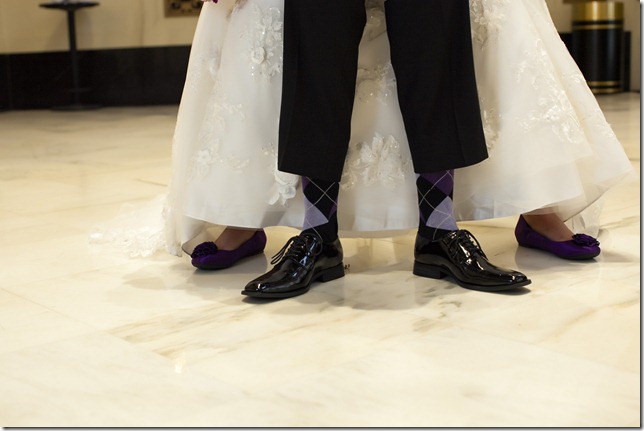 I know this is done all the time, but I still wanted it!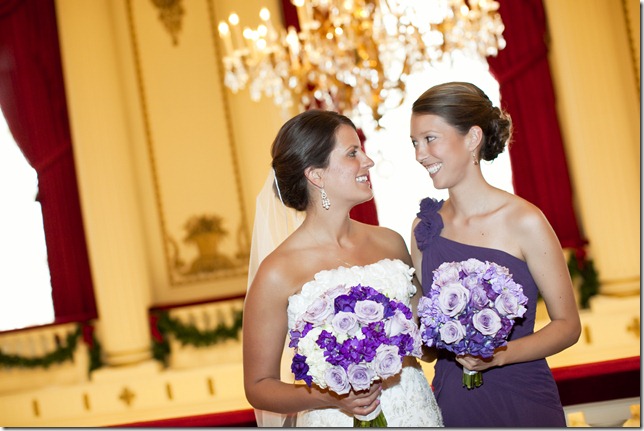 I think this is funny because Leslie is taller!  (I was wearing flats 😉 )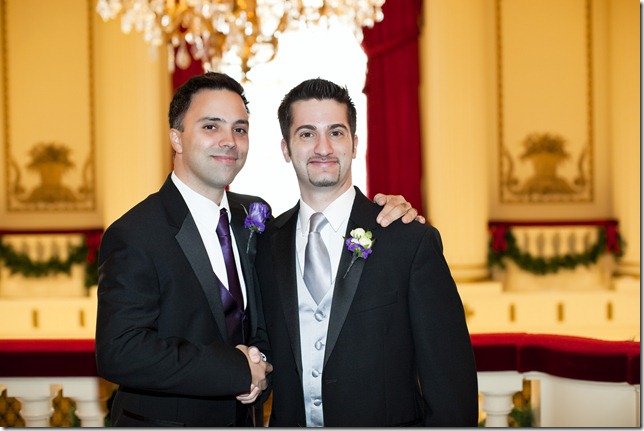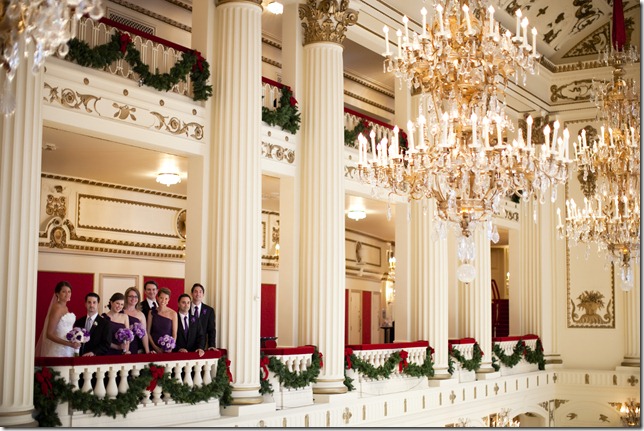 How gorgeous is the setting?  I know the purple and red isn't amazing, but the shiny gold and cream colors are.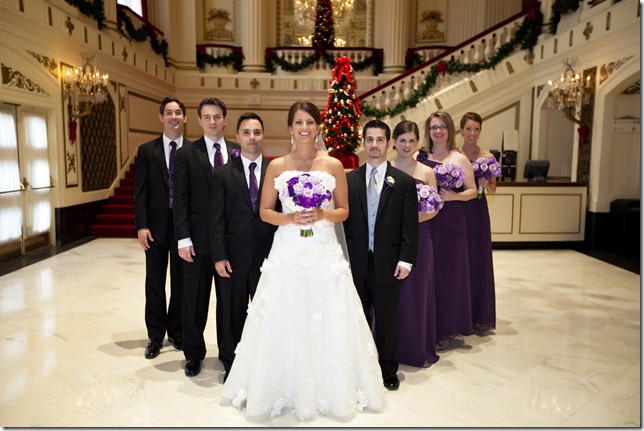 So there you have it—my favorites from our photo shoot in Powell Hall!  After that, we loaded back into the limo and headed to Moulin for the CEREMONY!!!