I'm not materialistic per se, but it doesn't mean I don't love getting presents.  What girl doesn't?  (Especially on major holidays, of course.)  Chris's mother insisted on buying us an engagement present, and in typical Hannah/Chris fashion we waited a long time to tell her what we wanted.  Actually we wanted until we finished our registry.  Then she also wanted to go ahead and get the wedding present she (well, I guess technically both his parents!) wanted to get us before somebody else did.  What does this all mean?  It means FIVE GIANT BOXES from Bed, Bath, and Beyond.  Two came last week and contained three pillows. Today when my folks and I got back from lunch there were three more boxes stacked up in front of my door.  WHEEEEE!!!!
Okay, I may be too excited.  I'm honestly not just getting married for the presents, but, gosh, I've been giving presents at weddings for years now and it's finally going to be my turn.  I have never been one of THOSE girls who just wants to get married (Chris might argue with me, but he would lose that argument.  12 years buddy.  I waited 12 years.) but I am most certainly excited about our upcoming nuptials.  Or at least the party, the dinner, seeing all of our friends and family together in one place, and getting a ton of gifts, and finally having some decent stuff to my name.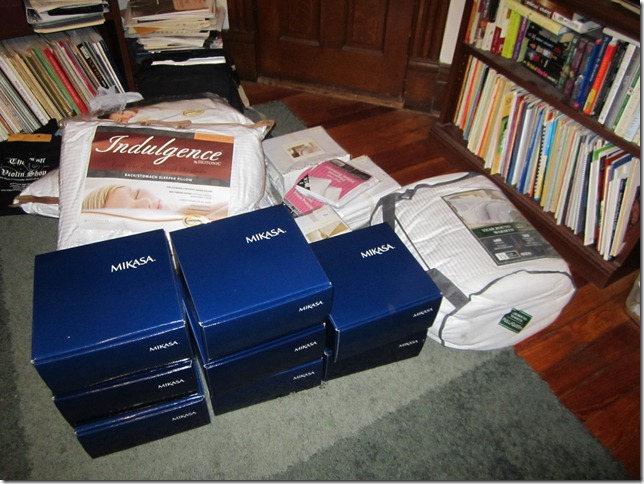 Also I need more bookshelves for all of my books and music.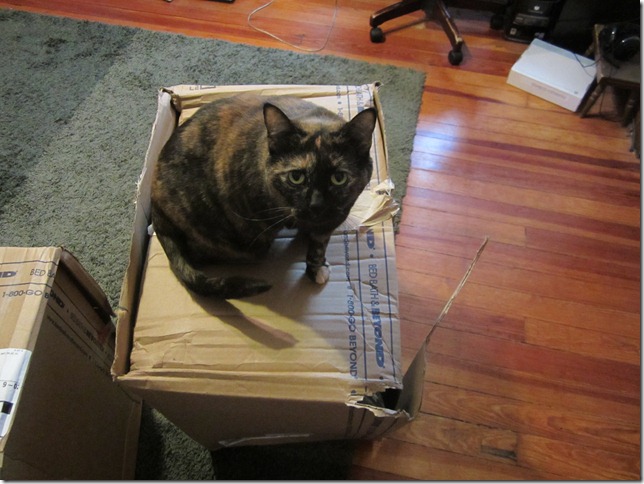 She chose to perch on the box that seemed most precarious.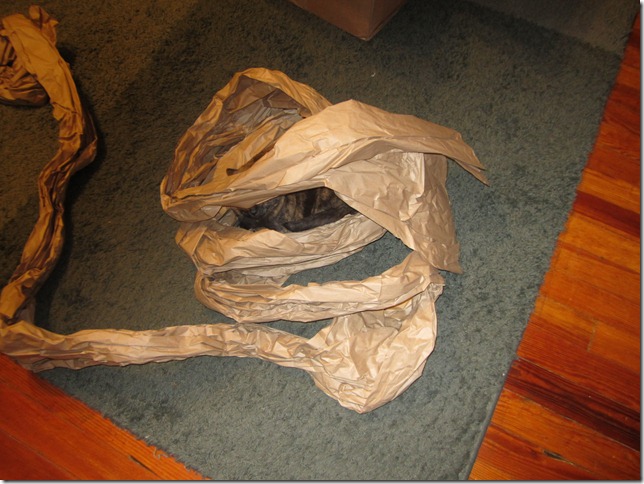 Before the boxes showed up (which I was worried about getting before I skip town) my parents came back through St Louis.  If you recall they were in town the other weekend.  After that they drove to Boulder, Colorado to visit my sister and attend a variety of concerts there.  They were on their way home and just stopped in for lunch.  We went to Basil Spice.  They didn't stay long as they wanted to get on the road again. 
My father plans to be back in town in September as part of his "bike across america" trip.  Or at least he is planning to bike here, bike the Katy Trail, and continue on to Phoenix and maybe on to the Pacific ocean then.  Yup.  That's where I inherited my hard-coreness from!
I ran outside tonight.  I considered going to the gym, but I wanted to give it a try.  The heat index was about 100 when I set out.  It wasn't THAT bad, but it was tough—luckily the sun had basically gone down, but I still felt pretty weak by about the halfway point and ended up having to walk much more than I anticipated, and felt pretty faint for the last mile or so.  I also probably hadn't quite eaten enough though, so I can't entirely blame the heat.
It's late, I'm off to bed!  I would do a delayed post, but MEH you can just read this in the morning if you want :)