Okay, as promised, a short recap of Saturday morning's race.  I ran this race with a friend of mine, Jen.  It was her first race, though she had been running a little longer than me.
I picked Jen up at 6:40 am and we drove out to the St Louis Mills.  SO early!  I actually had woken up right before my alarm, and was initially really annoyed at myself, but then I got really excited and was ready to go.  We arrived at the race site around 7:15 and picked up our race packets. It was pretty cold–in the high 30's, so I had decided to wear a fleece jacket over my pumpkin t-shirt (with awesome knee socks from Target!).  We ran back to the car to drop off our bags and get our race numbers attached.  Jen was getting super excited and nervous for the race.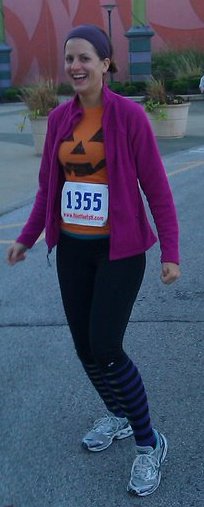 The nice thing about the race was that we got to use actual bathrooms in the mall, rather than porta-potties.  Naturally we hit those up, and then wandered around a little bit checking out the tents that were set up.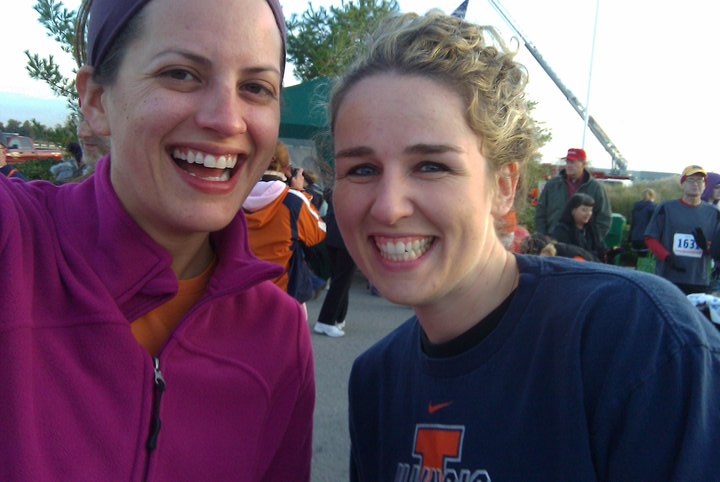 The race was to start at 8:00 am, so we didn't have too long to wander around.  The course was advertised as being very flat, so we were hoping to just run a nice pace the whole time, and ideally not walk at all, but I was naturally a little worried about my hip.  I read online that taking smaller strides could help so I planned to try that for the race.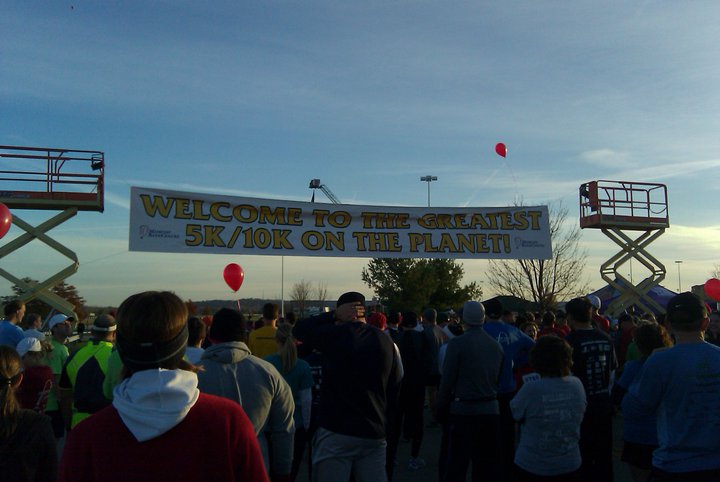 Finally we got underway!  We had lined up towards the middle of the pack, but were getting passed quite a bit at the beginning.  It didn't bother me, but I think Jen was a little annoyed.  However, we kept our pace up and kept running.  I had told Jen I wouldn't be at all offended if she ran ahead, but it seemed we were well matched and she stayed with me.  I probably ran a little faster than I would have alone, in fact.  We passed the first mile, and just kept running.  Around 1.5 miles there was a water station, which we walked through simply because I didn't want to spill water all over myself, and then we ran again!  We got to a sign that said "1/2 miles to go" and started running faster, and faster, and finally giving it our all towards the finish line.  Believe it or not, we finished with the exact same time:  33:04, pace of 10:40 per mile.  Almost 3 minutes faster than two weeks ago!!  I was so proud, and I seriously couldn't have run so fast without Jen pushing me along.  Thanks Jen!!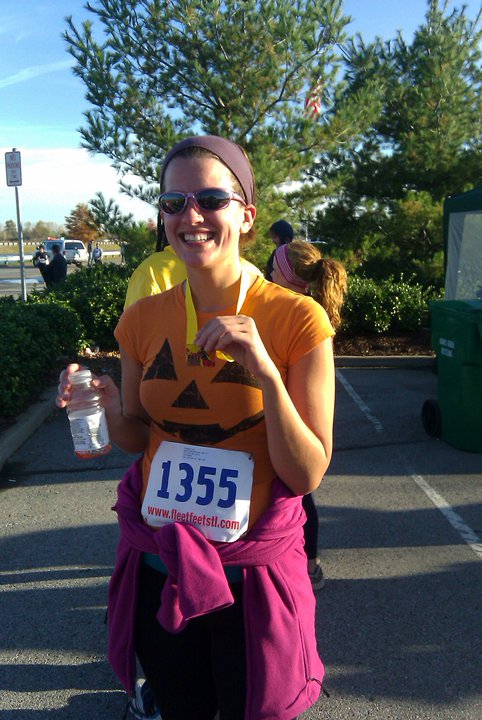 We wandered around a bit longer–picked up our medals (they had them at a table, not at the end), turned in our timing chips, got some free food, gatorade, and samples of "Orange Julius".  It was a great race, well run, though the course was a little boring.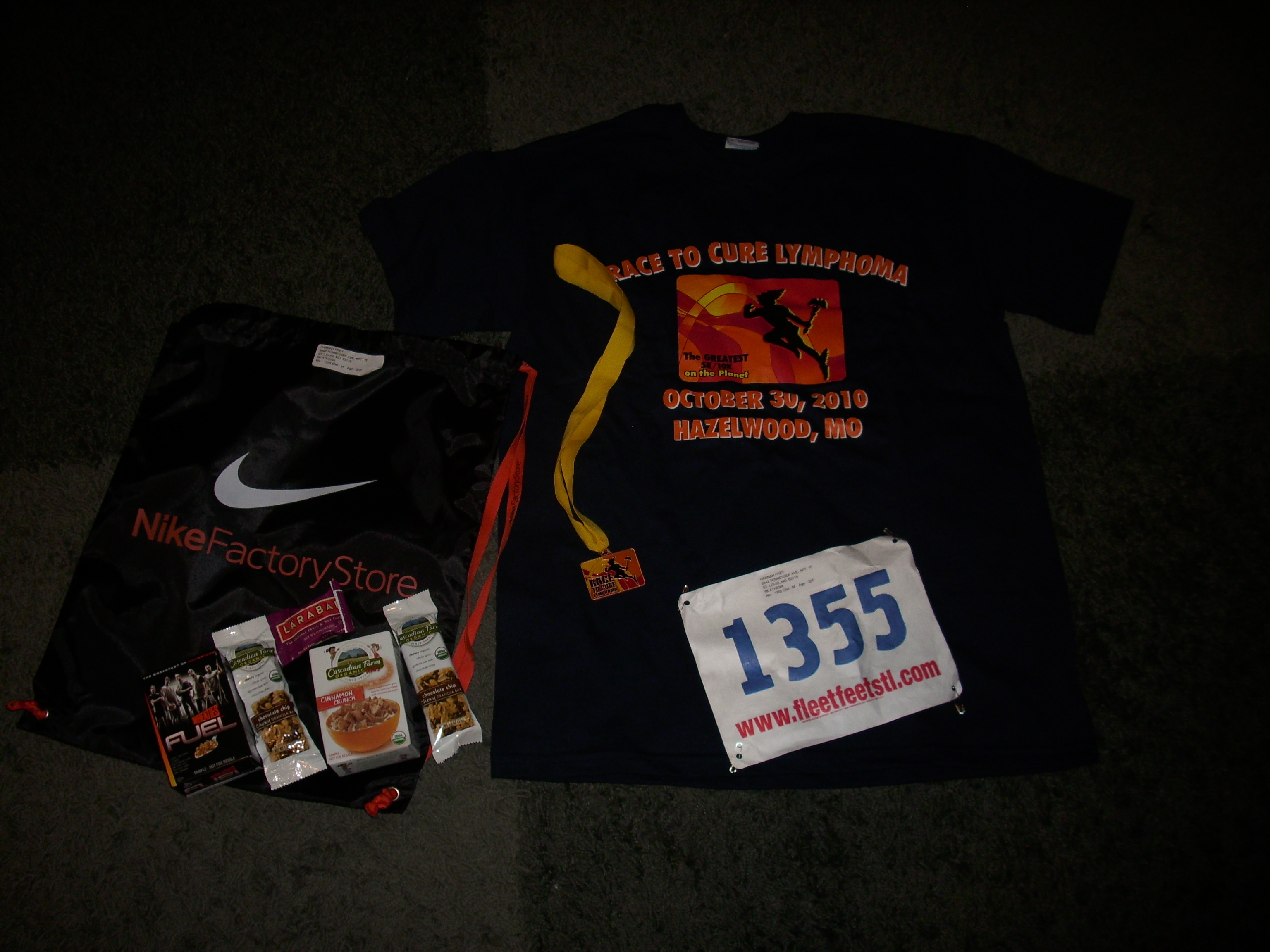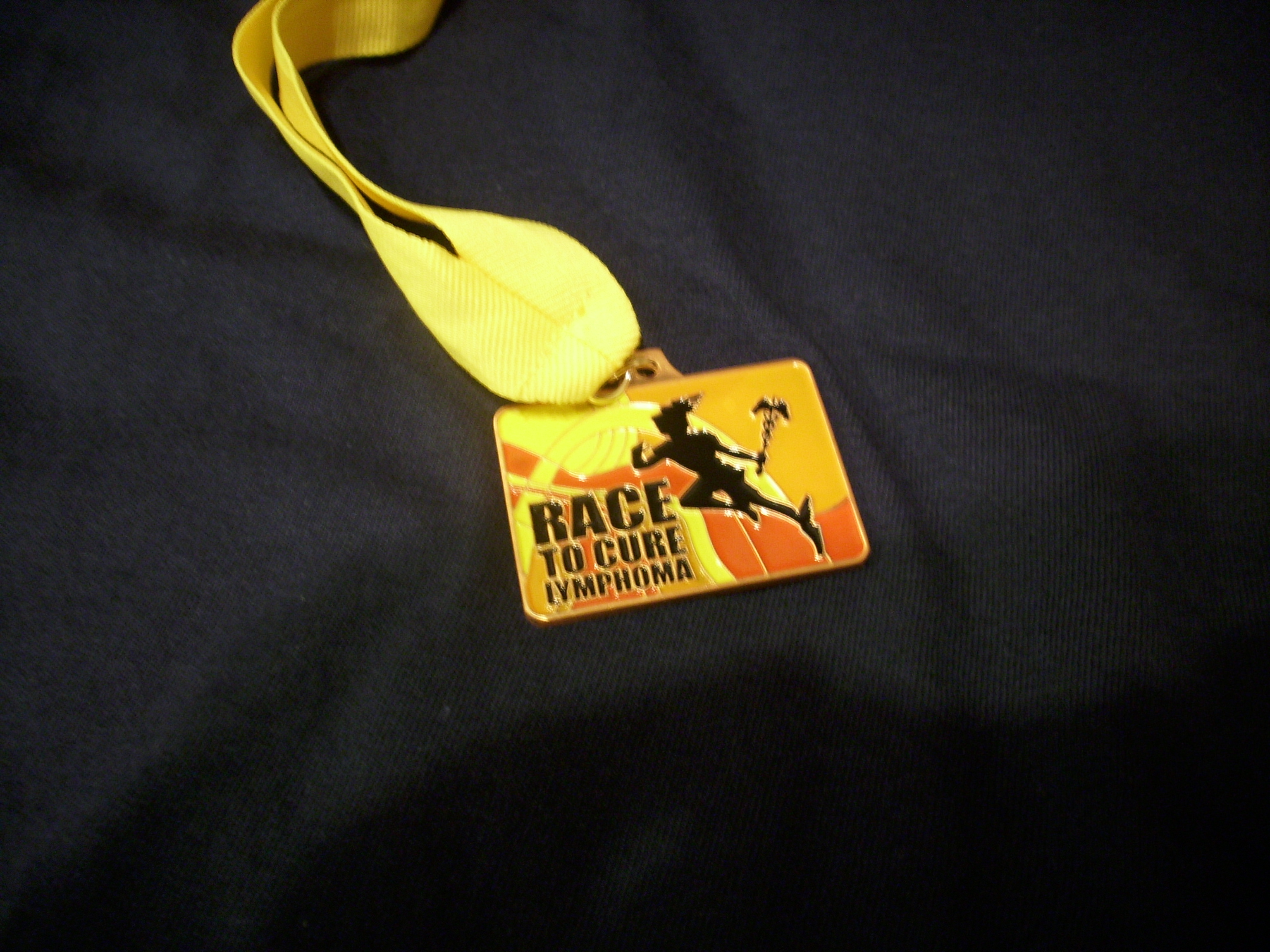 Thoughts:  The shorter, faster strides definitely helped.  I know now that I can run a 5k without stopping to walk, and anything telling me otherwise is simply psychological. I can't wait for the next race (and of course, continuing my training 😉 )