I had thought I might go for a run (or a walk) outside today but the weather doesn't look that cooperative.  I suppose I'll head to the gym—might as well use my membership for something!  I know they say you don't lose all your fitness in a week, but I really feel like I have…I will probably be huffing and puffing no matter what I do.
I was asleep by 11:30 last night, which  is unusual for me on a Saturday night.  Is that a sign of getting old?  I was out with friends for dinner beforehand at the Royale—I tried just about everything on their menu that had ginger beer in it and of course had the fish tacos. Later, after his concert, Chris was over at our friend's house with the new baby but I just didn't have the energy.  Probably by the time I see him again he'll have doubled in size. (That would put him approximately the same size as the cat, if you are comparing.)
I was too tired to do overnight oats, so I just made three eggs (with some cheese) for breakfast.  It was a nice, but not enough food.  I'm still hungry.  I'll probably just deal with it.  I don't feel like making anything else.  I accidentally spilled a container of blackberries on the floor getting the eggs out of the fridge, and debated washing them but decided against it and just trashed them.
We are having Chris's bowling team plus a few extras over for a barbecue this evening.  The orchestra has another concert, which I had considered attending, but I think I'll have too much to do.  I've got to buy food for the barbecue and maybe make a side dish and a dessert.  One thing I've been doing lately is trying to clear out our freezer—I froze a bunch of goodies over Christmas and I've slowly been thawing them.  Yesterday I took out the extra part of our wedding cake (NOT the top tier, we'll still have that) and thought we'd better eat it sooner rather than later.  Maybe that'll be on the menu tonight.  Or maybe it'll be too gross?  (I definitely didn't open the container and stick my finger into the icing last night.  I wouldn't do something like that.)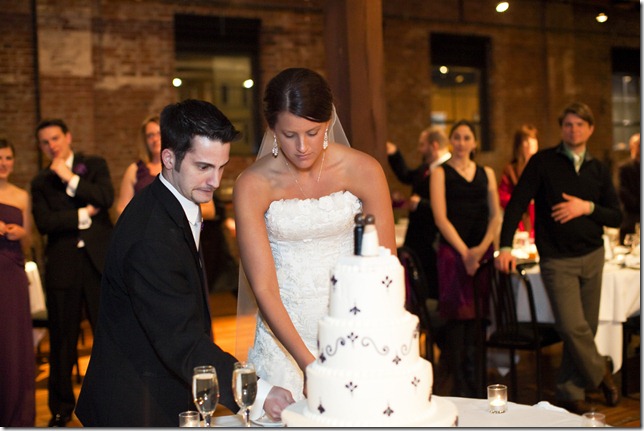 Though I'm still a little disappointed in the lack of purple-ness in the cake, it is a good looking cake and it was delicious. 
Update on the shoulder (especially as my mother reminded me via twitter yesterday I had said I'd been going to the doctor if it weren't better in a week):  I really do think it's improved a bit.  It's not where I'd hoped, but I've unfortunately been unable to completely go without playing—there's just no way to teach the classes at City Academy without playing and I hate to go without in private lessons as well.  I've been trying to not overplay during the lessons and I don't think it's truly bothering it.  I think it just needs more time.  Unfortunately Wednesday through Friday of this week I will have to play for the upcoming encore performance of our Chamber Project St Louis concert (if you didn't come the other week, you should come to this one if you can!).  But then I'll be back to resting it, and perhaps for even longer if necessary.  If it sounds like I'm just avoiding the doctor, well I am.  But what are they going to say?  Rest and ice.  Stop playing the violin.  I am not in constant pain and it's not broken.
How are you spending your Sunday?