After we ate dinner, it was cake time.  And dancing…or at least I tried to get people to dance.  I knew much of my family wouldn't dance, which was fine, but I had high hopes for my friends.  Some failed me, others far surpassed my expectations…
I danced some, and kept trying to go around the room to make sure I talked to everybody.  If you haven't been married, you may not realize how stressful it is to try to be a good hostess and talk to everybody.  I kept feeling like I was skipping people, and definitely talked less to my in town friends (arguably my better friends!) than my out of town guests and family.  I felt like I was in a race against the clock all night.  But it was a blast, and people were always happy to see me come over, which isn't always the case in life 😉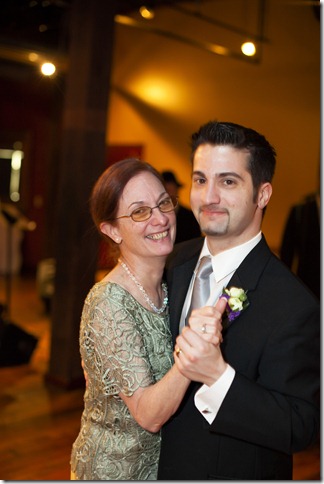 Chris danced with his mom.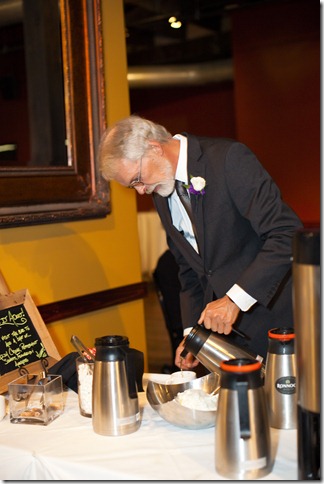 My dad got coffee.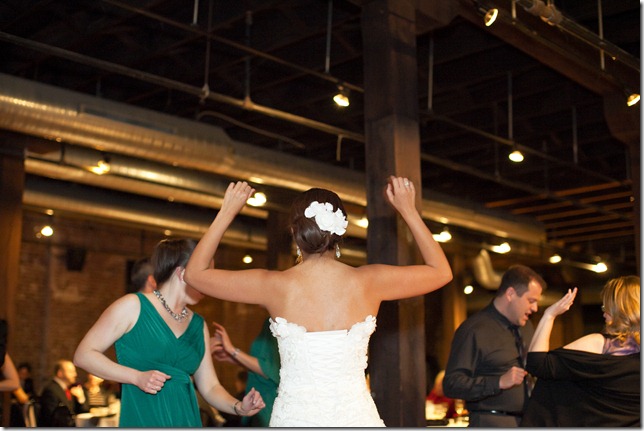 Me dancing but somehow looking like I'm doing a lat pull down…hardly any tan lines, and check out those muscles!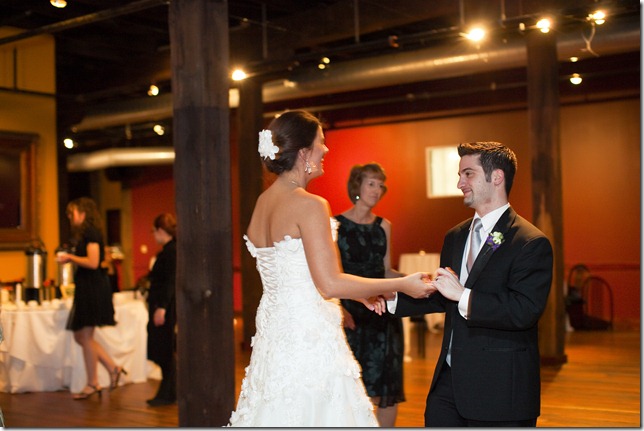 Chris and I dancing…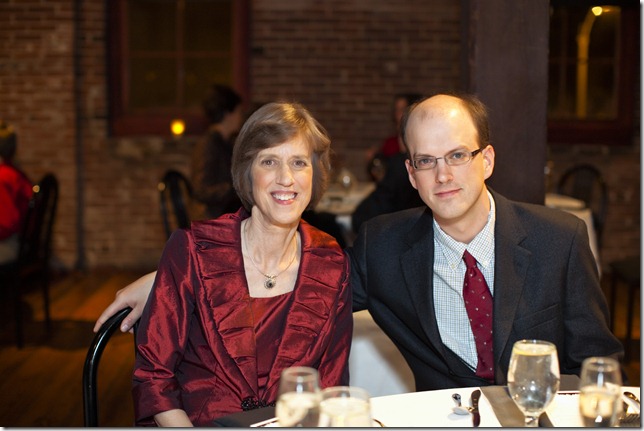 Mom and my brother Jesse.  I barely got to speak to him—I'm hoping he can attend Leslie's wedding in October and then I'll have more time!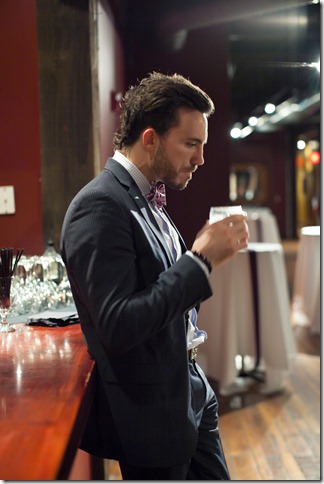 Mike (my trainer) drinking coffee.  I told him if he didn't cut his hair he would go on the "do not photograph list" but he convinced Sarah Crowder to take a series of pictures of him.  Later he seemed embarrassed that she left some of them in, but I find them telling.  No worries Mike, if you ever get married I will likely just wear my wedding dress to it.  That should get me in a few photographs 😉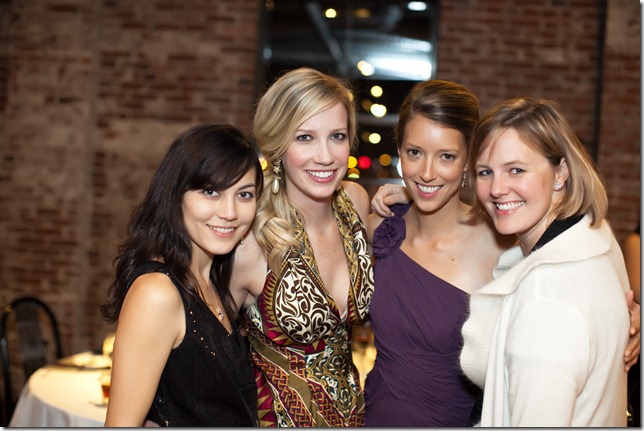 Karen, Loren, Leslie, and Ginny.  This picture is probably an example of what Sarah Crowder meant when she commented that we had really good-looking friends and family!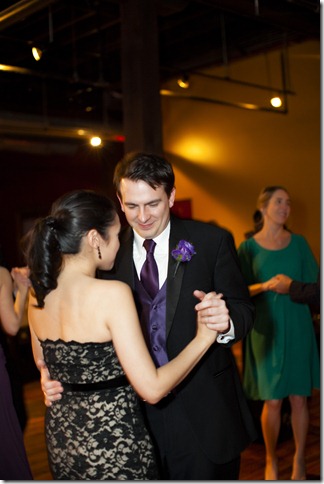 John and his wife Karen.  We went to their wedding right after we moved to St Louis.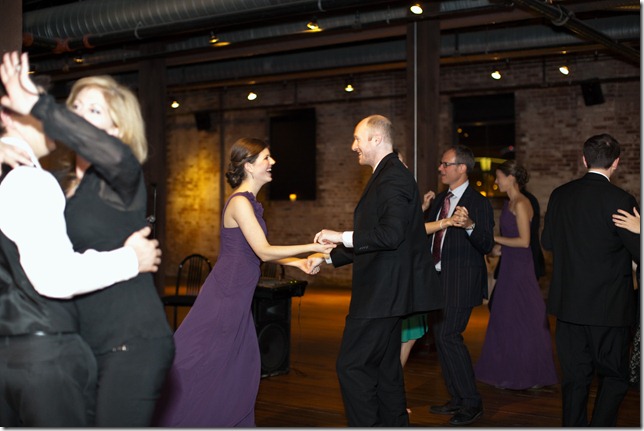 Carrie and Jeff dancing.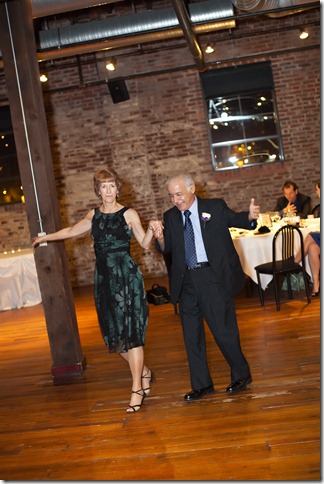 My aunt Connie and Chris's father dancing.  Both are very good dancers!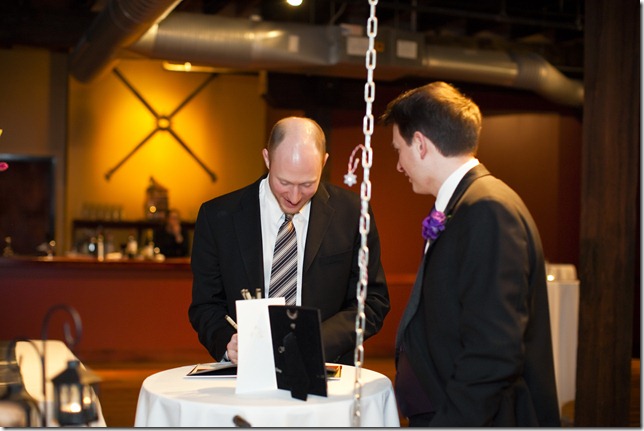 Jeff and John playing around with the guest book.  Jeff wrote us a poem.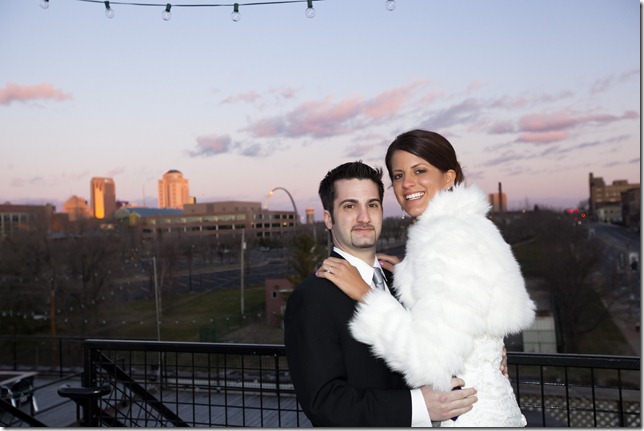 From earlier, on top of the building (Vin de Set)…I don't think I shared this one.  I was so cold, I'd never been so cold!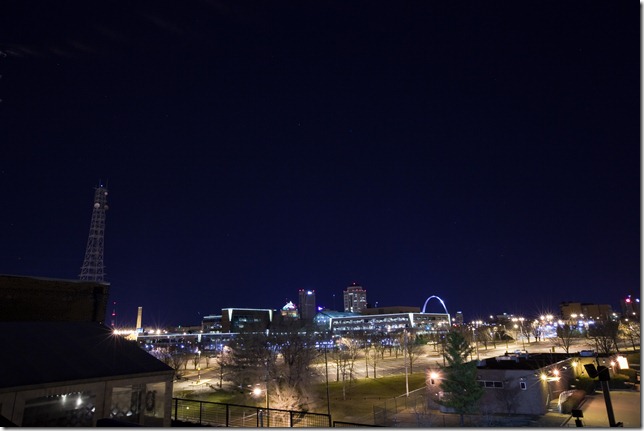 Similar view later than night…without Chris and I, obviously.
After the reception was over we had another hour in the "Malt House Cellar" which was downstairs—it's a small room with table shuffleboard, pool, foosball and such, and we thought some of our guests would enjoy hanging out there.  No pictures, unless somebody took some and didn't share with me?  I had to say goodbye to tons of people and grab a bunch of stuff (my flowers, coats, etc) but finally made it downstairs.  I realized then that I was exhausted, so I basically lay down on the couch and talked with my friend Sarah and a couple other people who came over.  I couldn't be on my feet anymore!
The hotel shuttle was taking people from the venue back to the hotel, and that was our escape plan as well.  We loaded up the shuttle and rode to the hotel…it was funny because Chris was having so much fun with his out of town friends, he wanted to hang out MORE, but I told him we still had to figure out how to remove my dress and take all the bobby pins out of my hair (100s, I imagined) so I convinced him to go up to the suite rather than keep socializing! 
So that's pretty much it for the wedding—I'll look back through all the posts and see if there are any pictures I wanted to share and didn't.  It was a wonderful day, and we are so lucky to have been able to have exactly the wedding we wanted. 
Next:  saying goodbye to our guests and time to go on honeymoon!