I know I am getting more and more behind on my wedding/honeymoon recap!  Okay, it's now time for the rehearsal dinner.  Warning:  this and the following recaps will be very picture heavy.  Just warning you!  I would apologize, but I'm not sorry!
I sent out invitations for the rehearsal dinner.  I think I showed them to you already, but here they are again!  I got them from Etsy, like I did my wedding invitations and tons of other stuff.  Here's the link to the shop I worked with for these.  They were great to work with!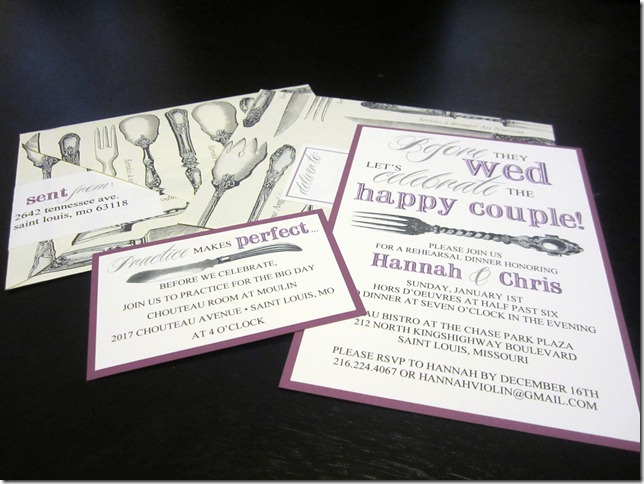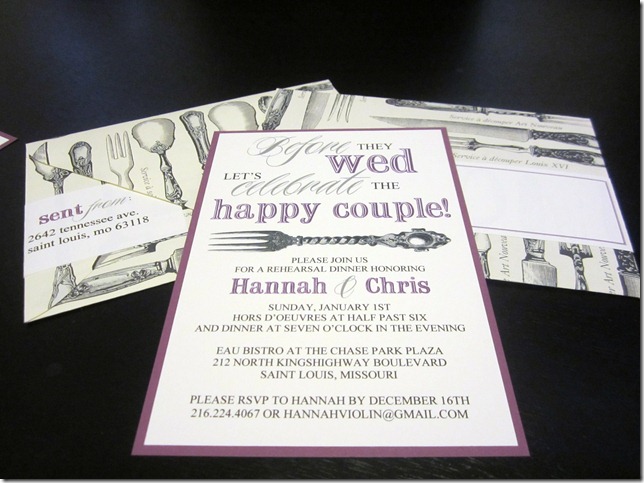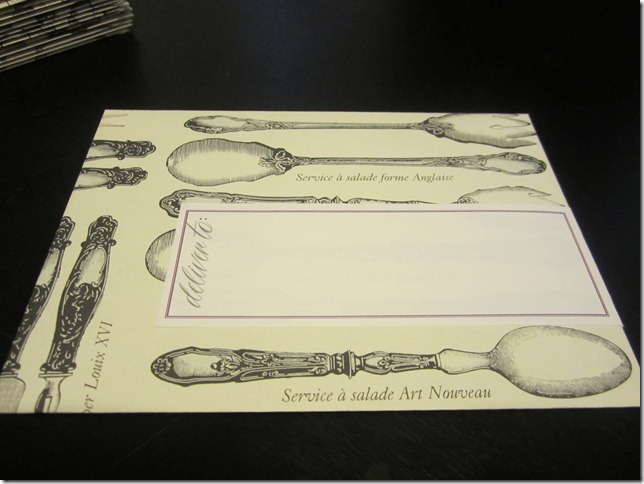 Chris and I had a hard time finding a good rehearsal dinner venue, since we wanted to have our dinner on January 1!  Many restaurants were closed, or were willing to open up for a price, and that price was generally more than we wanted to pay.  Eau Bistro at the Chase Park Plaza seemed to fit our needs though, in that they were already open, had a private room, and the food and ambiance was what we wanted:  nice and classy.  We selected a limited menu that our guests could order from.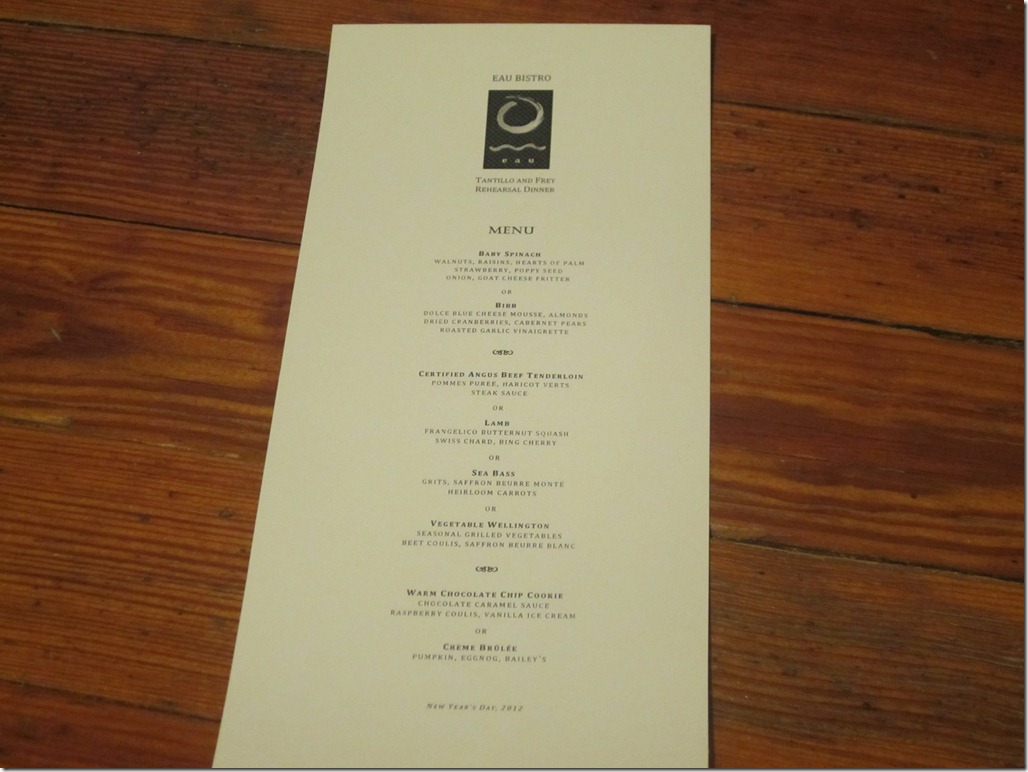 I wanted to wear something spectacular for the rehearsal dinner.  I thought of red, but just couldn't find anything suitable, until I went to a wedding in late October.  One of the guests was wearing a stunning long red gown, and I knew I would look great in it—I asked where she bought it, and then ordered one online.  I was right, it was fantastic!  And floor length!
We had planned for our guests to arrive between 6:30 and 7:00 pm and that we would mingle and get to know everybody before sitting down.  We had an antipasto platter out, and also ended up getting a cheese platter because the antipasto was significantly smaller than we thought it should be.  We had invited our immediate families, my grandmother, our attendants and their dates, and a few other special friends.  I think there were 25 people there.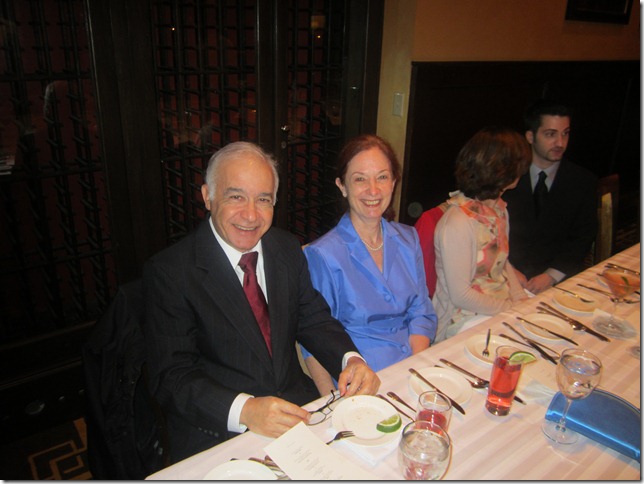 Chris's parents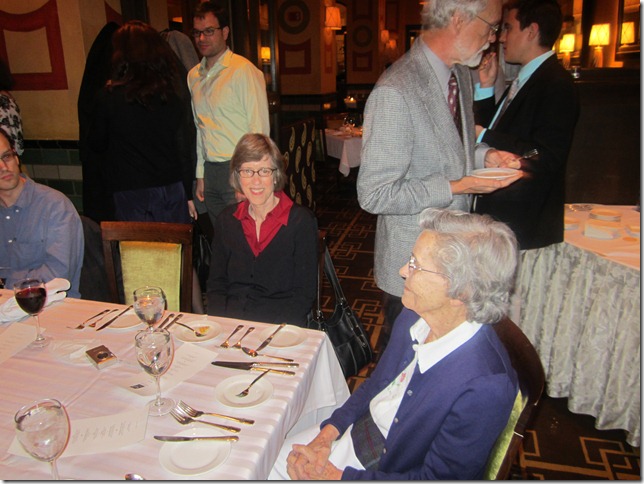 Everybody mingling!  They had the table set with the menus on each place setting.  The table was a really long (and wide) table with chairs all around.  It ended up being slightly larger than we thought and it was challenging to talk across the table, but it all worked out well.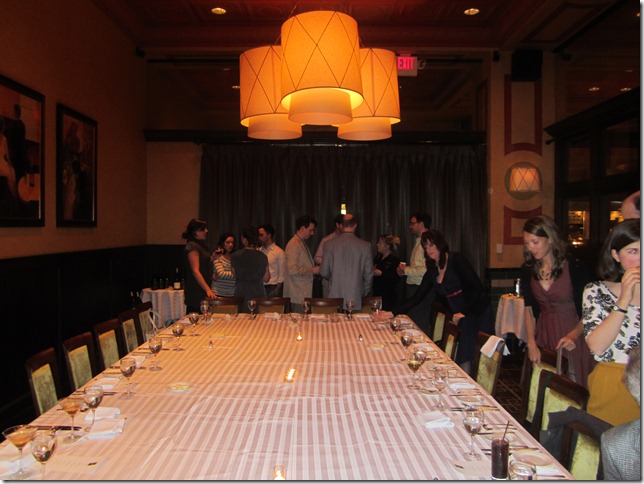 We planned just to eat a nice meal, get to talk to people, have a few toasts, and give out gifts to our attendants.  As the evening progressed, we decided to wait on the gifts.  I also brought my guest book along, because I had made a photo book on snapfish with our engagement photos and I wanted people to sign it as if it were a yearbook.  I thought it we started it at the rehearsal dinner people would be more likely to continue writing on it the following day!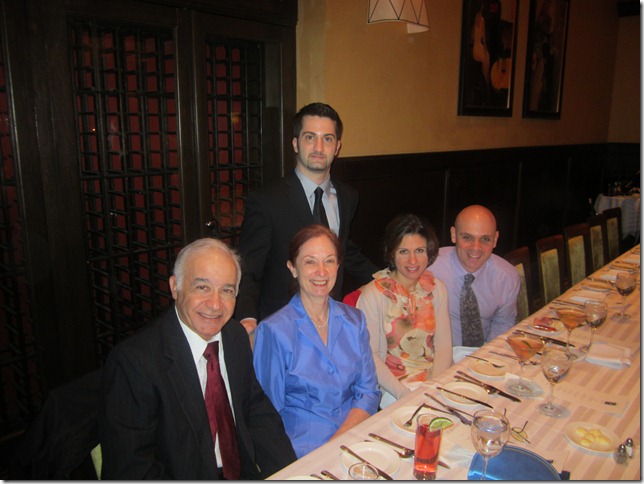 Chris's family
Leslie and her fiance Peter
You can see everyone was having a good time chatting and visiting!
My brother Jesse and my dad.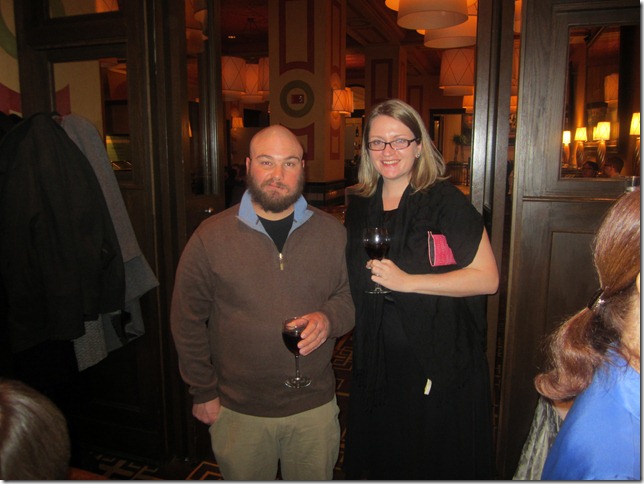 Sarah and her boyfriend Sam (Sarah was one of my bridesmaids.)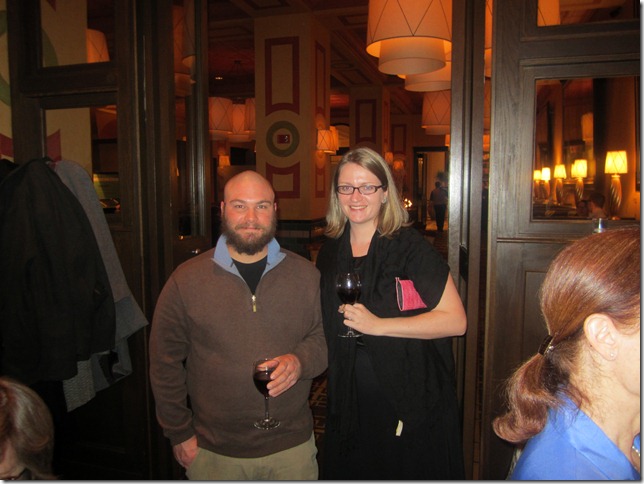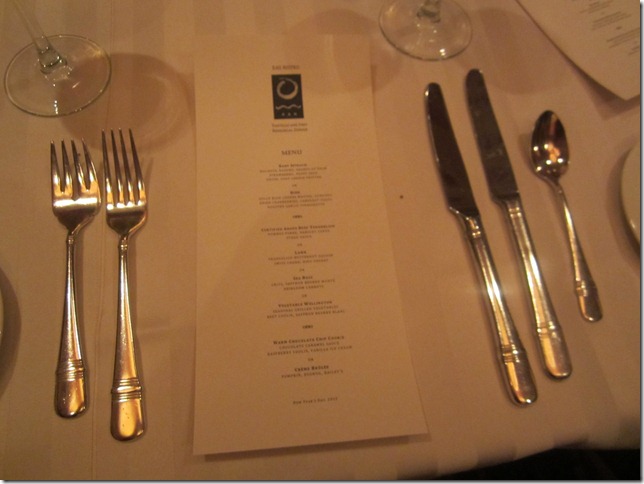 The place setting!  I had the baby spinach salad, lamb, and creme brulee. Chris would have enjoyed the steak but he was still feeling a bit queasy so he tried the vegetable wellington instead.  People said the steak was great, and so was the sea bass.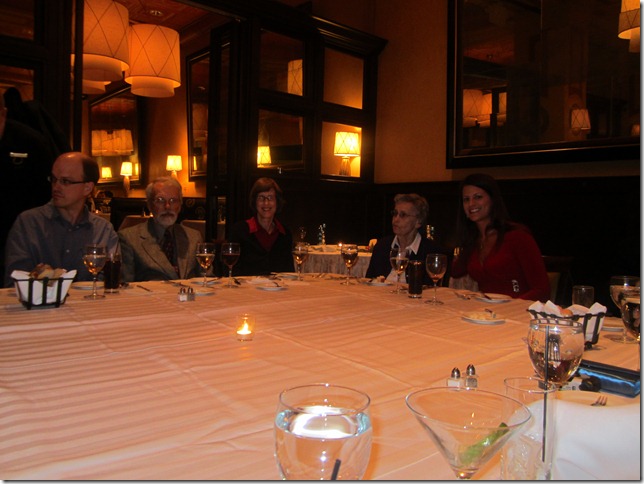 My family's corner of the table…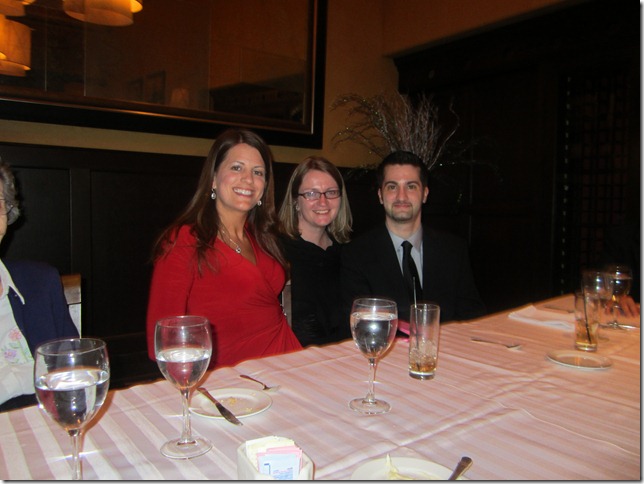 Our friend Sarah in the middle!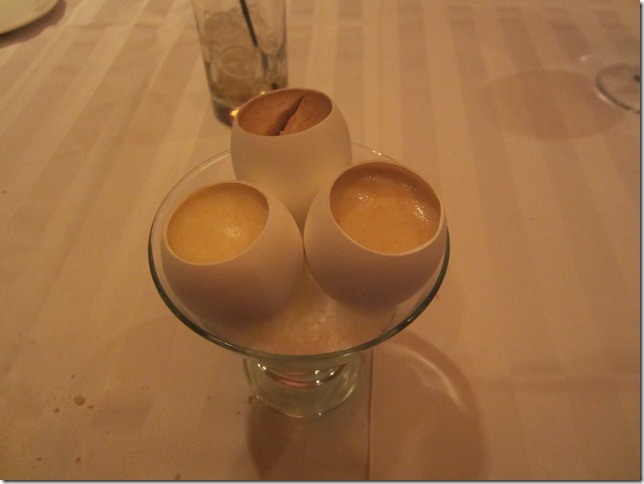 The creme brulee—really more of a pudding—was served in eggshells.  Very cool presentation!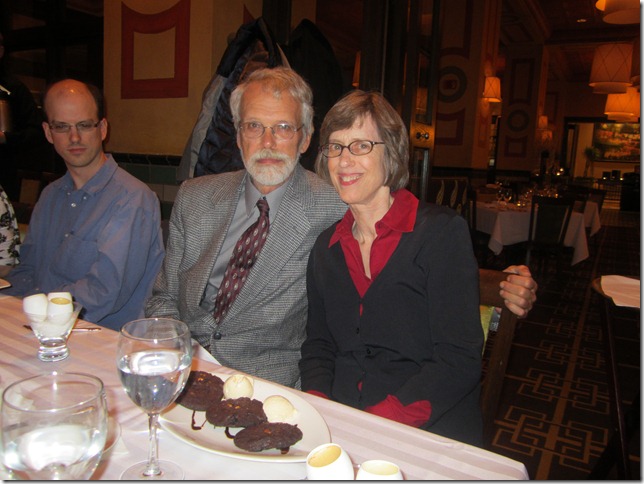 My parents, and the other dessert…gigantic cookies with ice cream!  Good thing we all had a lot to eat at dinner, since obviously the next day there wouldn't be much 😉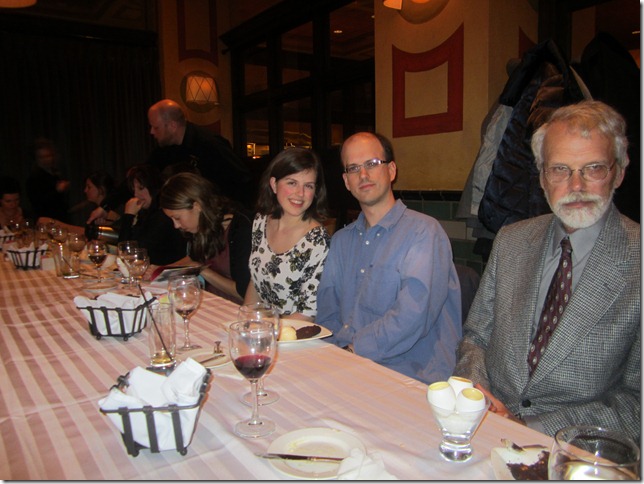 Carrie and Jesse, and you can see Leslie hard at work signing the guest book beside her.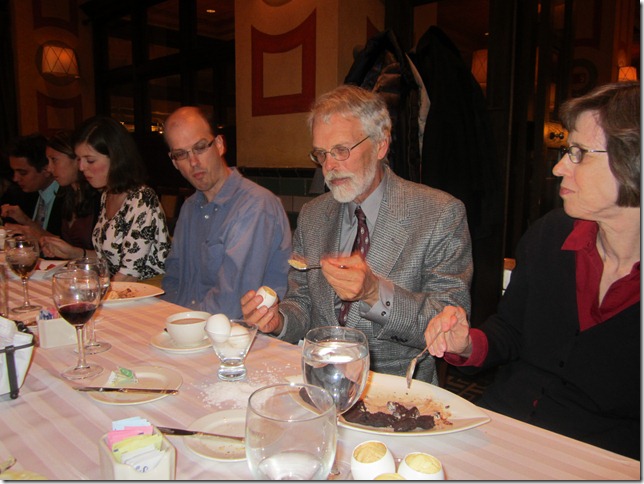 My dad daintily eating his creme brulee.
After dessert we opened the floor for toasts.  Chris's dad gave one, followed by Carrie and then John (one of the groomsmen.)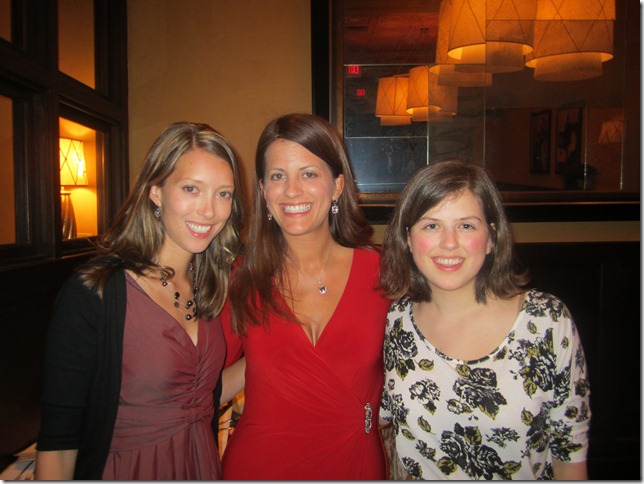 The three sisters together!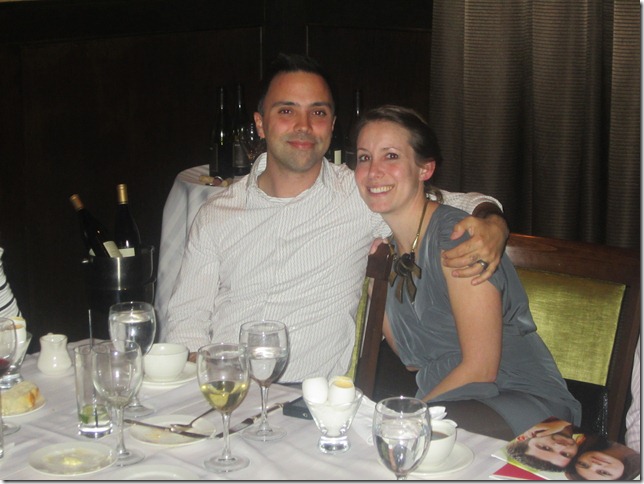 Dave and Dacy (guest book in lower right corner)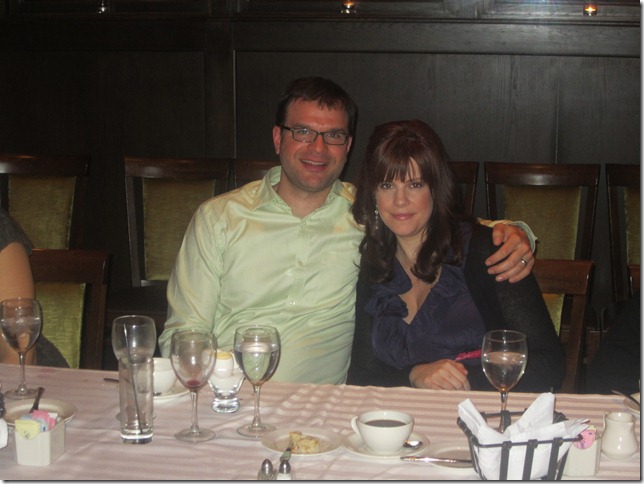 Jon and Laura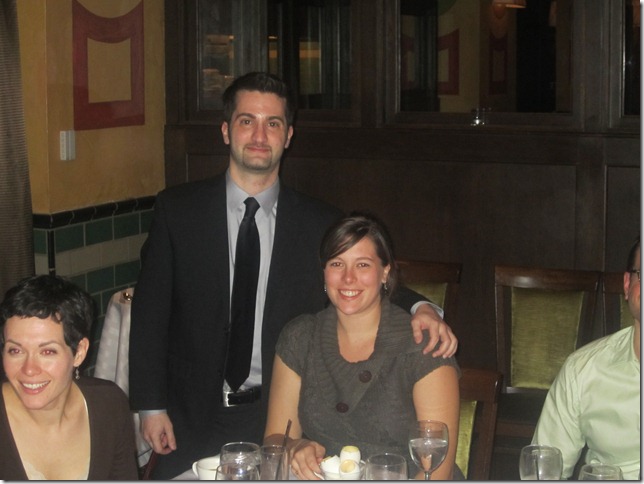 Chris with Vanessa
It was a wonderful dinner!  After dinner, I went back to the hotel with the bridesmaids.  I wanted to give them their gifts and then we were going to do facials (yes, yes, I know.)
I gave them all earrings to wear the following day, and I gave Sarah and Carrie "Missouri" tote bags.  I gave Leslie a clutch that matched the one I got for myself.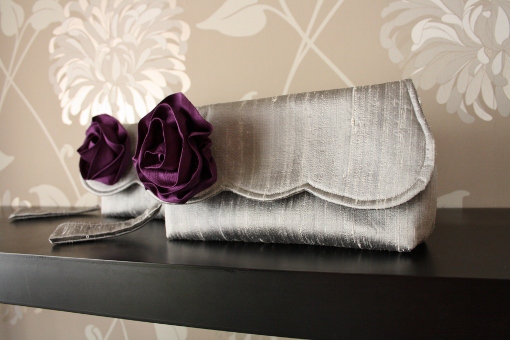 We didn't want to stay up too late, however, because the next day we were meeting the hairdressers at 9:00 am in my suite!  So by midnight the girls left and I was left on my own…I read a bit, and tried to sleep.  I was SO excited…I know it sounds cliche, but I had thought of this day for so many months, and WOW it was here!!  Everything just seemed so surreal…it's hard to explain, but I just couldn't believe this was all really happening, that our planning was truly paying off, and that I was finally getting to wear these awesome dresses!
(to be continued…)