I've been wanting to get started on some blog recaps of my trip to Rome but haven't been quite sure how to go about it. Like most writing, the best way is probably just to sit down and get started!
We left on a Friday for Rome. This was a family trip with Louie's family: his mom, stepdad, brother, and us. We all got to the airport to check in for our flight, first to Detroit, then to Rome, and found out that Louie's stepdad wasn't going to be allowed to go. PSA: make sure your passport expires more than 3 months after your trip to Italy. Otherwise you have to fly to a one-day passport center, get your passport, and then meet your family later. With the weekend, that meant that he wasn't going to be able to join us until Tuesday at the earliest, which was a huge bummer and got the vacation off on the wrong foot. We were terribly sad to leave him behind, but there wasn't a better option.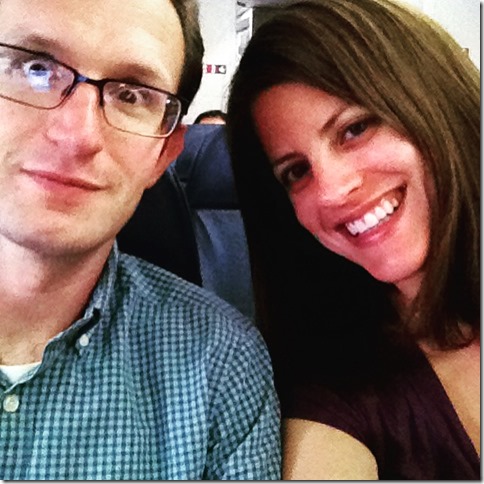 (not so sad that we didn't take a "we're going to rome!" selfie. Is it a selfie when it's of two people?)
The flight was noneventful after that. We landed in Detroit and made an easy connection with the international leg of the trip. Louie and I were sitting together and tried to sleep mostly, but mostly failed at that. Oh, one of the good things we did on the airplane was request an "asian vegetarian" meal on the Delta Flight. It ended up being really tasty compared to what the regular meal looked like (and what I recall airplane food being.)
We landed in Rome in the morning. It's odd after flying all night and trying to sleep and then feeling like it's the middle of the night, when it IS, but it's also the morning. All that to say, jet lag is no joke.
After clearing customs, and struggling to find out way out of the airport: welcome to Italy and all the signs for the exits point to exits that are closed…we made it to the cab line and took a cab to our hotel (we determined this was cost effective versus the train for four people).
We were spending the first portion of our trip at the Hotel Suisse at the top of the Spanish Steps. We arrived too early to check into our rooms but we were able to drop off our luggage and go sightseeing. And by sightseeing I mean, in desperate search of espresso.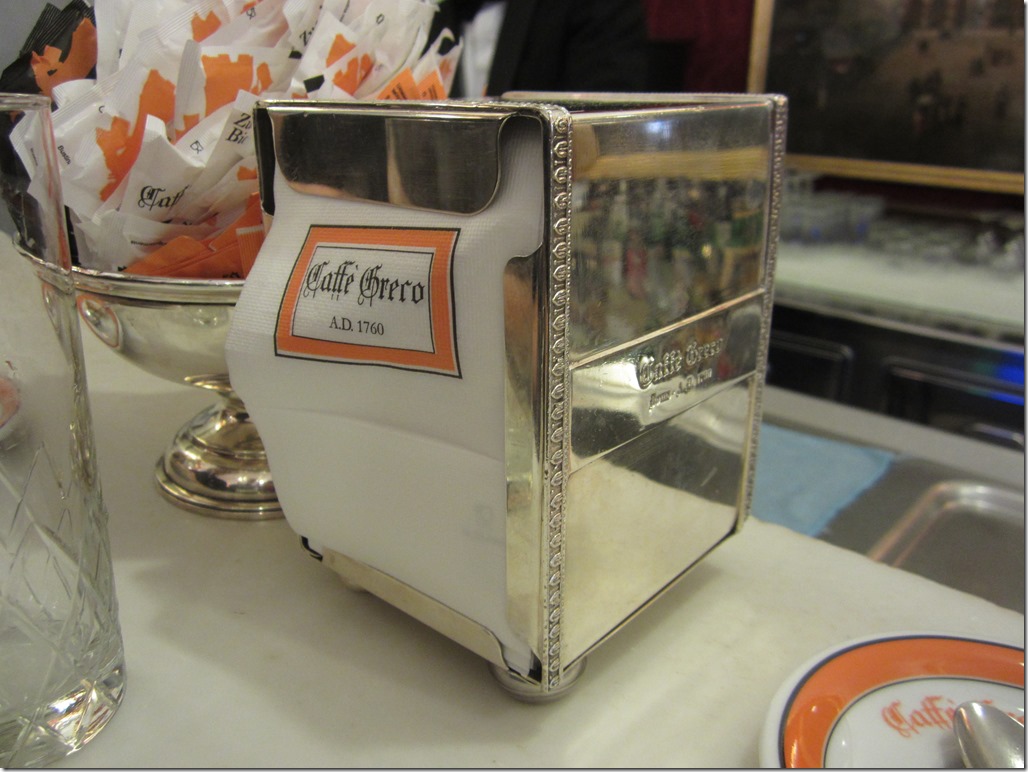 Excellent espresso. Do have it at the counter, not at a table.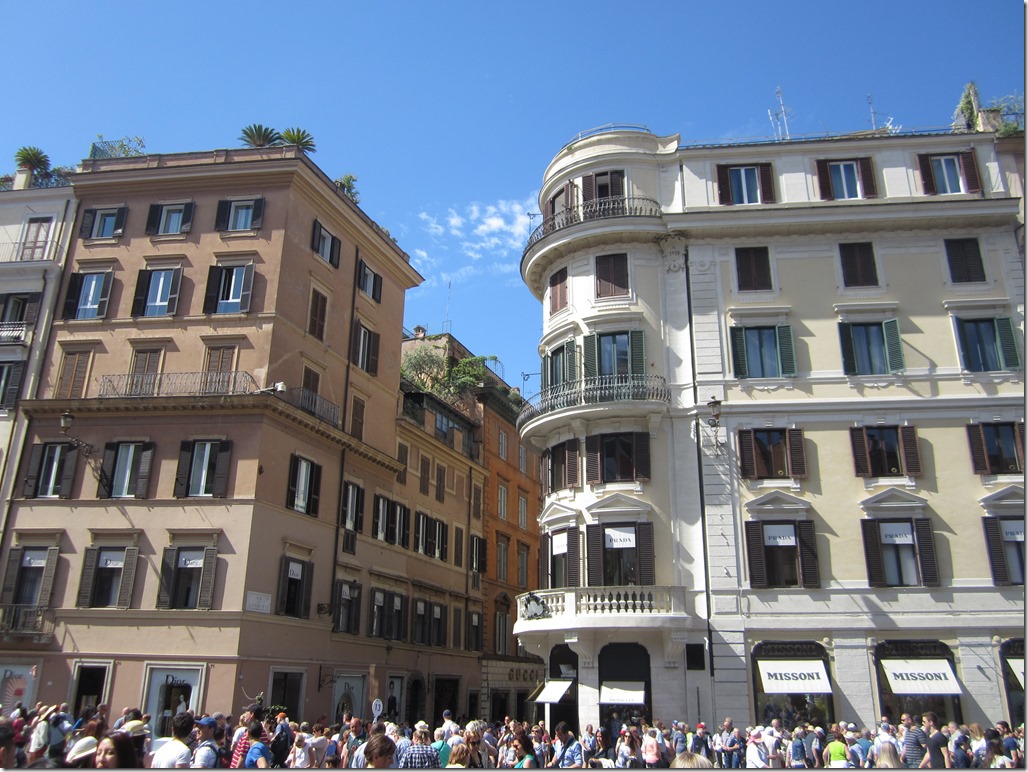 So many people out and about!
We arrived on a beautiful Saturday and I believe everybody in Rome was out and about plus all the tourists that had just arrived. We walked around to a variety of different piazzas and every one was just jammed with people.
Column of Marcus Aurelius—okay this was slightly less crowded than the other areas, but mostly because it was really sunny.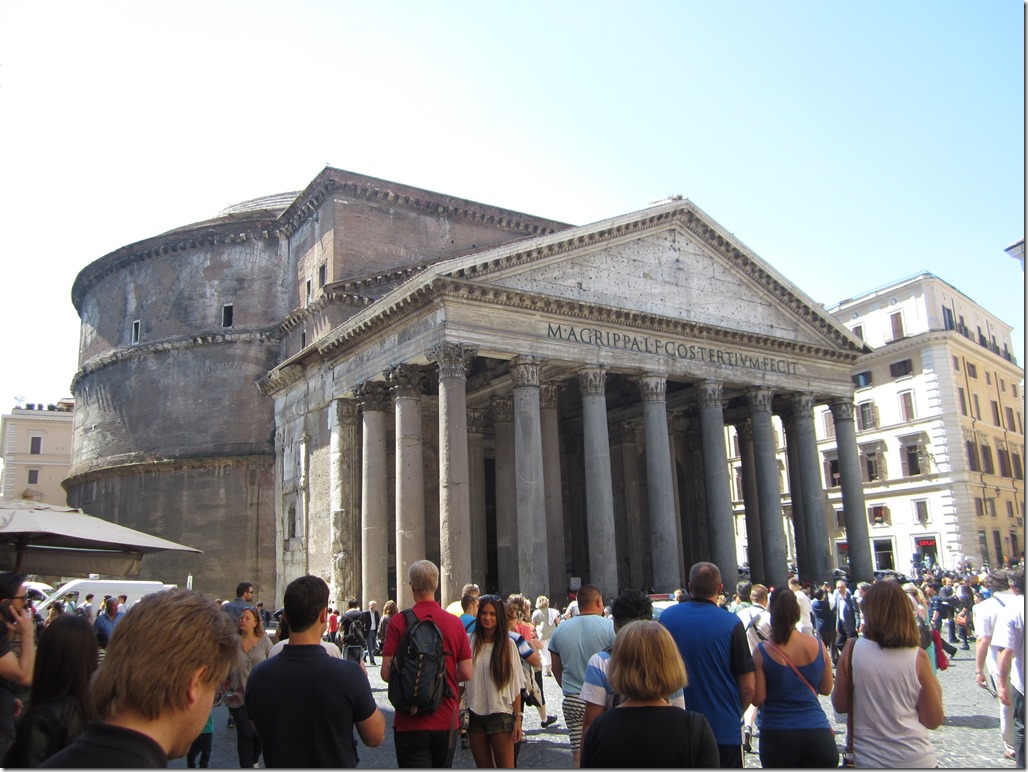 The Pantheon. We didn't go in at this time because there were approximately 70 million people already inside.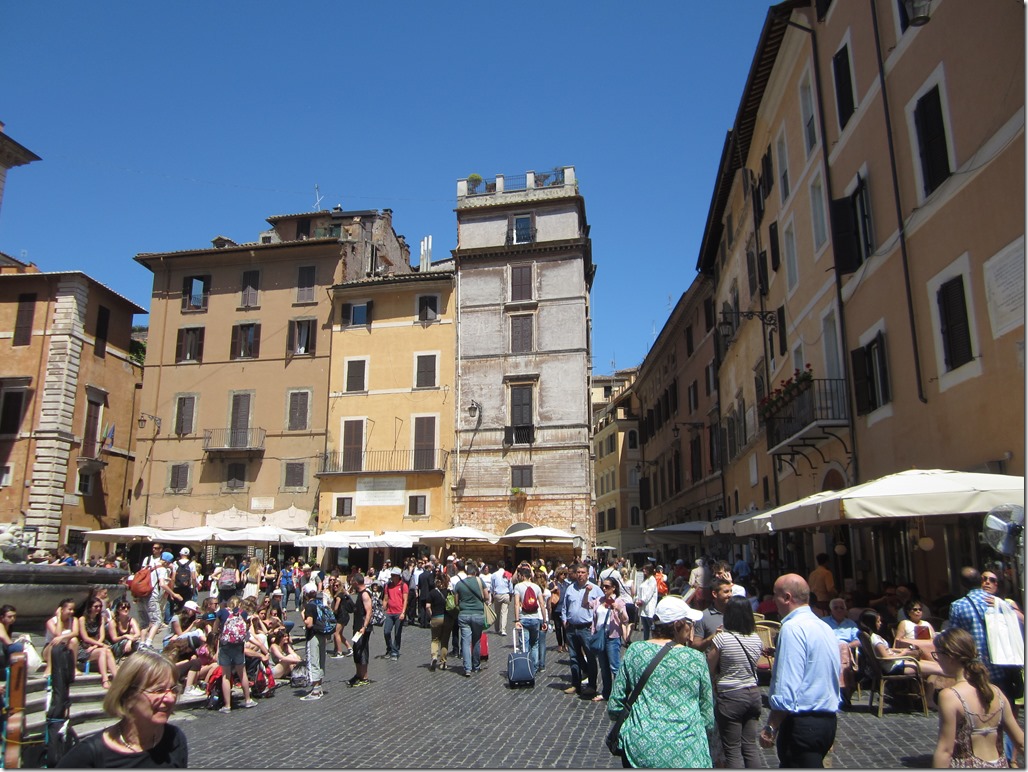 The square around the Pantheon.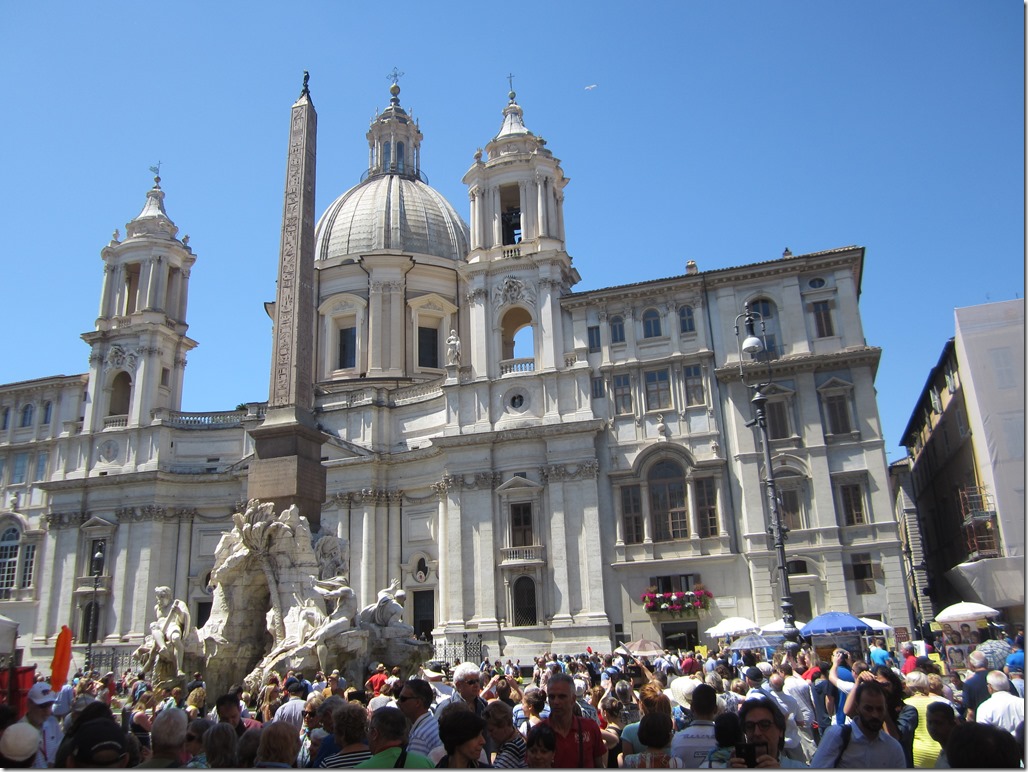 Piazza Navona.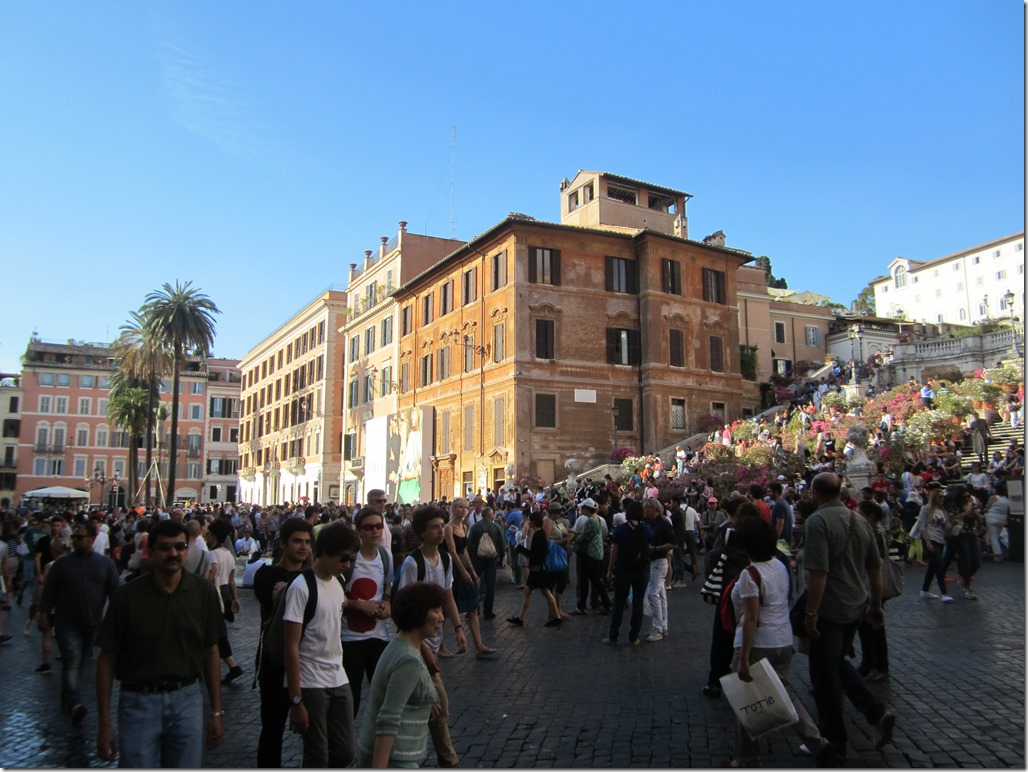 The Spanish Steps covered with azaleas.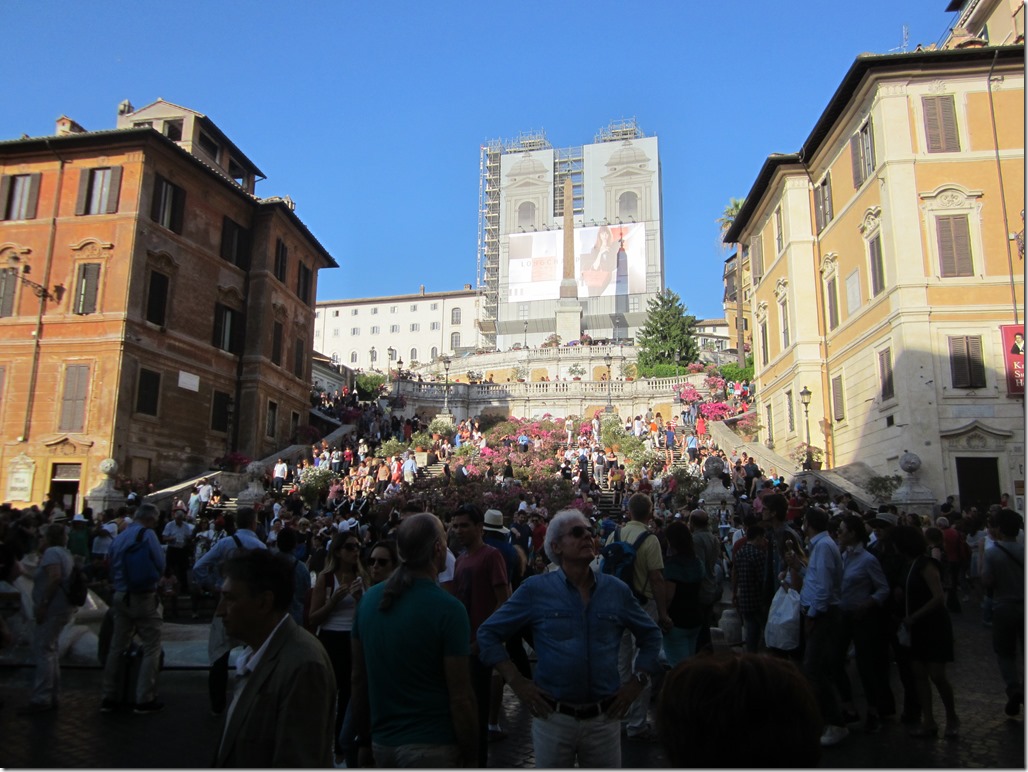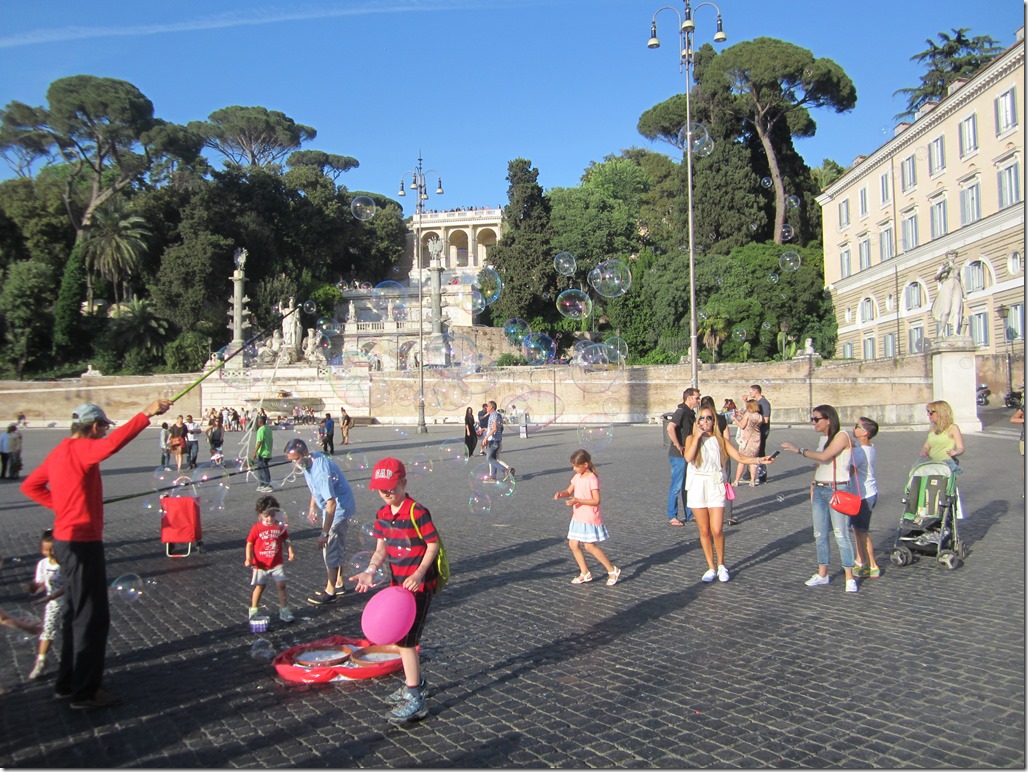 Piazza del Popolo. We walked up to the Villa Borghese then. (At some point we had gone back to the rooms to take a short nap and then headed out again. I had been so exhausted I thought I was going to throw up so this was very necessary for me. I felt slightly better after a nap and shower so was managing to hang on for more walking and dinner…)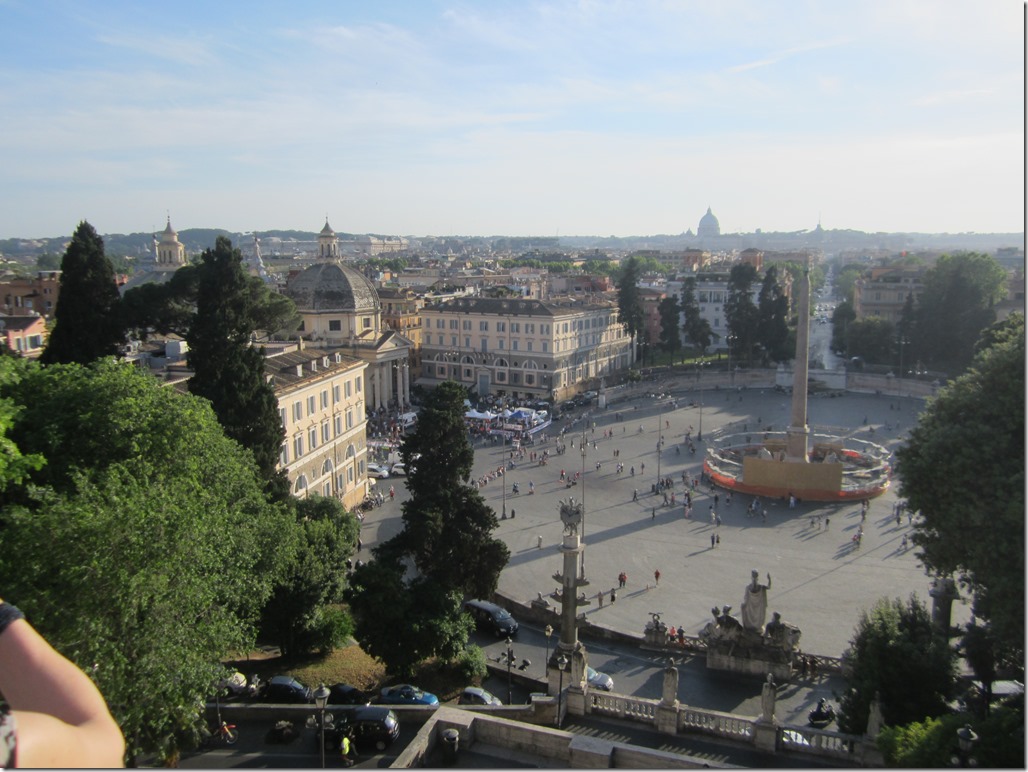 View of the Piazza del Popolo from above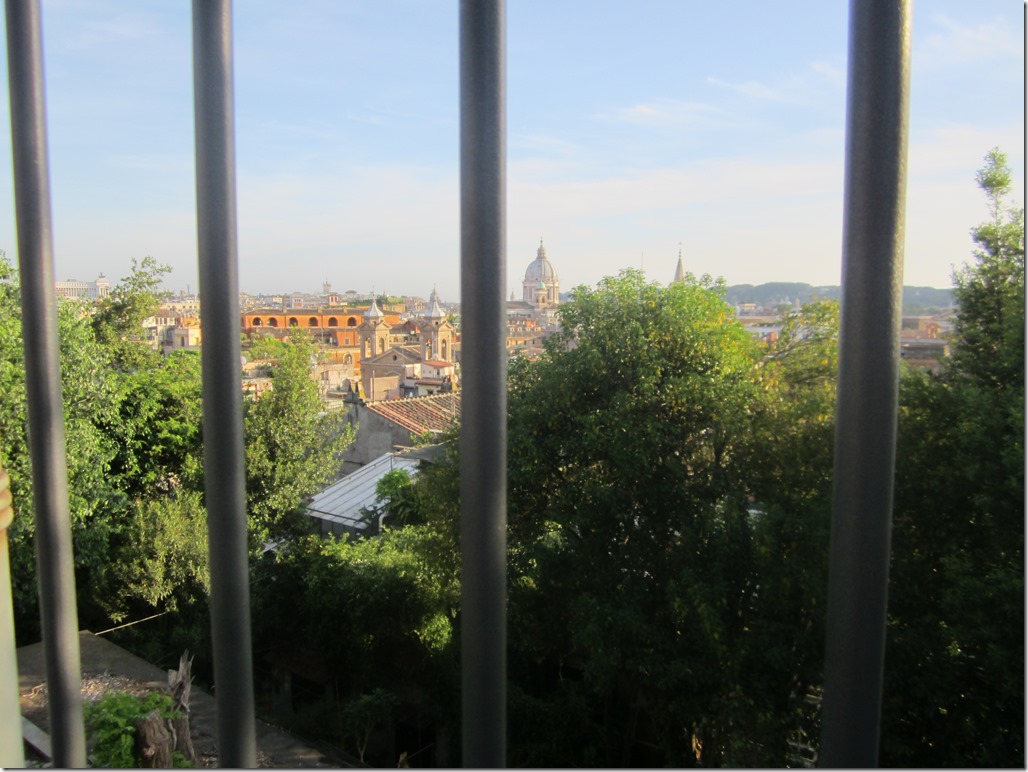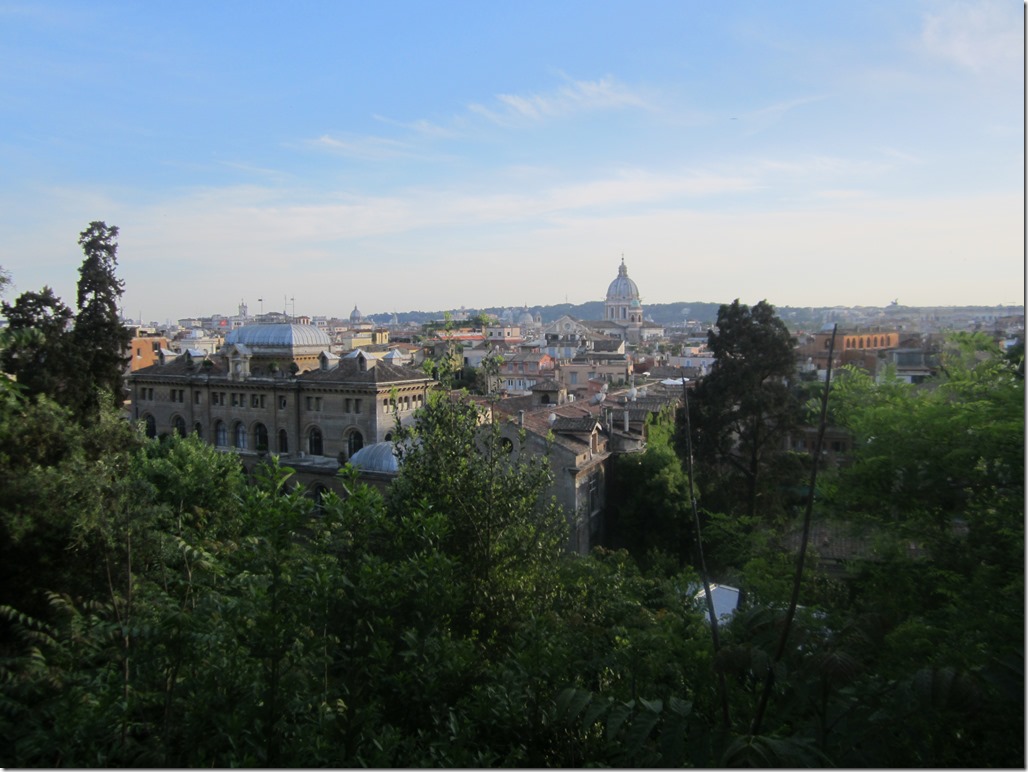 Cool building on our street, Via Gregoriana. It is a library!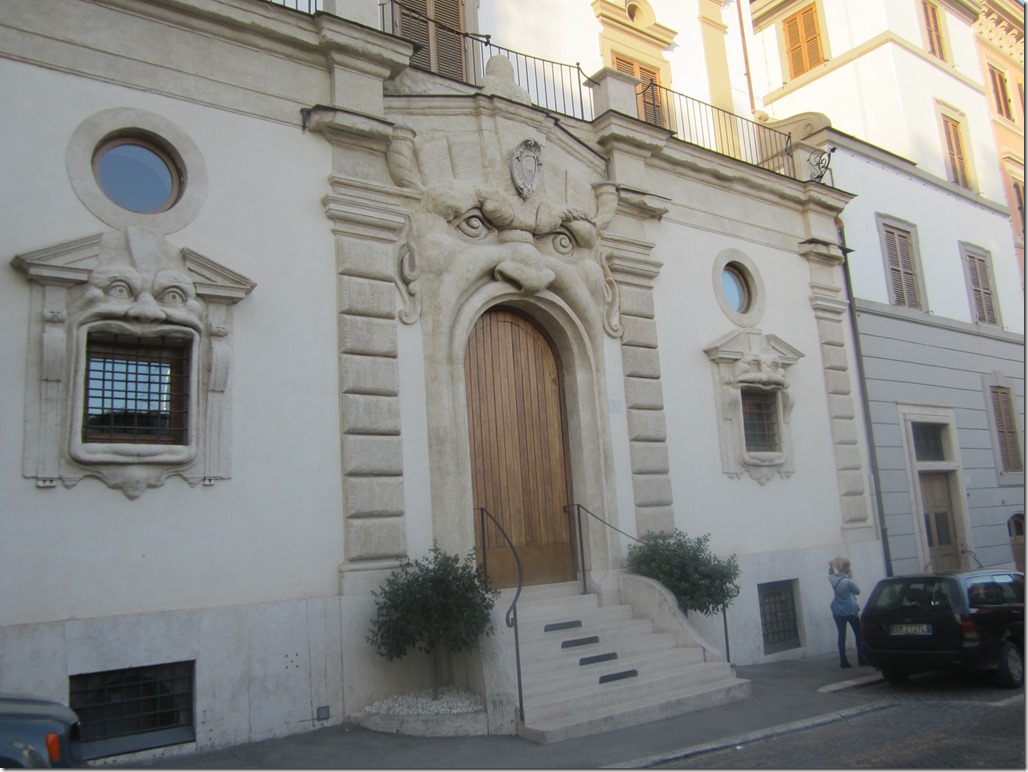 Anyway, after wandering all over the city, it was time for dinner. The first night we had a wonderful meal at a restaurant called Colline Emiliane. They make their own pasta and it was just wonderful. In retrospect this was actually one of my favorite meals! I didn't take pictures of my food on this trip because it seemed tacky, so you won't have that, but I had spinach and sausage stuffed ravioli, veal, lots of bread and a delicious Pinot Nero wine, among other things that I can't recall. Italian food is just the best, isn't it?
After dinner we went back to the hotel and crashed.
So that's where I'll end my first recap of the trip. I hope you'll forgive me if I have decided to draw this out a little bit. I know that later I will enjoy looking back on my blog and reading them so this is the best way to do it! I might cover more than a day next time, who knows. It's my blog and I'll do what I want to 😉 and hopefully you will enjoy reading about my trip! There are three parts to traveling as far as I'm concerned: planning the trip, actually traveling, and then writing about it and looking at pictures afterwards.