What do you think of when you think of Mahler?  Horns?  Lots of people on stage?  Chorus?  Really long symphonies? That guy who sat near you at the concert texting the libretto to Mahler 2 to someone as it appeared on the screen…even though it is available online and in the score and the light from his phone was incredibly annoying, leading my friend to exclaim "that's the last time I'm ever going to be friendly to anyone!"?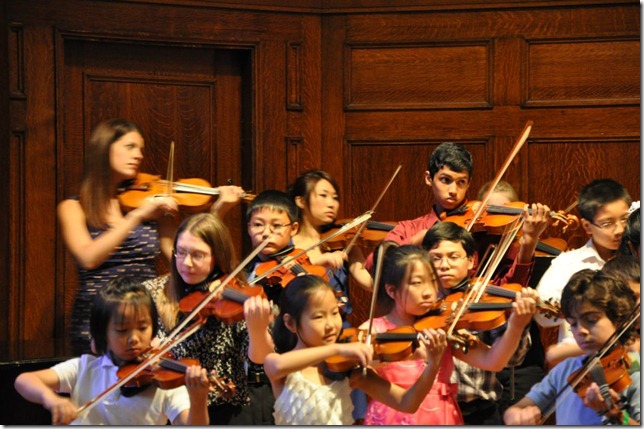 Violins?
(I really just wanted to post this picture because it's funny how much taller I am than everybody else…including the other teacher in the picture with me.  Also my neck looks broken.)
But.  Mahler.  The greatest of all composers.  Except maybe Beethoven.  Okay, don't make me decide, that's just not fair. I'll take late Beethoven quartets and my Mahler symphonies and die a happy woman.
This weekend the Symphony is playing Mahler's Symphony no. 3.  I'm going Friday night, but the performance repeats on Saturday night if you are busy watching baseball or something on Friday.  (I don't watch my team, that just ruins things.)
I recommend you listen to (well, at least the beginning of) Mahler 3.  It's the longest symphony by Mahler, and is just wonderful and intense and covers all the emotions.  As always for Mahler, I'd rather play than listen, but I'm happy to do both.  I can't wait.
Here's the Wikipedia article about the piece: Mahler's Third Symphony.
And the music itself.  That one starts right away.
And this one is of Leonard Bernstein and has the entire symphony, so if you have an hour and a half to listen, go for it!  I'm bothered by the fact that the first 45 seconds or so are silence, but be patient.
I'm listening to it right now!
I can only think of two times I've played Mahler 3…I might be forgetting something, but I think it's just twice.  Once with National Repertory Orchestra and once with the Charlotte Symphony.  I've definitely heard the Cleveland Orchestra play it, and I feel like there is probably another performance in there somewhere, but I can't remember everything!
Since I'm talking about orchestras and music, now is a good time to share some links I've read recently.  You may be aware that various orchestras are running into financial difficulties and many players are being asked to make concessions.  Classical music, and indeed, the arts, are so often the first thing cut when people have money issues.  I'm lucky that my parents considered music lessons to be of the utmost important when we were growing up—even though money was tight, there was always room for lessons.  Without them, where would I be today?  I can attribute most of my success and happiness in life to my music lessons.  Sadly most people do not feel this way.
A friend quoted the National Endowment for the Arts' motto recently:  "A great  nation deserves great art."  I guess it depends on whether or not you consider the US to be a great nation.  I certainly do. 
It's important to remember that for the vast majority of American orchestral players, a spot in an orchestra does not bring a six-figure salary, or even, in many cases, a living wage. (from the Philadelphia Inquirer)
How to turn things around (one man's opinion)
Does skill justify their pay? (From Minnesota Public Radio)
The MLB sides with the Atlanta Symphony Musicians– "the Players ARE the Game" (sadly the orchestra had to take a crappy settlement, cut their salaries, cut their weeks and their players, while the management remains bloated and overpaid…)
Many boards seem to think that musicians are easily replaceable… if this is the case why do so many positions go unfilled?
Oh, and to make things end on a happy note (though with Mahler looming that hardly seems necessary!)–
The St Louis Symphony just had its best year in a decade (from the Riverfront Times)
We classical musicians are constantly reinventing ourselves and battling against people who don't see the difference between a teacher or performer with advanced degrees and a high school student…I could go on for days on a soapbox about that…the best way to teach people to tell the difference is to just continue to perform and teach at a very high level.  The further along my students get the more they stop simply impressed by someone playing the violin and start being impressed by HOW someone plays the violin…the difference between a beginner and Itzhak Perlman for instance.
Oh and here's Perlman on the Colbert Report, speaking of ;)  This delighted me to no end—a famous classical musician on a popular show.  FANTASTIC!  And great news for violin, right?  At least for every few steps back we take a few steps forward.