A few weeks ago I blogged about how Mike made fun of me for wearing higher cut white socks to the gym.  He mocked me for an entire hour, and then since then has mocked me again for it on more than one occasion.  I decided to retaliate today, and wore these socks.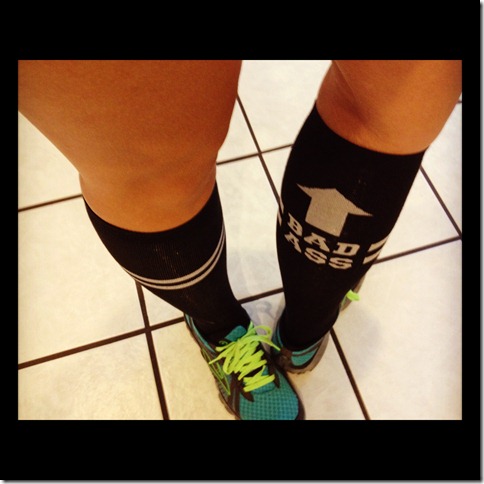 I thought they were pretty awesome and that he would think so to, but I was mistaken.  He hated them more, more, he said, than the white socks. (Also pictured, Brooks Pure Cadence shoes, which now come in more colors, and I wish I had them in more colors, so if you want me to pretend to be your best friend, I'm a size 10, pink or purple please!)
So I've decided that my trainer is an idiot and has no idea what awesome is.  He may be more upset next time, because I plan to wear knee socks with ninjas on them.  (Yes, of course I'll share a picture).  In fact, I may continue wearing knee socks every time I see him.  I actually really love knee socks, and they are similar to wearing compression socks, which you all know I love.  Other advantage:  could stop shaving calves forever.
(And, while my husband doesn't much care for the compression socks, he does like a nice pair of fun knee socks.  He also likes when I shave my calves though.  Dilemma.)
(All of these sock ideas are inspired by Rose, thank you!)