Teaching violin often feels like a thankless, worthless job. (Like all teachers, I imagine.) Underpaid, often overworked, tired, and feeling like it just doesn't matter. I mean, who needs violinists anyway? (Answer: we all do, but that's for another day.)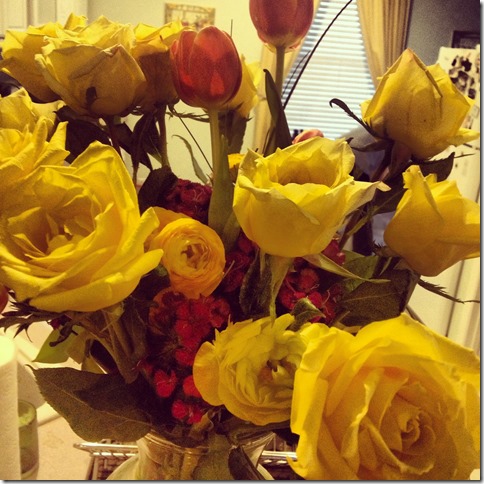 As you may know, the school I teach three afternoon/evenings a week is closing at the end of the school year (beginning of June.) We had our last studio recital on Saturday. I'd been working hard, the kids had been working hard, and it's a stressful thing for some of them—getting up in front of everybody, playing their piece from memory (some, at least). Performing is a tough thing! (and excellent preparation for the future…)
I always get really stressed out. Will people remember to show up? Will they bring their violins? Will they mess up and make me look bad? Will the other teachers judge me for having students with bad posture?
And as always, none of those things mattered or happened. It was a great day. My students did their best, and I was a proud teacher.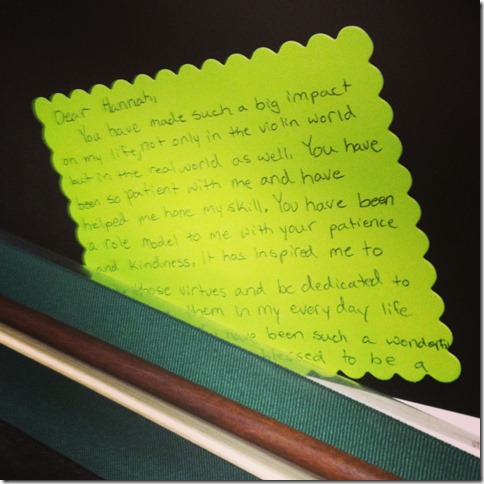 And at the end, one of my students, after finishing a very musical and exciting performance of the third movement of Vivaldi's Concerto in G minor…after that, she gave a speech about how much the school has meant to her over the past years (she's been there since she was 4, I believe) and how much she will miss it. And I got teary. And then she gave me flowers and the above note.
Sometimes that's all that matters, isn't it? Making a difference to one person. And I think, at least I hope, that I mean that to most if not all of my students.
Underpaid and often undervalued by society, yes. Thankless and worthless, no.
These next few weeks at the school will be bittersweet.