I had heard about the Tavern of Fine Arts for awhile now from my friends at Chamber Project St Louis, along with a few news articles.  (Sauce, RFT, and Feast).   My friends were excited because they knew the owners were great chefs and great musicians and music lovers.  If you read the articles you'll know already, but they plan to have classical music concerts at the restaurant.  In fact, we may even be rehearsing there for some of our concerts, as weird as that might sound.  I think people may enjoy listening!  (I know my mother would, and I'm sure other mothers across the world would.)
(Note to readers, I have no financial stake in the place, but a free place to rehearse and perform is priceless!)
Last night Laura, Melissa, and I decided to check the Tavern out for dinner.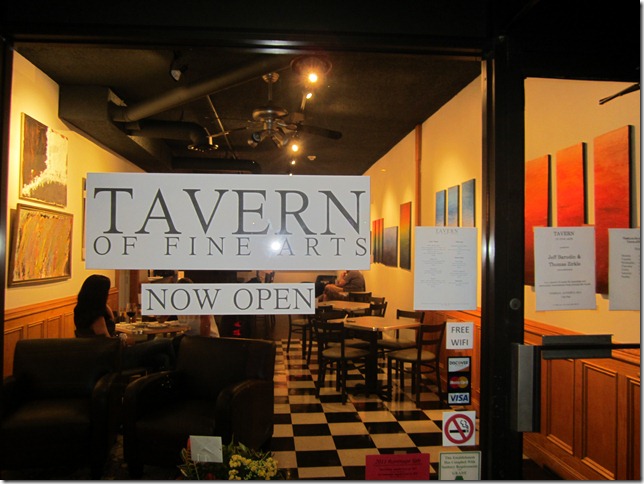 It's a cute little place, and there are two big rooms.  The menu is limited but had both meat and vegetarian options.  The wine list had a nice variety of types of wine and price range, with a good variety by the glass.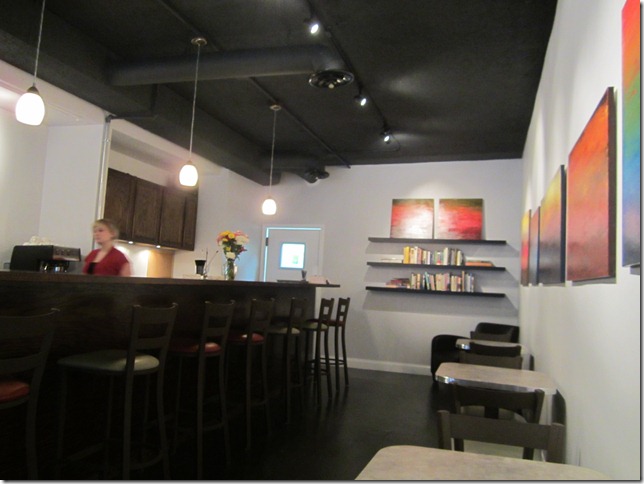 All of the artwork on the walls is for sale.  I loved the colors of the artwork in the front room.
We decided to split the hummus as an appetizer.  It was more lemony flavored than some, but very tasty.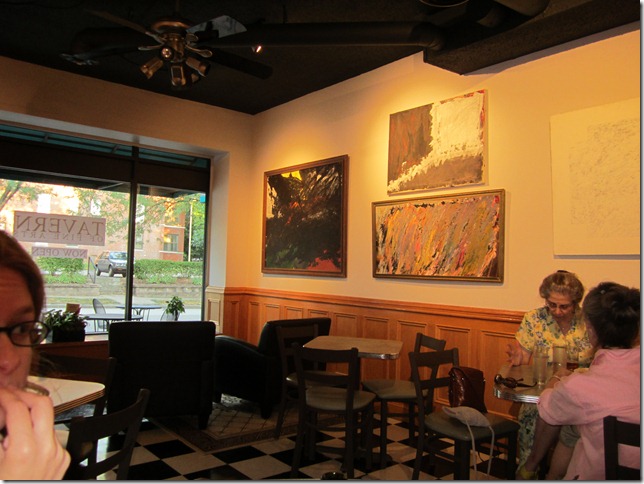 We also split a bottle of wine.
I ordered the gazpacho and a roast beef sandwich.  Our friend Dana had told us the gazpacho was fantastic, so we all tried it.  It was really good!  I was surprised by its creaminess.
The roast beef had cole slaw on it.  It was also very tasty.  I forgot to ask them to hold the tomato though.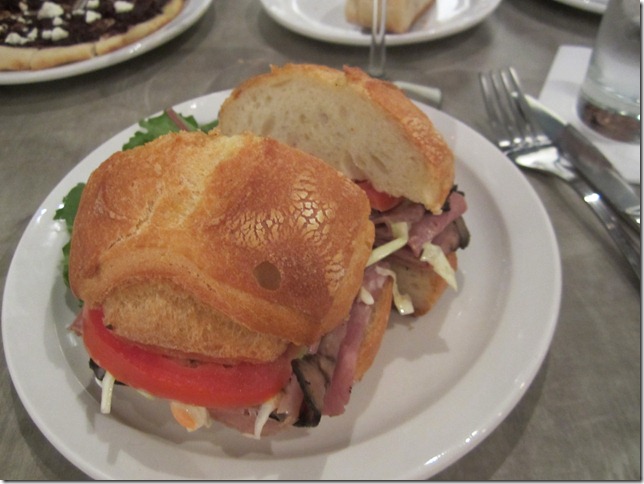 Melissa had the fig flatbread and Laura the vegetarian sandwich and they said those were good as well.  Finally, we decided to split the cheesecake.  As you know…I've been craving cheesecake for WEEKS and I still hadn't had any.  FINALLY. 
Also, remember,we split.  So the calories don't even count.  Plus…fruit.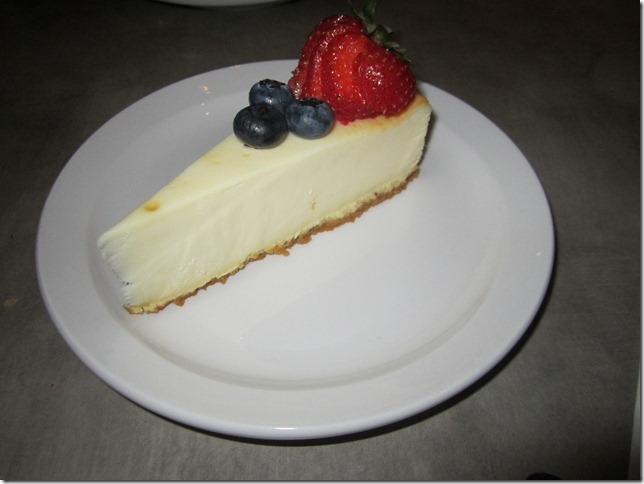 We popped into the other room to check it out before we left. 
By the time we left there were about 8 to 10 other people there, not too bad for a Monday night, though I am sure they hope to have more people.  The service was really nice if a bit slow, but we were in no hurry so we didn't mind at all.  Overall it was a tasty dinner and a nice place to hang out. 
They said tonight was their first "concert" which was going to be a percussion duo.  I look forward to playing there myself and seeing other local people play.  I'd recommend you check it out if you want a light dinner/snack, some music and a bottle of wine.