I ate an early lunch. Often I try to hold off on lunch until at least 1 pm, since we generally eat a late dinner. (People are surprised by this, that I don't eat dinner until I finish teaching, but I enjoy a relaxed dinner, knowing the day's work is done. Often I go to bed directly after dinner, other times I watch a show on TV, or take the dog for a walk.)
So now I have a couple hours until I teach. Well, two. I'm debating on whether I should practice—I have opera tonight and my arms are feeling a bit creaky, so I'll probably just play some things for tomorrow's concert (new music thing) and some technique stuff (scales, etudes).
It's been a busy but great week. One thing that I've been wanting to do for a long time finally happened this week: we hired a housekeeper! He will come (housekeeper is his term, because he considers that he doesn't just clean but he really keeps the house nice) every two weeks, and I couldn't be happier after the first visit. I hate cleaning. I really hate it. And Louie does too. And we are both very busy, so we most would just end up arguing over who was doing more housework, and we had different styles—he's a "focus on one thing and really make it clean" sort of person and I'm a "clean as fast as possible in a haphazard way" and as a result, the house was always on the verge of being taken over by dog fur. So this expense is a definite necessary splurge for us. We are looking forward to being able to spend our free time doing other things around the house (organizing, purging, and ultimately, remodeling?) rather than cleaning, or at least, stressing out over cleaning.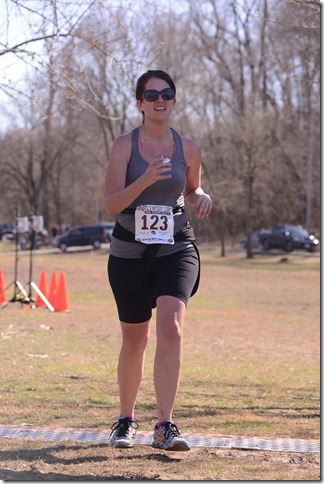 More time to do things that I enjoy…like running? (I look more like I'm dying than having fun, but that's the beauty of it?) And making music, and reading and writing and staying on top of everything else. Like taking the pets to their appointments and all that.
This weekend is full of activity, some work, some marginally work related, and some fun. Tonight I have an opera performance, tomorrow I'm playing at a composition workshop/concert, tomorrow night we are going to the Symphony, and Sunday I have lunch with a colleague to discuss future performing plans, then another opera performance, and then dinner with opera colleagues to celebrate being done. So it's a mix of work and fun, as always, and I know that in the moment and looking back, days full of fun and interesting activities make me happier and more fulfilled than days watching TV on the couch, as tempting as it can be! Especially since I hear House of Cards is out…then again, I'm TIRED of politics…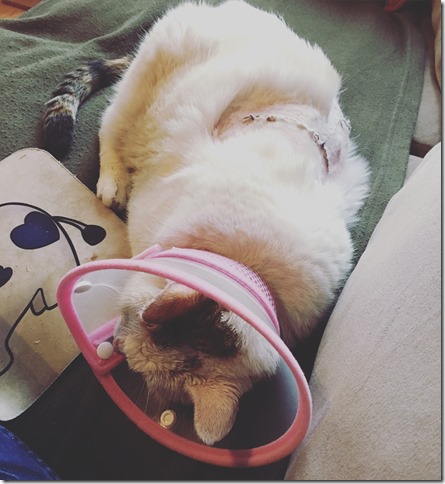 The pets…they don't worry about getting time to relax!
I'm trying to just take it easy about the animals, and not worry all the time. Chloe is difficult to deal with sometimes (the urination problems continue), and hard to handle—literally as we worry about her skin– but I have to remind myself we are doing our best, and that her life is still worth living as she likes to sit right by me, she likes to sleep with me, she loves eating. End of life care for pets is much harder than the rest of life, but it doesn't mean it isn't worth it, for all of us.
Mackenzie is doing a little better after another course of steroids, but I thought yesterday she might have been getting a little itchy. We had a great time out on a run earlier today—I don't run fast enough for her but I'm trying to teach her that slow and steady…well, doesn't WIN the race, but still finishes. It's possible she is starting to grow some hair back, and it definitely seems that for now (knock on wood) she isn't losing MORE hair. Poor thing.
So that's it, my typical blog post…work, pets, running, trying to make life better, as always. What are you up to?