I haven't written about my wedding recently, so I thought I'd give you a little update.  I believe the last time I really talked about was after we set our date.
We've made a lot of progress, and I'm enjoying the planning.  Chris has been wonderful (of course) and super helpful, and we're enjoying planning an event that will showcase our relationship and our love, yet also be fun for our friends and family (hopefully, and please try not to vom after reading that.)
Here's what we've done so far:  We set the date of 1/2/12 at Moulin for the ceremony AND reception.  Our reception will be a sit down dinner, and there will be a cocktail hour in between.  We've hired an officiant to marry us, someone we have worked with in the past, a woman that will write a ceremony for us that we will be happy with.  We found awesome invitations online that just need a bit of tweaking to make them more special, and the woman who does them lives locally!  (We are super close to sending out save-the-dates…).  And most recently we hired a photographer who is the mother of one of my students who gave us an excellent deal plus we really love her style. 
What's next on the agenda?  We are currently working on the music end of it—we want a band for the reception (let's not go there yet for the ceremony…I can't…I just can't…  Also we are working on the registry, hotel accommodations for the guests, and starting to think about flowers, cake, and of course…my dress.  I also have generally figured out hair and makeup for myself and the bridesmaids.  When I get back from Kansas I need to do some dress shopping though, and I have two friends here I plan to bring with me to be brutally honest.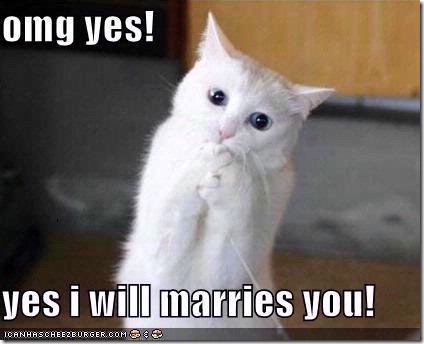 So that's pretty much what's going on with wedding planning.  I don't want to give anything away, so I don't want to give too many details!  For instance, I'm super excited about our save the dates, but I don't want to post anything here yet.  And the save the dates are part of a greater theme for our invitations, and likely for the programs as well.  It all works together, plus I realized that I just love paper.  
Unrelated to wedding planning:  My facebook free week is going pretty decently.  I had to log on the other day to verify addresses, and YES I post my blog there but that doesn't require logging into facebook.  I am glad I'm doing it.  People doubt my ability to go facebook free, but seriously, it's the best week ever 😉
Last but not least:  What do you think of this?
Try not to pee yourself with excitement. I may have.