Thought I'd pop in here with a quick reminder about what you should be doing NEXT WEEKEND.  Yes, I know it's almost Labor Day weekend (or is already for some of you lazy butts) but NEXT WEEKEND is more important and better.  No, I'm not talking about the tenth anniversary of 9/11 (though I told Chris I had a very special blog post planned, he said, you better not, and I told him now I did out of spite) but I am talking about the first concerts of the year with Chamber Project St Louis.  The first concerts where I am a core member of the group rather than a guest.  (Though the updated photos are not on the website yet.  Here are the founding members!  Laura, Dana, Adrianne, and Jen.  You may recognize everybody from when we were on television in January.)

"FOLK FREEDOM"
Thursday, September 8 2011, 7:30pm
The Chapel: A sanctuary for the arts
$12/4 Click HERE to purchase tickets online

Saturday, September 10, 8:00pm
The Tavern of Fine Arts
suggested contribution: 10$
gratitude contribution: 20$ – includes food and drink gift
Both concerts are the same program so you only NEED to come to one, though, as a student of mine said, haven't you ever seen a movie twice?  (Yes, in fact, I've seen Titanic eleven times in the theater and countless times on video and dvd.)  Seriously though, you only need to come once and I'll be your best friend forever.  Or not.  Whichever you prefer, actually.
My father may be there as well—if you aren't a regular reader I will tell you that he is biking here ALL BY HIMSELF from South Carolina.  You can follow his progress on twitter @jerrydfrey.  (You can follow me on twitter @hannahviolin but it's far less impressive.  Well, impressive in a different way, i.e. how can one person tweet so often yet say so little?  The answer: lots of free time.  Mike suggested I spend that free time running more or perhaps combing my hair or simply staring at myself in the mirror.  But I digress.)
You can follow Chamber Project St Louis on twitter as well @cpstl, like them on facebook, or like me, hannahviolin, on facebook.  Okay!  Enough with the social media, right?  Should I mention that I am "helping" CPSTL start a blog?  It will be launching very soon.
I'm off to teach now, followed by some girl time tonight with some of my friends.  I'll leave you with a picture of an envelope I got today.  I have been asked many times if I am taking Chris's last name (answer, not entirely sure, leaning towards not).  However, this was the first piece of mail I received that had my "married" name on it and I have to admit I found it both upsetting and hilarious.  Chris told me to get over it.  Which is FUNNY because he isn't willing to take MY name.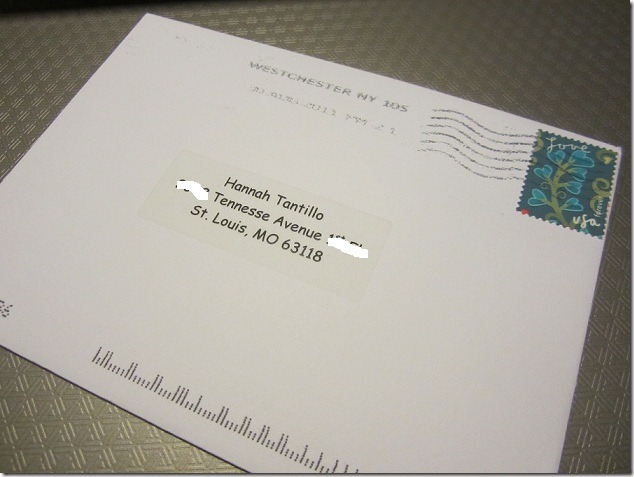 I can't!  It's too much of the "a" sound.  It makes me cringe.  Sorry, Chris, nothing personal!  I think Chris Frey is a far better option.