I was recently asked to review some products by White Mountain Foods. White Mountain Foods is a company that strives to make the purest whole foods possible. Their mission is simply to provide their customers with completely additive and preservative free, minimally processed, organic when possible, tasty, vegetarian foods. I was sent the Bulgarian Yogurt, Tofu Onion dip, Tofu Salad, and Chipotle Mushroom Tamales.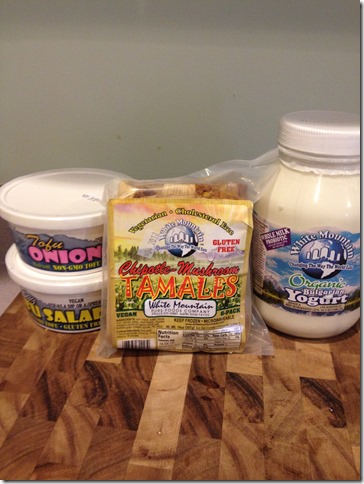 I started with the Tamales. I made them according to the package instructions and they were pretty tasty and quite spicy. I ate these on more than one occasion (keeping them frozen in between) and enjoyed them both times.
I tried the No-Egg Tofu Salad and was a little less pleased. It was a little too mustardy tasting for me, but that's simply a personal opinion. I tried it plain, on crackers, and even on a sandwich. Okay, well, obviously I liked it well enough to eat it a couple times!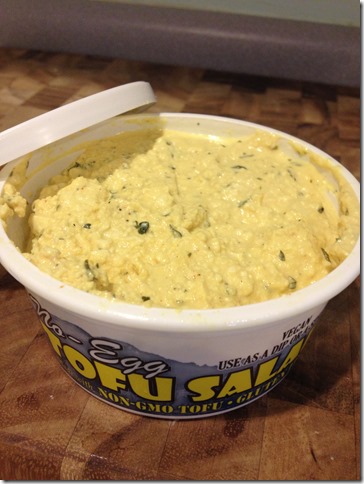 The yogurt I only tried in a couple of smoothies, but it was great. I don't like eating plain yogurt too much, but I love it in my protein smoothies (yogurt, protein powder, fruit of choice). I recommend it!
And here's my confession…I didn't try the onion dip. I kept meaning to, and even got carrots to dip in it…and then you regular blog readers know I was traveling and then had a bit of a breakdown…and then it was expired. I'm betting it's worth trying though, especially if you are vegan—the No-Egg Tofu Salad is another great vegan option, I think.
Disclosure of Material Connection: I received the product mentioned above for free for review purposes from White Mountain Foods. I was not required to write a positive review. The opinions I have expressed are my own.