We set the date.  I guess I'm getting married!
Don't think this necessarily means you're invited 😉 It's not like these events come cheap!
Here's where we've chosen to have it.  We'll be having our ceremony in the Chouteau Room and the dinner/reception in the Centennial Ballroom. 

There's a lot more planning to do, but I'm glad we've decided on the biggest part.  (Well, second biggest really…the biggest part was deciding who to marry!)
Here are some pictures from their facebook page:
Those are all the Chouteau Room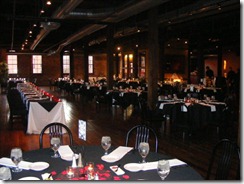 These are all the Centennial Room (up a floor).
Obviously my decorations will be a little different, but you can see the exposed brick and the wood floors.  I think it's awesome!  The woman in charge, Ann, reminded me of my friend Melissa.  She had a great sense of humor as well.  I am psyched. 
I realized that the main reason I couldn't deal with this all a few weeks ago is I just had too much other crap going on.  Now that I am almost done with school, I am ready to brainstorm centerpiece arrangements and discuss bridal party teeth whitening strategies to my heart's desire.