I had my first solo session with Mike (my trainer) yesterday in well, about 1 1/2 weeks.  It was fine.  I told him I felt like all my muscle had turned to fat and I was starting over.  He laughed and said it would take longer than a week off to do that.  He asked if I had gained weight.  I told him I hadn't been crazy enough to step on the scale lately!
Sometimes I complain to my friends about ridiculous things that he says or does.  I've decided it would be fun to list some of them here.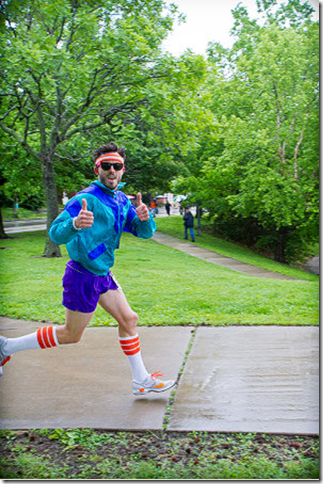 5 reasons I hate my trainer (you all know I'm kidding and that he is actually not-so-secretly my hero, but for title purposes I'm going with it.)
1.  He ran 21 miles on Sunday and complained that it took FOREVER.  Aka around 2 1/2 hours.  You know, less time than it takes me to run a half-marathon. 
2.  I mentioned I had a friend who finished an Ironman on Sunday and he asked if he was in good shape.  I was like, really?  He just finished an Ironman.  Mike continued to wait for my answer.  To be fair, he asked the same question about my dad when I told him my dad was riding his bike across the country.  No, he's totally fat and has never ridden a bike before!
3.  He asked if I had run already that day.  Or was I planning to run afterwards.  As if I didn't already feel bad enough about not having run in a long time. In fact, he ALWAYS asks whether or not I ran already or am planning to run afterwards.  It makes me feel truly lazy when I don't.  Even though I just did an hour workout!  WHAT SATISFIES YOU MIKE? NOT ALL OF US CAN SPEND ALL DAY WORKING OUT!
4.  He once mentioned wanting to lose ten pounds in a week to improve his race time.  I asked if that would be difficult and he said, no, I usually have to eat so much to maintain my weight it will be pretty easy. 
5.  The above picture was in a race.  That he came in second.  And still managed to mug for the camera in a ridiculous manner.