Up until early Saturday morning, I was planning to run the Frosty Five Race I had signed up for…and then I realized it was okay to not show up for a race on the morning after I got engaged.  Rather than race bling—I would be shopping for another sort of "bling" in the afternoon and I didn't want to be ridiculously tired and not appreciate it.  There are more important things that running.  And working out.  Or at least that's what I'm telling myself today…
Besides I already got the t-shirt, that's all you need, right?  And I am going to wear the t-shirt proudly because that's the race I didn't run on the day after I got engaged.  It's a nice shirt.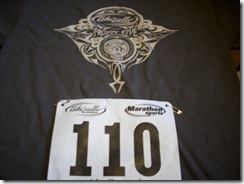 (the race number that wasn't—ironically Chris's birthday, which should have been a clue…)
But let's back up to Friday afternoon.
Or should I back up to 12 years ago, when Chris and I started dating, in college?
No, we'll do Friday afternoon. 
We had reservations to go out for Valentine's Day dinner at Franco on Saturday night, so I was planning to cook Friday night.  I got back from the grocery store and was talking to Chris about what to make for dinner, and he said he would prefer to go out for dinner.  So we discussed where to go (I thought somewhere cheap, since we already had fancy plans for Saturday) and what time to go, and he was being really wishy washy about it, which honestly isn't that unusual, but I was getting annoyed and he was also getting annoyed.  I had to shower, and then was getting stuff together for the morning's race, doing some random house stuff and Chris said, why don't you just sit down and relax? 
I FINALLY went to sit down and he says, "I thought we'd just go to Franco tonight instead." 
I said, "did you make a reservation?"  Because I had been telling him how this was a very busy weekend for people to go out and you probably couldn't just show up somewhere.  He said, "Yes, I did," and pulls out a dozen red roses, and a jewelry box.
I was shocked.
The jewelry box LOOKED like a ring, but I wasn't going to assume…I thought to myself, if that's earrings…I will kill him.
Then he opened it.
It wasn't a ring, per se, but it was a diamond in a ring shaped object.  (He bought the diamond first and thought we'd pick out the ring together.)
I think I blacked out.  I know I burst into tears. 
He didn't say anything for a long time…and then he got down on one knee and (of course) he asked me to marry him…I think I didn't answer for awhile because I thought the answer was assumed…but then I said YES.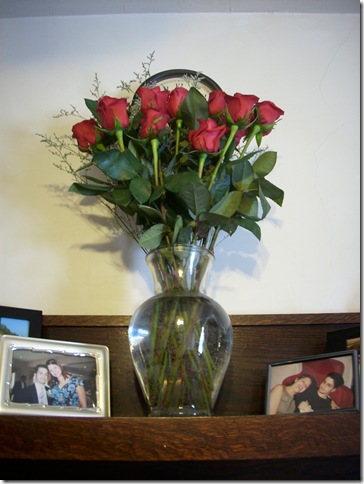 Chris told me he called my dad earlier that day to ask for my "hand" in marriage.  (Which I thought was very funny, because I kept thinking of the scene from Alias where Danny calls Sydney's dad…)
Evidently he asked my dad, and my dad said (after a long pause), "Can I have a few days to think it over?"
(He has a dry sense of humor.)
Chris told him "I would rather not."
So then we both had phone calls to make and text messages to send.  And then we went to dinner. 
We were seated at a table in the window where you can sit side by side on a window seat and look at the whole restaurant.  It was really neat.  We had a bottle of wine and a cheese plate to start.  Then I had the Caesar Salad with Anchovies and "Braised Veal Sweetbreads, Black Trumpet Mushroom and Pearl Onion Ragout, Foie Gras Twice Baked Red Potato" from the Valentine's Special menu.  Wow!  Everything was fantastic.  Chris and I split Chocolate Bread Pudding with Huckleberry Sauce for dessert.  After dinner a few of our friends met us for a short celebration and to congratulate us.
Saturday we went ring shopping.  Here's what we picked out (my hand looks freakishly large in comparison to my arm, sorry!  Plus I promise I don't have a weird arm rash happening, that's just the picture.) Oh, and we ended up buying the ring at the Diamond Shop in Clayton.  They were very easy to work with.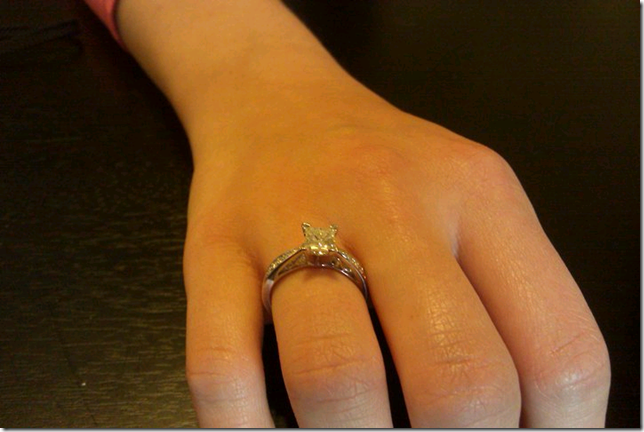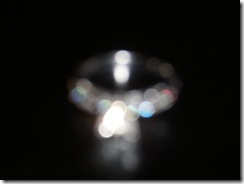 (It's on my right hand because for violinists it's tough to play with a ring on our left hand…I can wear it on either hand, but figured I'd mostly use my right hand.)