As a blogger, I guess I should admit that I got free tickets to the circus.  Not because I'm a blogger though, but just because that's how I roll. 
Everybody knows that depending on what business you are in you get certain perks.  Restaurant workers often get discounts or free food at other restaurants.  Celebrities get everything free.  Bankers and other wealthy businessmen get free Congress.  Since I'm a musician I get free symphony tickets and occasionally other stuff too.  One time I got a free viola A string, and I've also gotten some rosin and a gigantic stack of orchestra folders.  Crazy, right?  I believe I gave the A string to Chris and sadly he never said anything about it again.  Sort of like when I asked him a few months ago why he asked me to marry him…he said "I don't know" and then we never spoke of it again.
But I digress.
Circus Flora was generous enough to offer comp tickets to the symphony members for last night's performance of Vagabound Adventures.  As the usual date of a symphony member (or at least an "acting" symphony member) I was invited to go. 
They set up the "big top" in the parking lot next to Powell Symphony Hall (where the SLSO plays).  The tent IS air-conditioned.
Our friends Jon and Laura came along as well.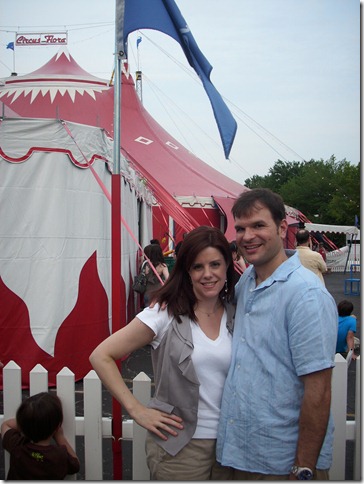 Laura's more adept at posing for photos than I am since her group, Chamber Project St Louis (remember, concert next Thursday at 7:30) just had a lengthy photo shoot.
In any case, we weren't supposed to take photos inside the tent so I'll just tell you about it.  It's set up in a circle with the action in the middle.
The show started with a narrator telling the plot.  I'll admit, the plot was a bit thin, but who really cares about the plot?  There were jugglers first, lots of jugglers juggling in a variety of combinations of people.  Next was a contortionist.  First she brought one of her legs straight up in front of her body.  I leaned over to Chris and said, "well, I can do THAT, especially after attending Bikram Yoga."  Then she put that leg around back.  And then bend backwards and grabbed her ankles.  I can't do those things. There was a funny act with a horse and then some acrobatics and tumbling by the St Louis Arches.  There was also a clown named Nino who kept getting in the way of things.
The big act before intermission was the Flying Wallendas on the tightrope.  I'd seen this act when the symphony played with the circus in the winter, but this time we were UNDER the tightrope.  And I mean, directly under, as in my neck hurt to look up, but yet I was afraid NOT to look in case they fell and I needed to move fast.  Wow.  Breathtaking.  (I recommend checking out those links if you are interested in the history of the family.)
At intermission we ran into a variety of people we knew—it seems many of the symphony members were eager to see the show for free!
The second act was again a mix of things.  A pair of brothers, "The Riding Donnerts", did a bunch of tricks while standing (or doing acrobatics) on the backs of horses going around the ring.  They were fantastic!  Then more clowning, more acrobatics, and then the finale–
The best act was at the end (as it should be)—the "Flying Pages" on the flying trapeze.  There were two trapezes and three landings and the whole act was incredibly exciting!  And yes, there was a net, unlike those crazy Wallendas.
In any case, I highly recommend seeing the Circus if you live in the area.  It runs all month, and you will love it.  We certainly did.
(See how I did that, as a review?  Aren't I fancy?)