The honeymoon continues….
So, we did get to board the ship.  After being sick all night, I woke up the next day feeling…well…okay.  Not great.  We managed to get a cab to the port though, and with minimal waiting in line (with sitting breaks for me) before long we were on the ship!  Right off the bat they offered us a glass of champagne, and we would have gone exploring, but I needed to sit down.  In fact, that was the name of the game for the first day of our cruise—I was trying not to be sick, and we missed out on some of the fun of exploring, but luckily we were onboard!  Like they say, the worse day cruising is still better than the best day on land 😉
After about 30 minutes we were able to go to our stateroom.  I'd booked us an "Aqua class" balcony room.  It looked GREAT!  I think it was the biggest stateroom we'd ever had with a nice, roomy enough shower, lovely bathroom products, a fairly deep balcony, and a nice enough bed.  We were also given two bathrobes and two pairs of slippers to wear.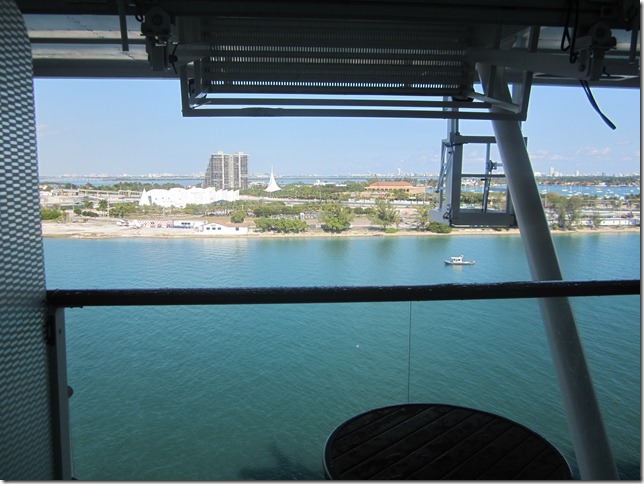 The view from the balcony.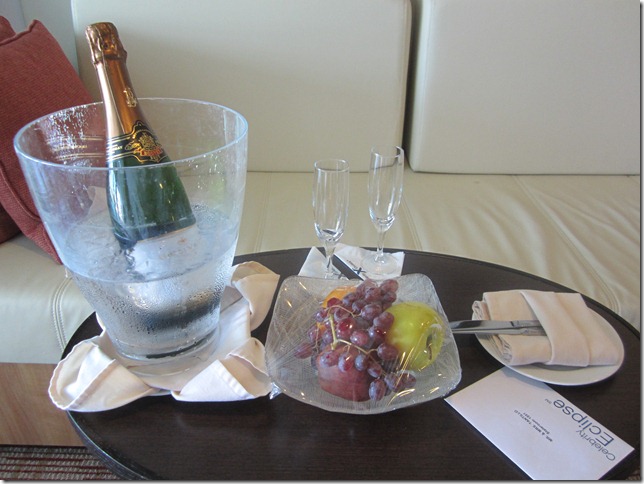 This was in our room in honor of our honeymoon.  The envelope contained an invitation for a get together the next morning with other honeymooners and couples celebrating their honeymoons.  Each day they brought fresh fruit for the room, though it never looked super appealing.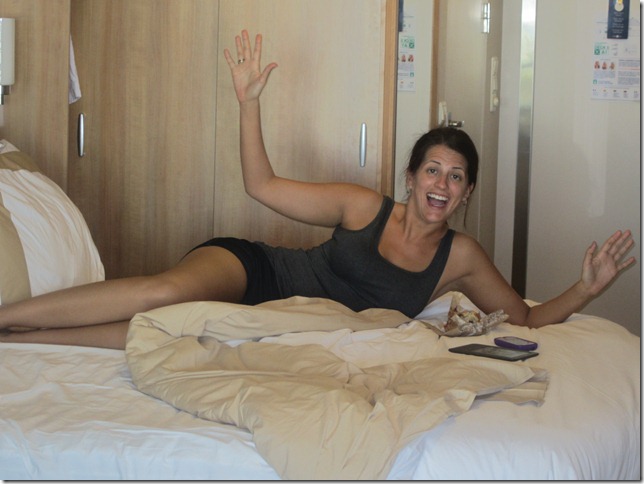 I asked Chris to take some pictures.  In retrospect, this may not have been the best idea.  After we did a little unpacking we went up to the Oceanview Cafe (buffet area) for Chris to get some lunch.  I was going to sit with him, but I suddenly felt really awful and had to go back to the room.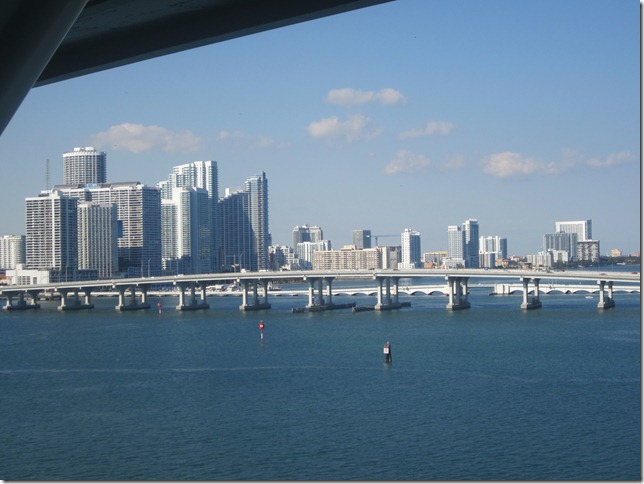 We had our muster/lifeboat drill, and then the ship set sail!  There is just nothing like being on a cruise.  It is truly my favorite way of vacationing.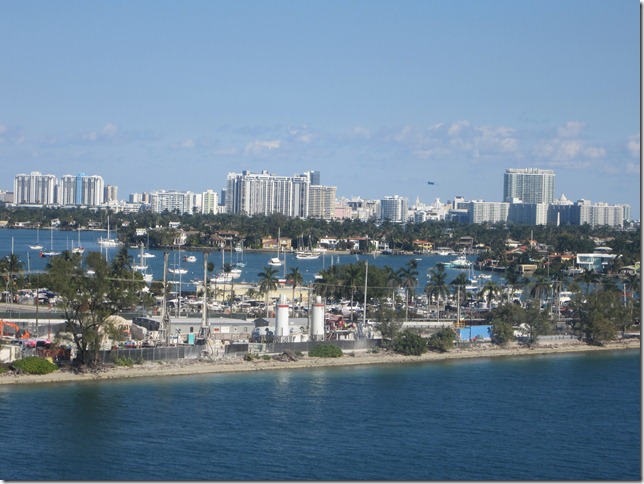 After a few hours, we were definitely on the open sea.  We had about two days until we were going to see land again!  Time to eat, drink, and be merry. 
Chris and I chose to purchase the unlimited beverage package.  That meant we could get as many drinks, coffees, waters, and sodas as we wanted without any additional charges.  It wasn't cheap, but it meant we didn't have to worry about what our final bill would be and we would be free to enjoy our honeymoon without any worries about moderation.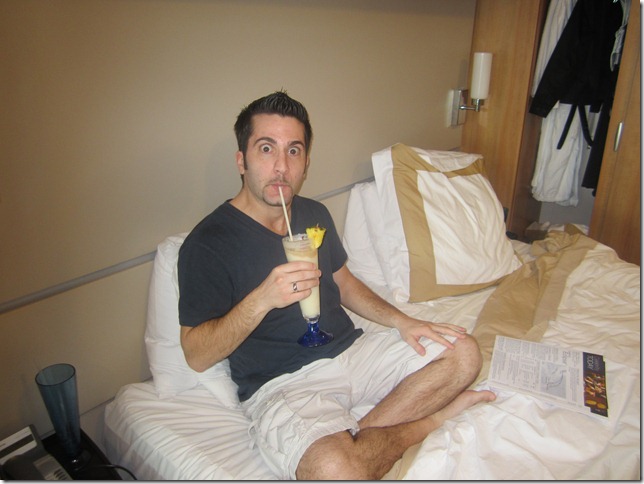 I wasn't feeling up to a frosty drink yet, but Chris was hard at work getting his money's worth!  You can see the "Celebrity Today" paper on the bed there—the paper tells you everything happening on the ship.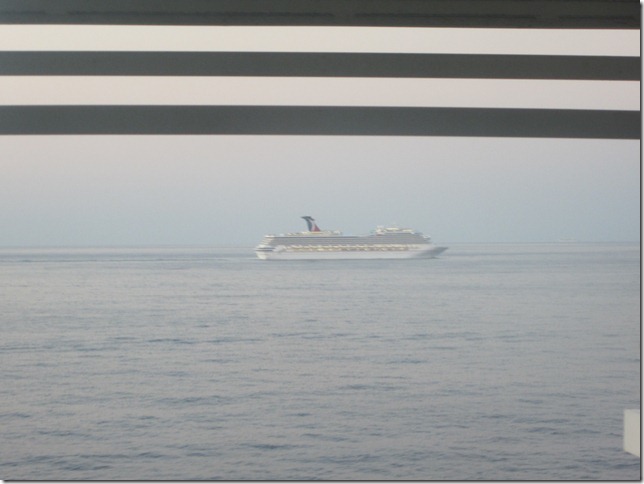 A Carnival ship was traveling with us.  Evidently two ships are required to stay near one another for safety.
Since we were in Aqua class, that meant we ate in a specific restaurant called "Blu" rather than the main dining room.  We were allowed to go eat at whatever dinner time we wanted except the first night when we were asked to go at 8:30.  I still didn't have too much of an appetite, but we went.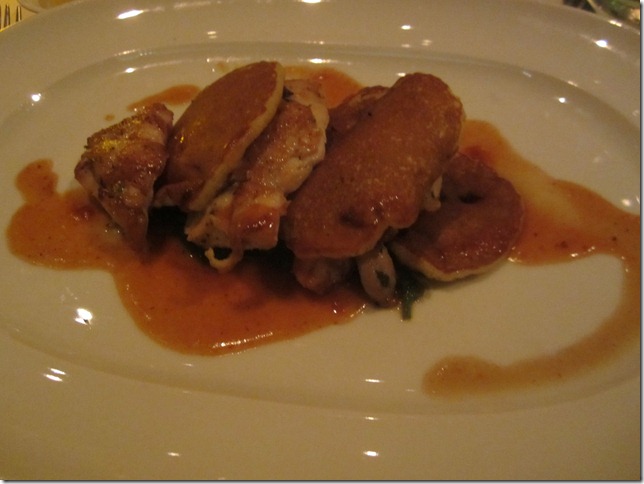 I don't recall what this was called but it was chicken with pancakes…SO delicious!  Sadly I was only able to eat a few bites. I must have seemed like such a lady to the servers!  (Luckily that would change by day two.)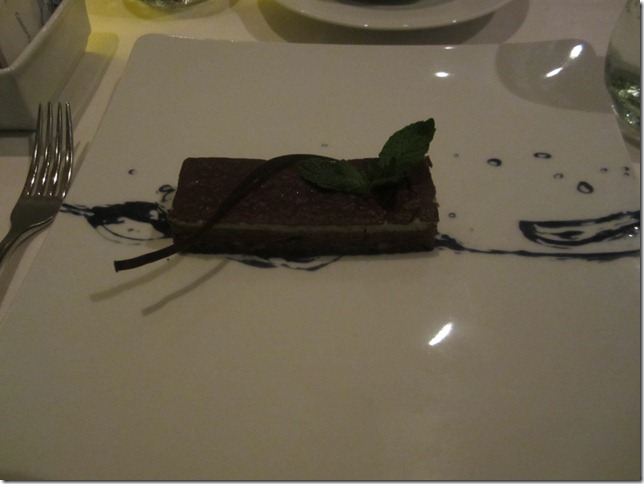 And a delicious "thin mint" cake!
We also got some after dinner coffee.  The restaurant was wonderful—unlike previous cruises we were sitting just the two of us at a table, which was very nice.  The food was very tasty and the service was impeccable.  After just being onboard a few hours we were already incredibly impressed with the service and amenities of the Celebrity cruise lines. 
For your reference:  previously Chris and I had been on two Carnival cruises and I'd been on one Royal Caribbean cruise.  Celebrity was a "step up" in terms of luxury, and so far we were impressed.
After dinner the first night I was exhausted and felt a bit nauseous, so we just went back to the stateroom.  I had wanted to see a show or do some exploring, but I just wasn't up to it.  Luckily the next day was to be a day off so we could sleep in, relax, and do whatever we wanted.
(I don't know if I'll keep doing one post per day, but that will be it for now.)
We fell asleep feeling the ocean waves…and I finally was starting to feel more like myself.  Like I said, the next day was going to be a day at sea, followed by San Juan.